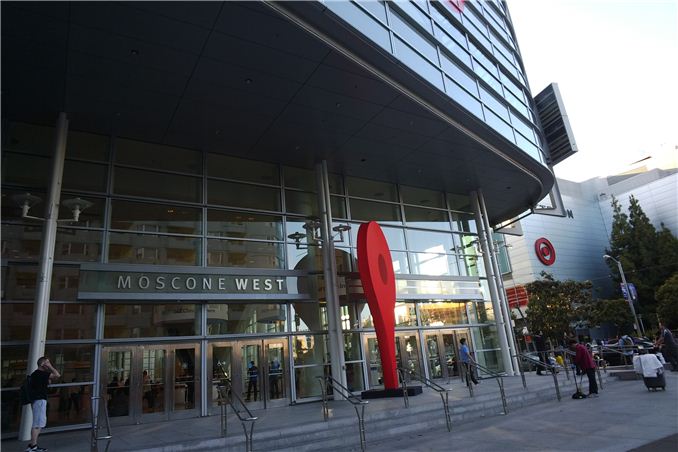 12:30PM PDT - It was a long but exciting keynote, we'll be covering things as we see them, thanks for reading!
12:15PM PDT - Page has spent much of the Q&A time explaining why Google does the things it does that might seem like "crazy things" for a search company that help it become Google
12:00PM PDT - This is an amazing Q&A and just overall discussion from Page so far
12:00PM PDT - Page is talking about how he's disappointed about a focus on negativity and zero sum games, but also the future of interoperability
11:56AM PDT - Time for Q&A with Page from the entire audience
11:54AM PDT - Page is talking about how much different the future would be with autonomous vehicles, and the need for more students with science and engineering degrees and working on the important technological problems
11:52AM PDT - The whole room changed when Page started talking, sharing his vision for Google and the future, not just a zero sum game between Google and another company
11:47AM PDT - "We have almost every sensor we've ever come up with in a smartphone, every sensor is winding up there"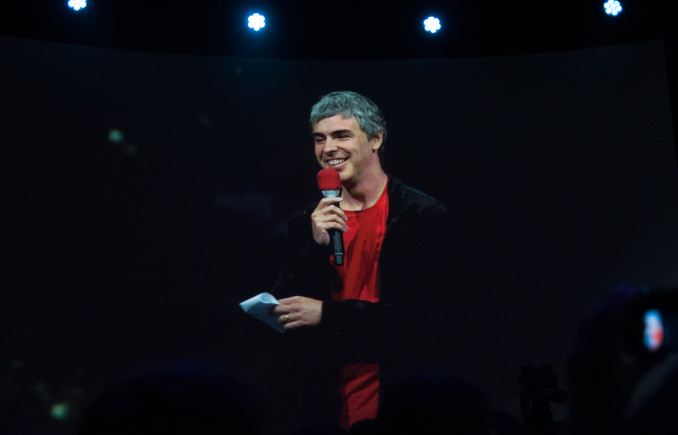 11:47AM PDT - Page is talking about his experiences getting interested in technology at an early age at a robotics conference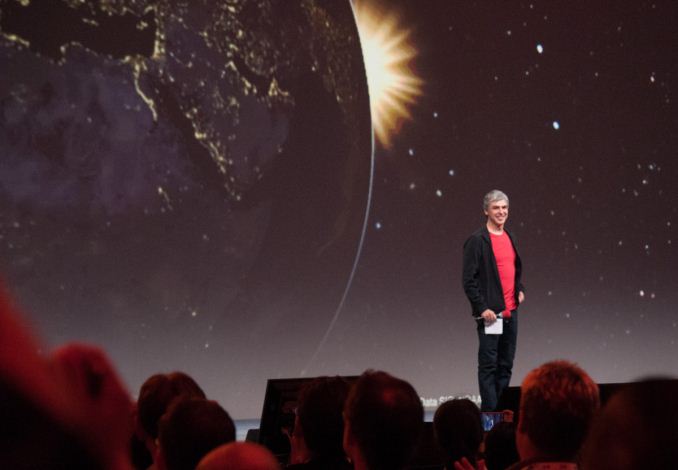 11:45AM PDT - Larry Page is out on stage thanking the maps team for the nighttime view
11:44AM PDT - The new google maps, preview on the desktop today maps.google.com/preview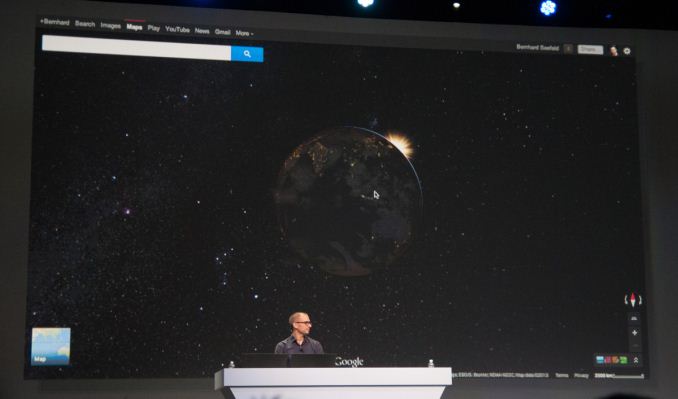 11:43AM PDT - "We can go further" sky stars and planets in right position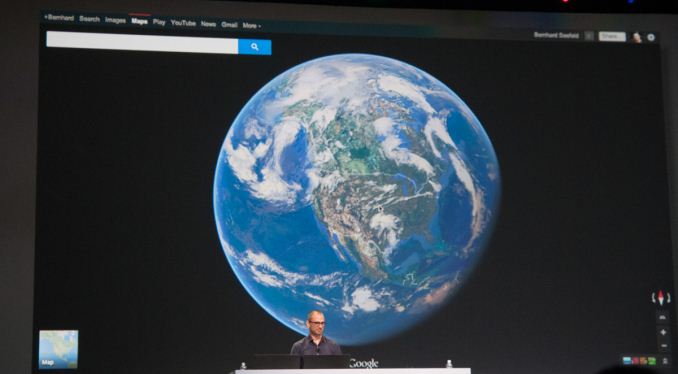 11:42AM PDT - Real time clouds on the earth
11:41AM PDT - "Like user generated street view"
11:41AM PDT - Photo Sphere integration in Google Maps is now even better as well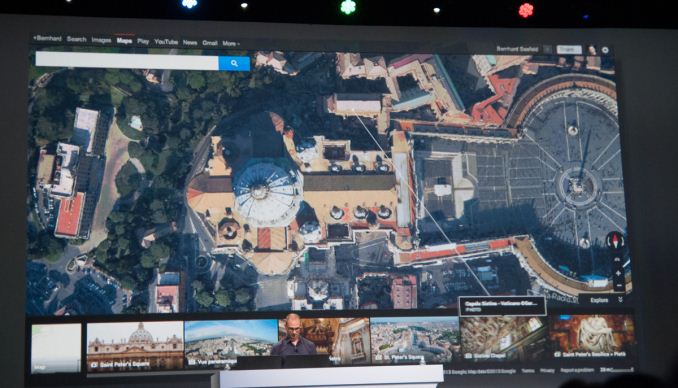 11:40AM PDT - Google Earth experience right in the browser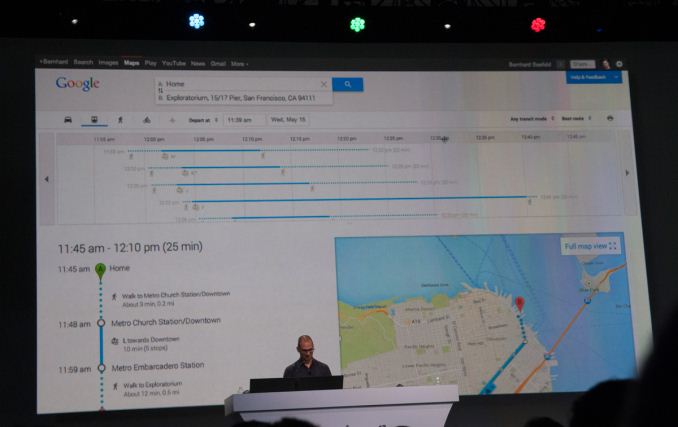 11:39AM PDT - Better scheduling with a better visualization of trips, with less walking for example you can scrub through the available routes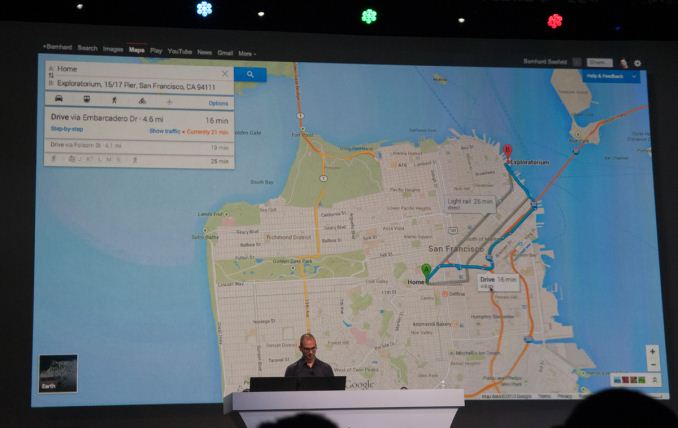 11:39AM PDT - Public transit is now directly compared to driving or other routes, and shows more than the next 3 departures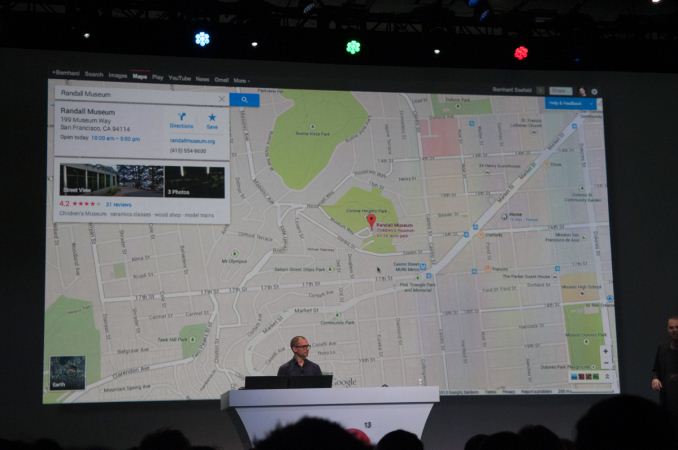 11:37AM PDT - Clicking on a POI highlights and labels surrounding streets dynamically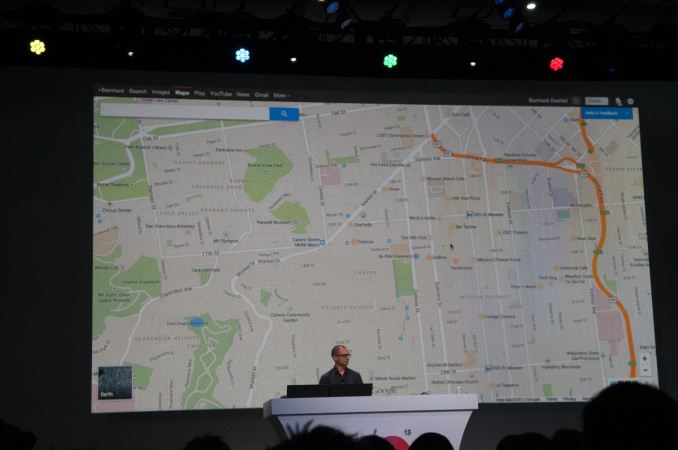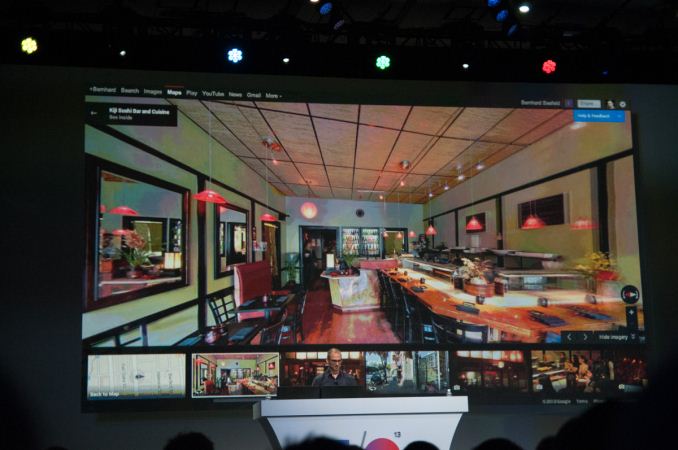 11:34AM PDT - New immersive imagery experience with street view results inside the restaurant
11:34AM PDT - Showing search results for sushi places that your friends have reviewed or like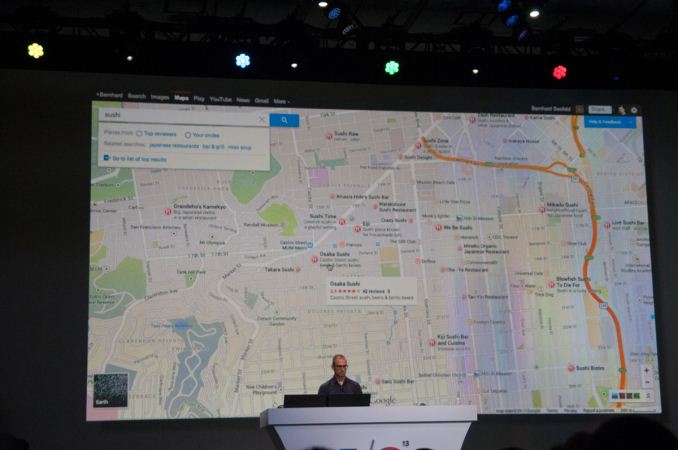 11:33AM PDT - The photos are a bit blurry, unfortunately because the projector here is out of focus/misaligned slightly. Apologies.
11:33AM PDT - Latest open standards being used include WebGL to make it snappy, vector maps in the browser too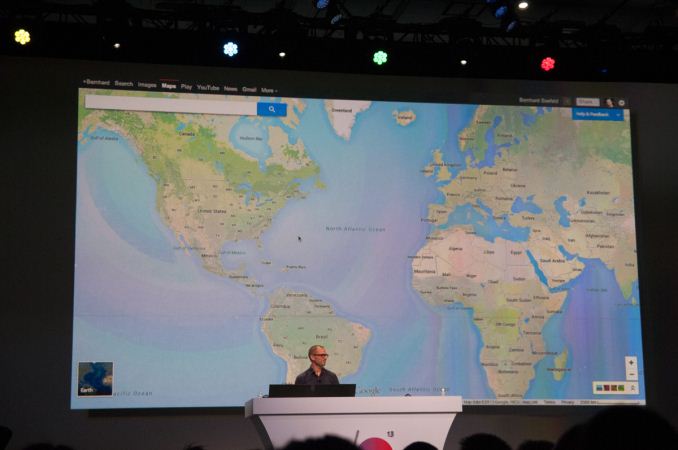 11:32AM PDT - "This is the new Google Maps"
11:30AM PDT - Over 1 billion users every month using Google Maps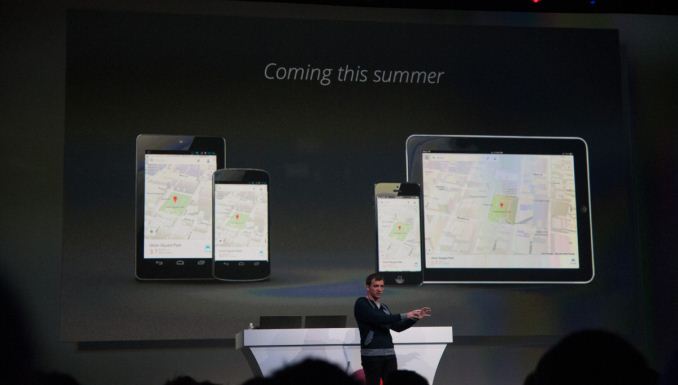 11:30AM PDT - New experiences coming to iOS and Android devices, smartphones and tablets, this summer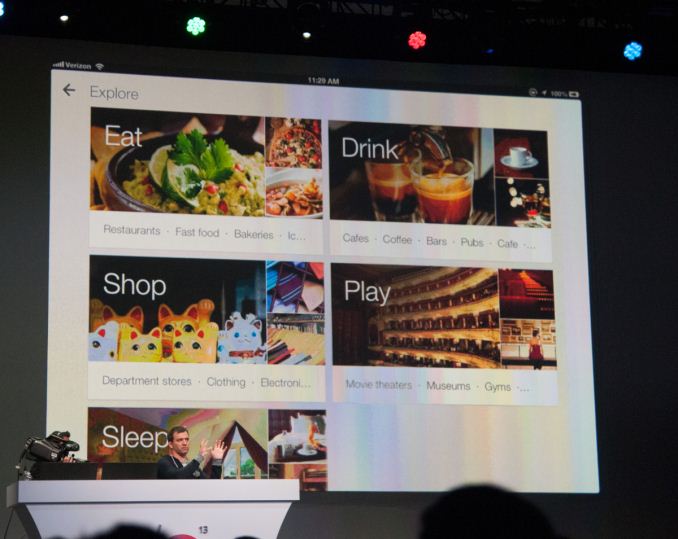 11:29AM PDT - New explore experience for when you're traveling and just want to do something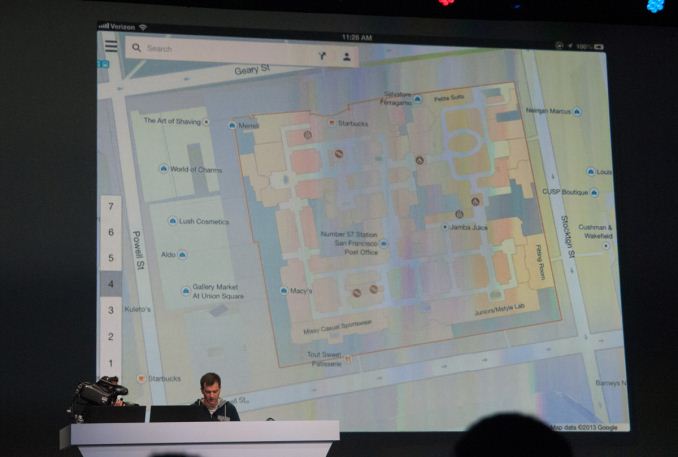 11:28AM PDT - New fully dedicated tablet maps experience, all features work on both platforms, they're showing an iPad now
11:28AM PDT - Faster route notifications and better incident reporting and notifications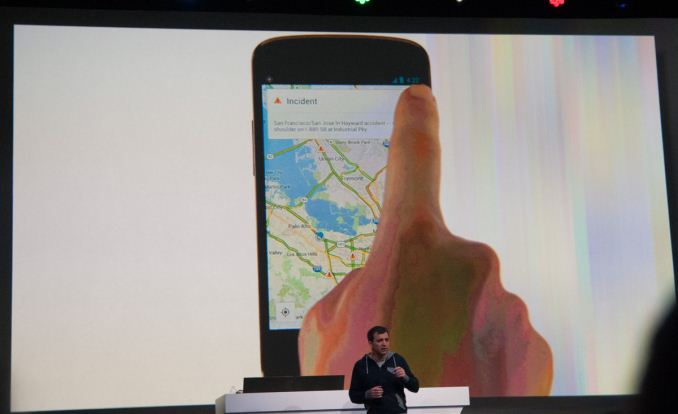 11:27AM PDT - New navigation features coming, new revamped coverage of incidents in traffic view, and dynamic re-routing
11:27AM PDT - Over 1 million transit stops covered in directions and navigation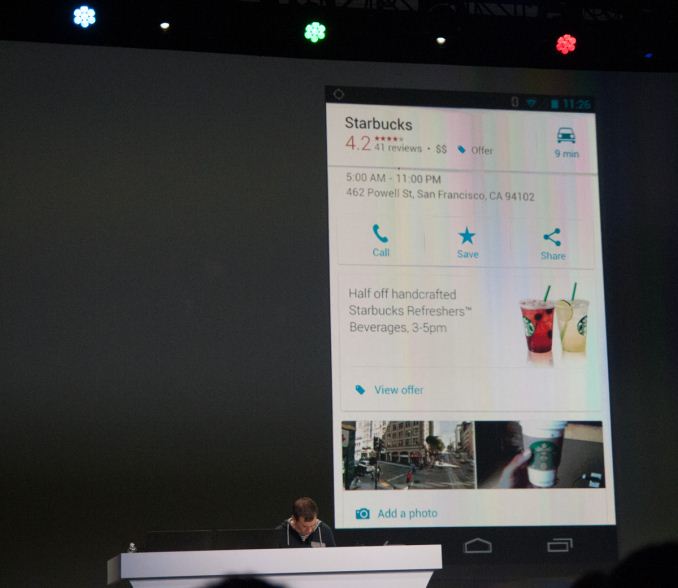 11:26AM PDT - New offer icon and experience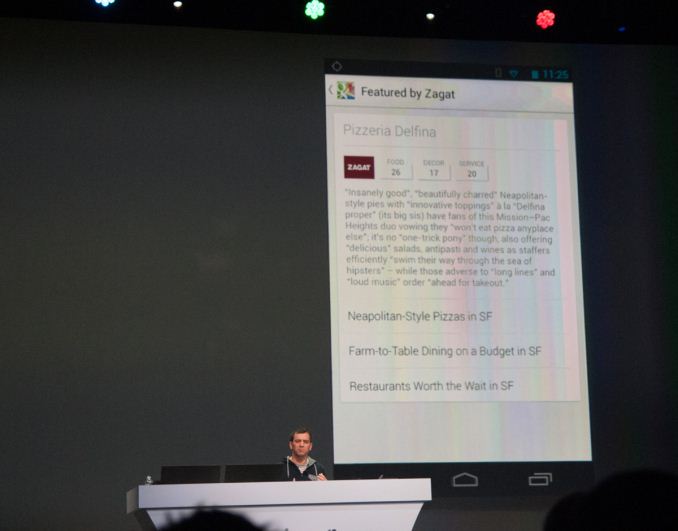 11:25AM PDT - New Zagat experience, there's a badge on POIs with expert opinions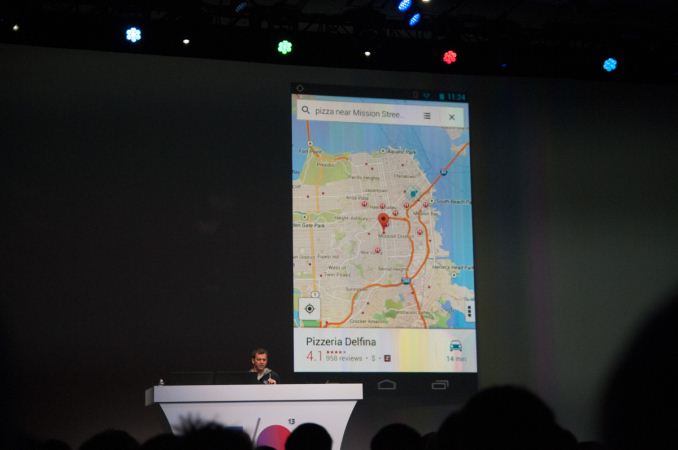 11:24AM PDT - I guess the Zagat scores are out from the UI
11:24AM PDT - Today we are announcing a new 5-point rating scale across all Google products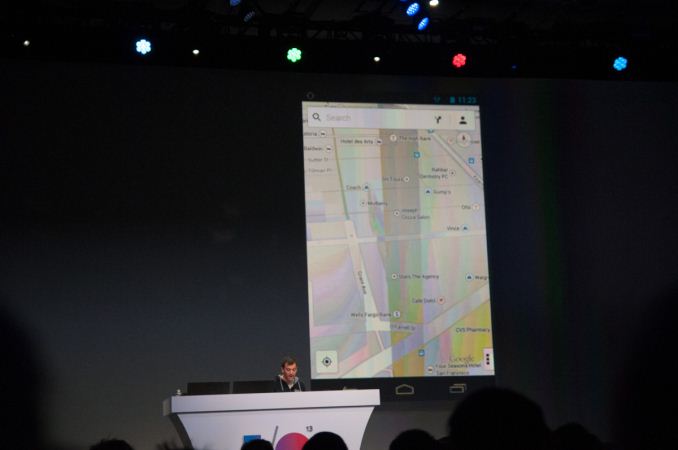 11:23AM PDT - Showing a preview of the new maps interface
11:23AM PDT - Next major release of Google Maps for mobile, coming to Android and iOS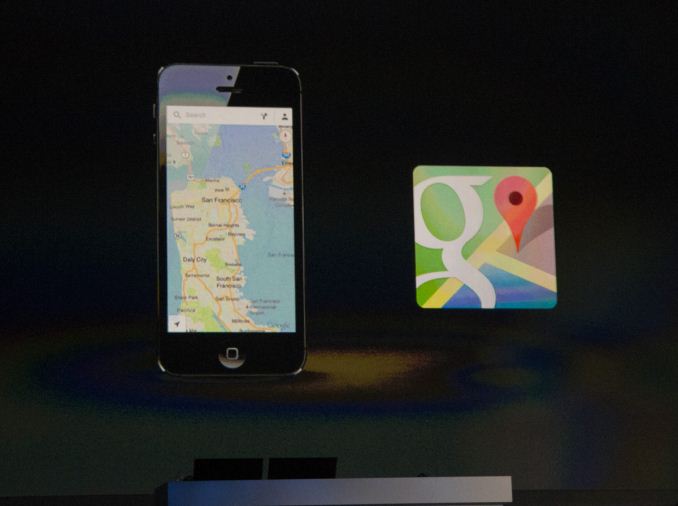 11:22AM PDT - "and last we forget, accurate"
11:22AM PDT - "Last December we launched Google Maps on the iPhone"
11:21AM PDT - Now on to Google Maps for mobile
11:21AM PDT - Google really emphasized how difficult bundling together all the Maps data is and lessons learned, perhaps a thinly veiled commentary on Apple Maps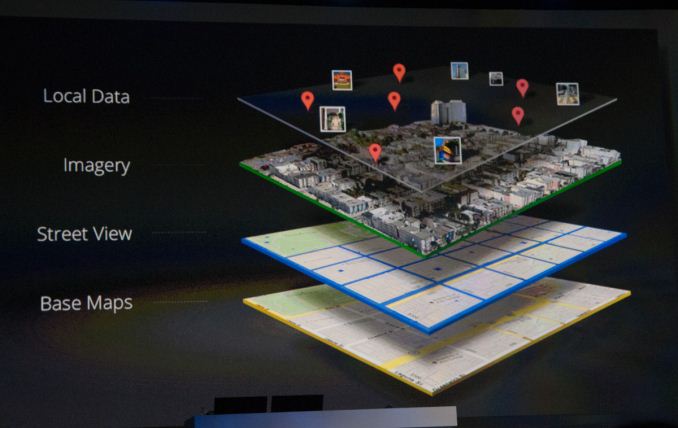 11:20AM PDT - Google is talking about how the maps product comes together, from base layer, street view, imagery, and POI data
11:19AM PDT - Google is talking about taking oblique images and making 3D buildings in urban locales with dense cores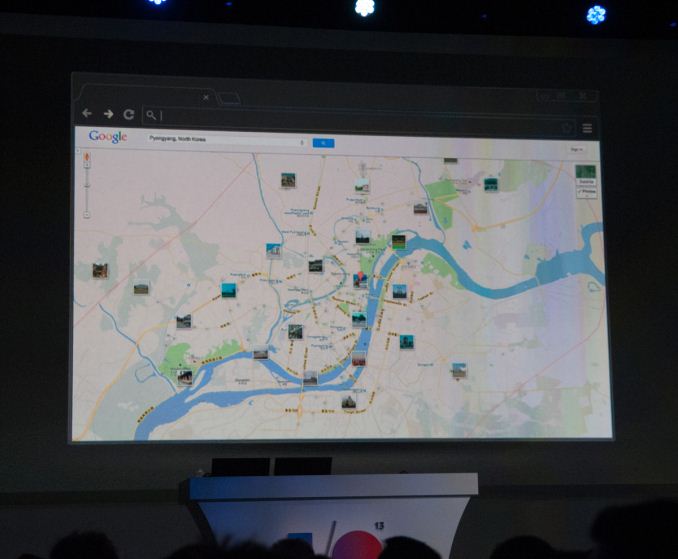 11:18AM PDT - Showing the map differences in Pyongyang
11:17AM PDT - One country was missing, but just recently we published North Korea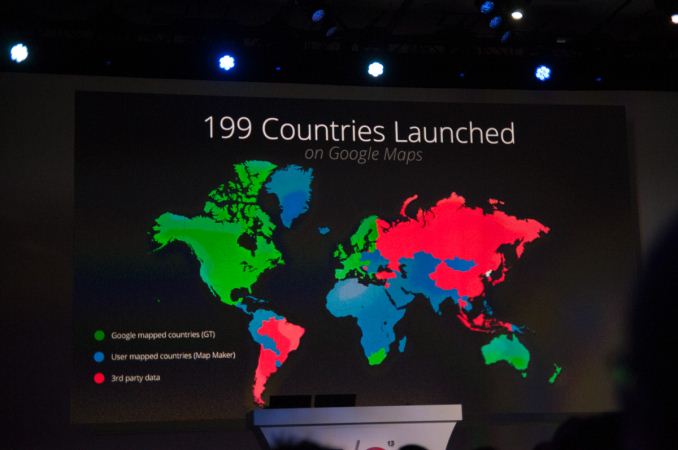 11:16AM PDT - Ground Truth - making the best dataset Google can possibly make with trusted data sources and their own data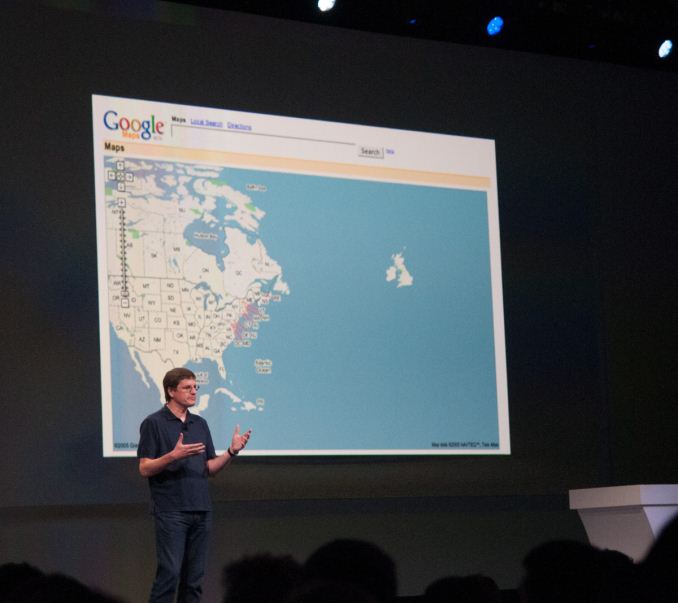 11:16AM PDT - Google Maps up next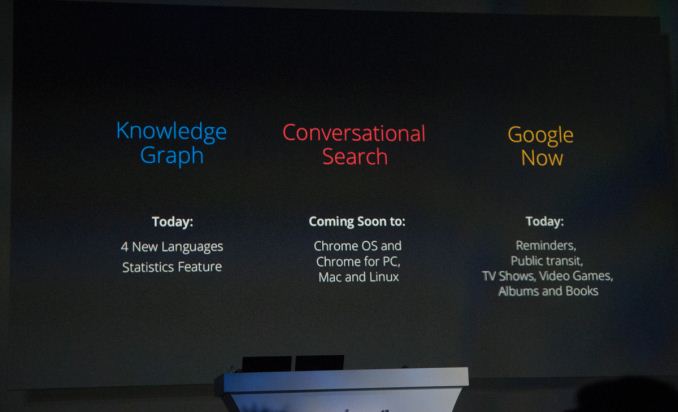 11:14AM PDT - Google wants search to work across all screens and scenarios instead of only searching the web
11:13AM PDT - Demos of searching queries like "photos from my trip to new york" which show personal results, Google is moving past just web
11:11AM PDT - Reminders work on time, dates, and locations including home and work
11:09AM PDT - The queries thus far have all worked flawlessly, showing examples of searching information about travel is the highlight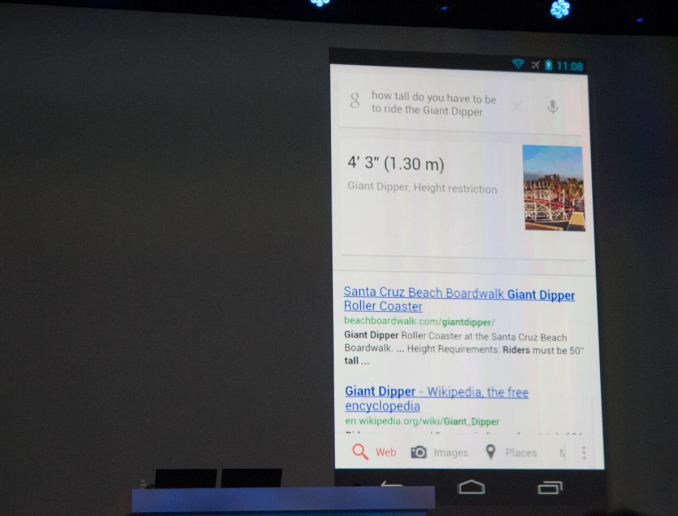 11:07AM PDT - Latest voice experience is coming to Chrome and Chrome OS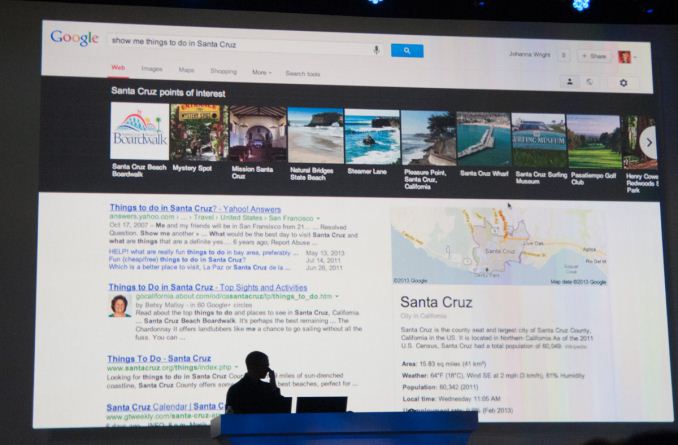 11:06AM PDT - "OK Google show me things to do in Santa Cruz" worked flawlessly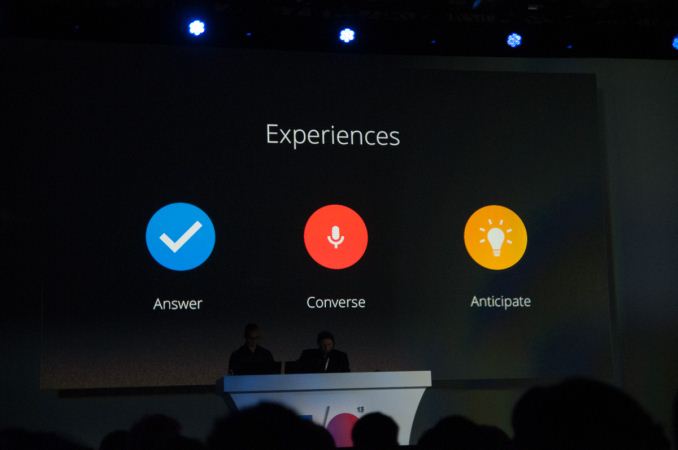 11:05AM PDT - Demo time with all these new features and experiences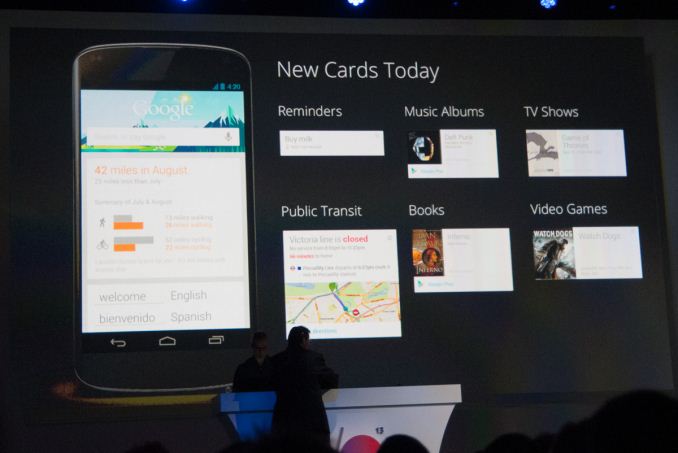 11:04AM PDT - New Google+ cards coming - reminders, public transit commute time, music, books, video games, tv shows
11:03AM PDT - Google is rolling out "Ok Google" search without having to click the microphone indicator for queries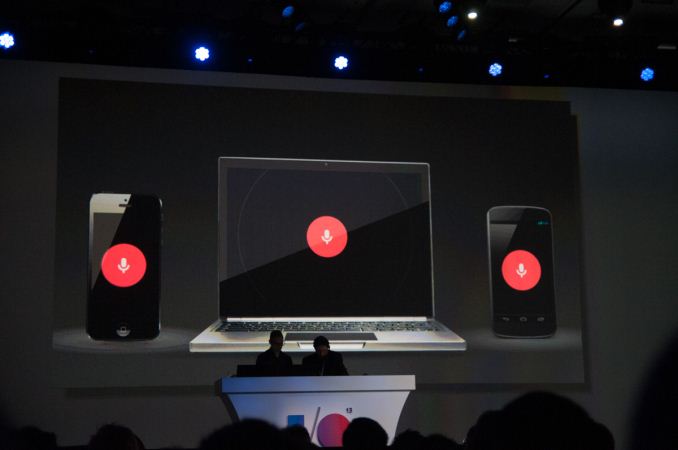 11:02AM PDT - Conversational search coming to laptops and desktops through chrome
11:02AM PDT - Part of search is being conversant and enabling conversational queries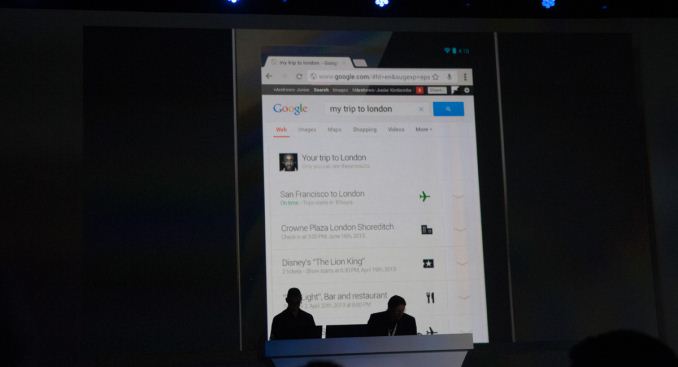 11:01AM PDT - Showing queries like "what's my gate number" or upcoming information, Gmail search field trial features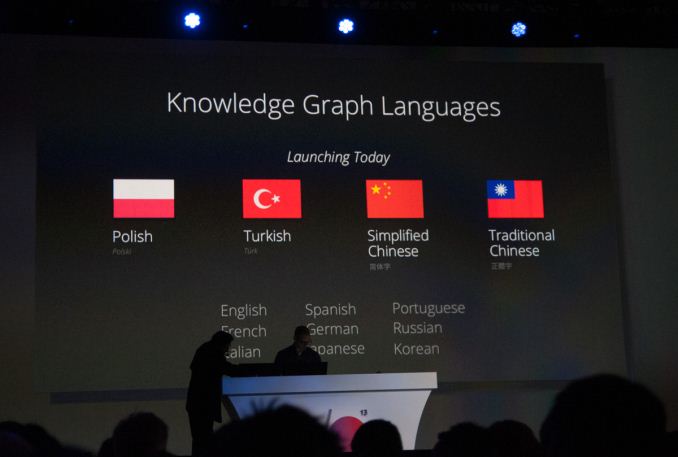 11:00AM PDT - Adding Polish, Turkish, Simplified Chinese, and Traditional Chinese to Knowledge Graph languages
10:59AM PDT - Now statistics will be included in results as well, and anticipate upcoming questions like how does it compare to other countries
10:59AM PDT - Knowledge graph enables much more power semantic search in results cards
10:58AM PDT - The search of the future will need to answer, converse, and anticipate
10:57AM PDT - Amit Singhal, his title slide didn't come up initially there. We're talking about how Amit was captivated by Star Trek initially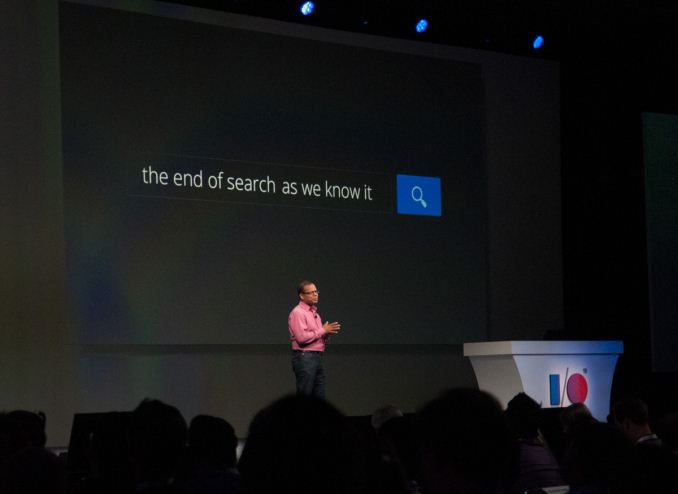 10:56AM PDT - Now onto Search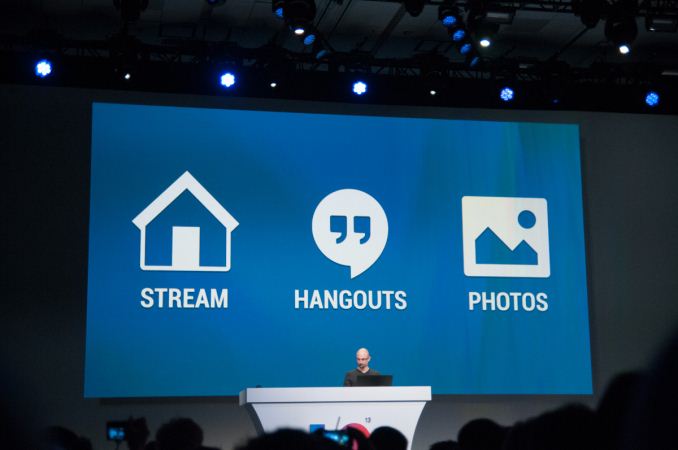 10:55AM PDT - "We just put the Google into Google+"
10:55AM PDT - Google+ improvements, new stream with multiple columns, hangouts and messaging, and photography features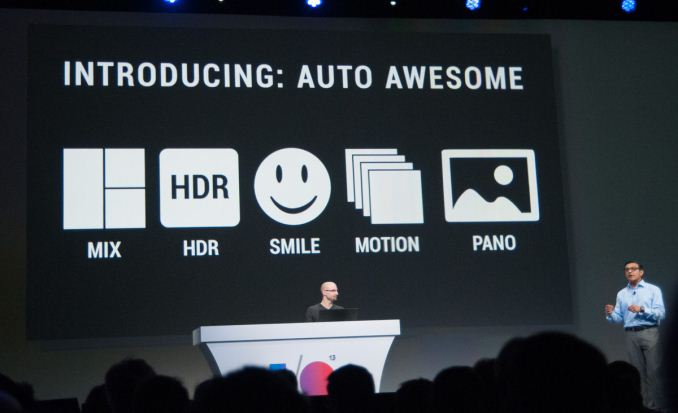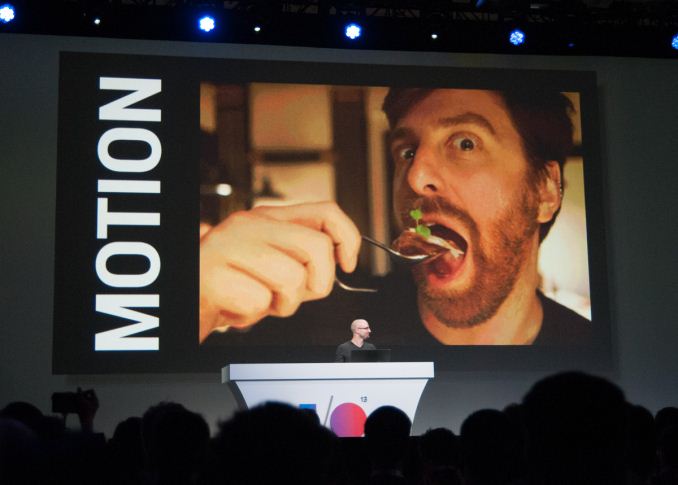 10:53AM PDT - Auto awesome - creates animated GIFs automatically from sequences
10:53AM PDT - Original or Enhanced visible in the Google+ photo viewer with a toggle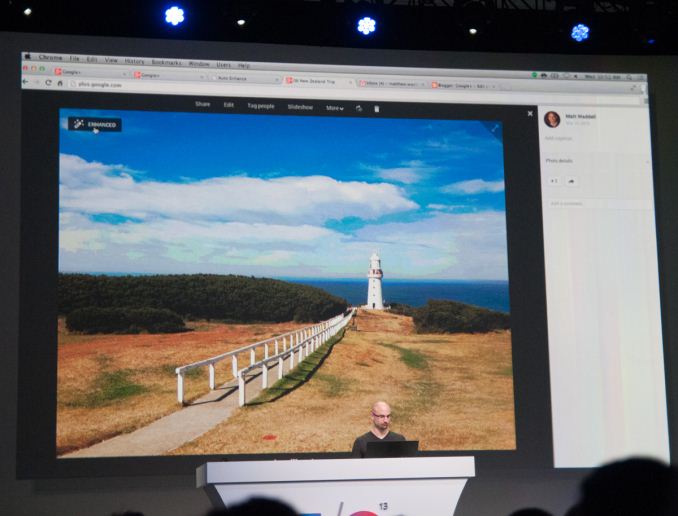 10:52AM PDT - Google's auto enhance kind of makes everything look like an HDR in these demos, but the feature in theory is great
10:51AM PDT - We're looking at auto enhanced images showing reduction of noise in low light, and scenery improving highlights
10:50AM PDT - Vic is using his own photo to demonstrate the auto enhance feature
10:48AM PDT - Machine learning all the training from a bunch of photographers editing photos is an awesome idea to make auto enhance work properly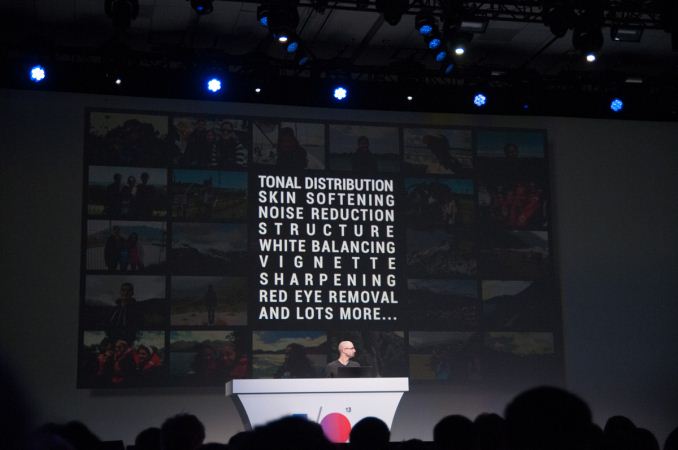 10:48AM PDT - Auto enhance for photos - tonal distribution, sharpening, also computationally learned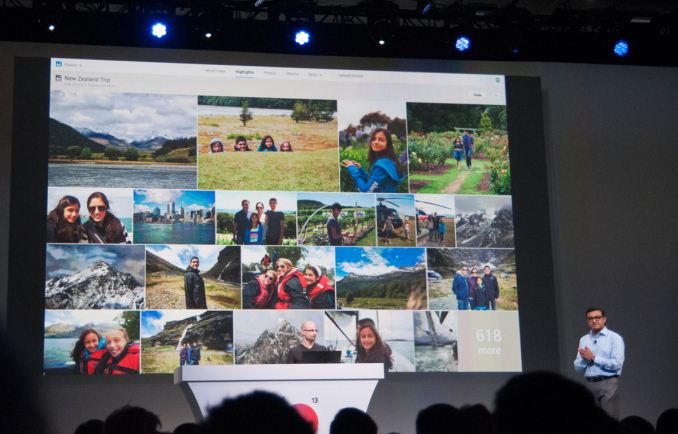 10:46AM PDT - Rolling out this evening, the images are all stored still if you want to look at all of them
10:46AM PDT - Machine learning sorts through the photos to find the best ones, the training was done by human graders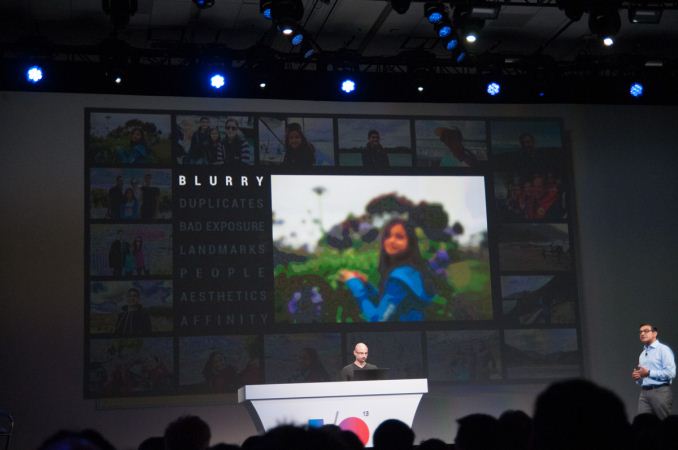 10:45AM PDT - Look for images that are blurry, duplicates, bad exposures, landmarks, people, aesthetics, affinity
10:45AM PDT - Google can pick the best photos for you automatically, sort through them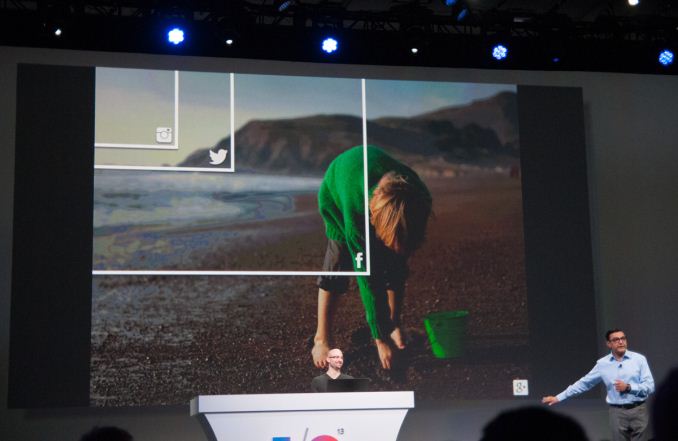 10:44AM PDT - Vic is talking about how Google+ stores full res images instead of resized ones, a topic near and dear to me
10:43AM PDT - Vic is talking about how Google+ went from 5 GB to 15 GB for full size images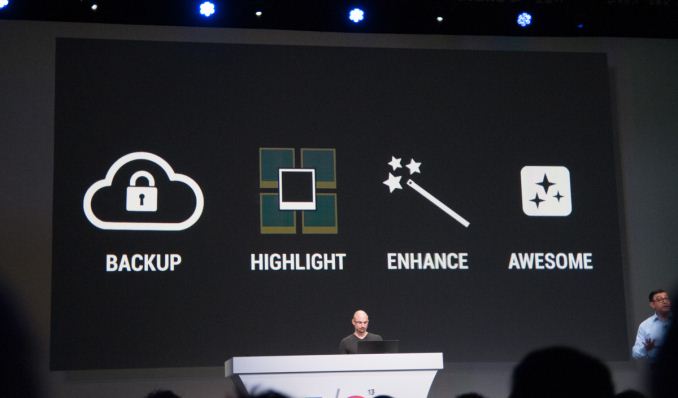 10:43AM PDT - Photography now, combining Google's cloud with photography
10:41AM PDT - Everyone can be dropped into a video chat as well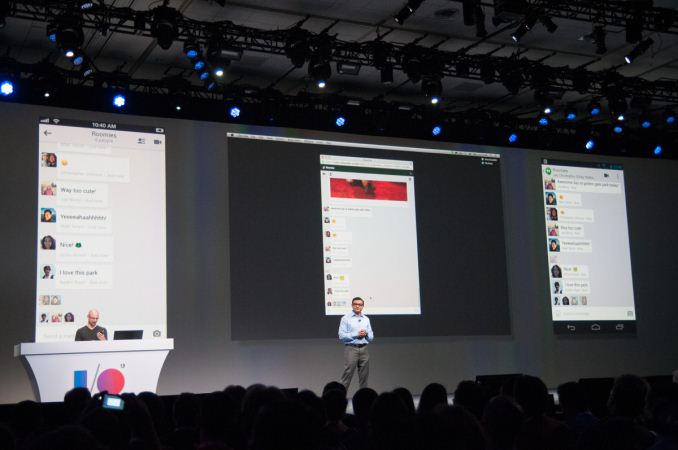 10:40AM PDT - Notifications are all synced, so if you dismiss one on a device, it'll go away on the other devices
10:40AM PDT - Web, Android, and iOS all available today
10:40AM PDT - Images are stored and saved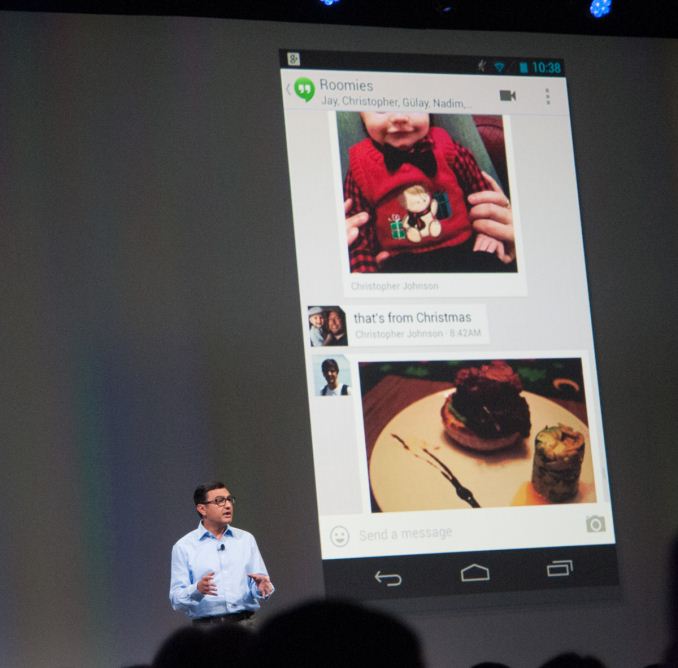 10:39AM PDT - Conversations, threads, this appears to be Google's new messaging product
10:38AM PDT - Introducing a new application today, Hangouts, standalone app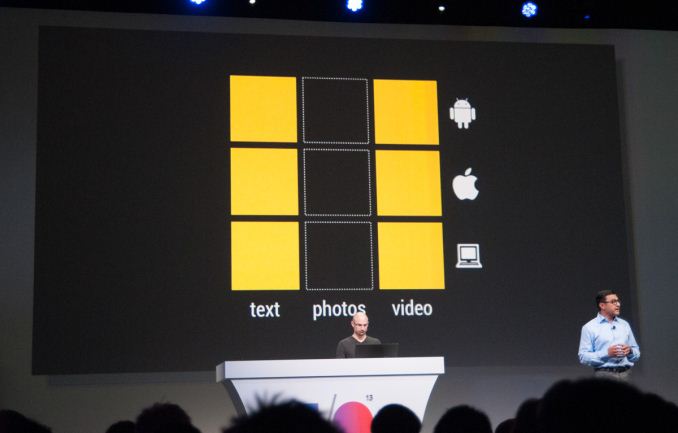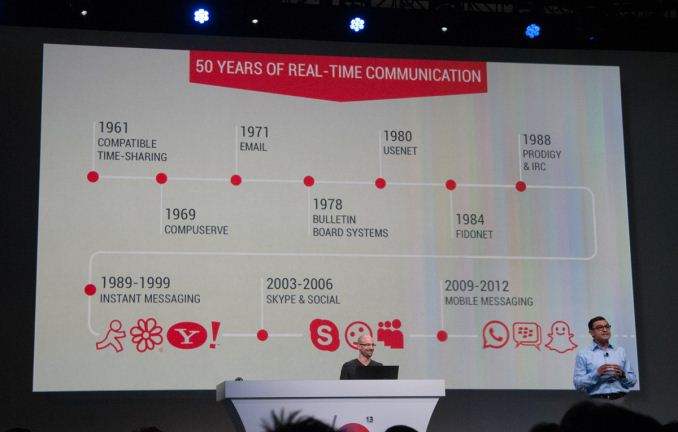 10:37AM PDT - Vic is talking about how mobile communication and mobile is still limiting
10:36AM PDT - Hangouts are next up - half of all sharing on Google+ is done to private circles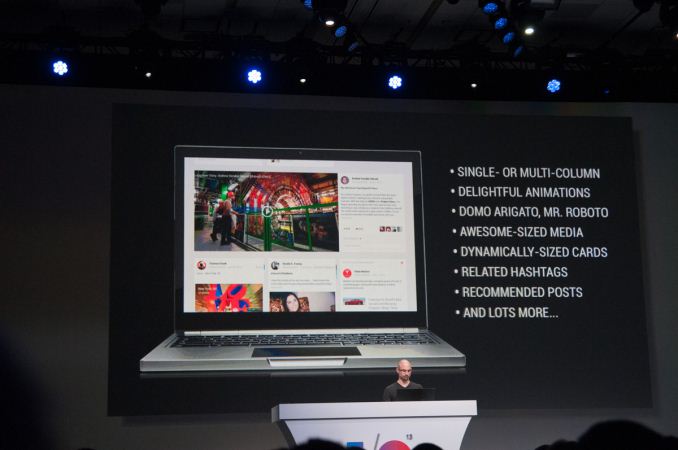 10:35AM PDT - New Google+ is rolling out this afternoon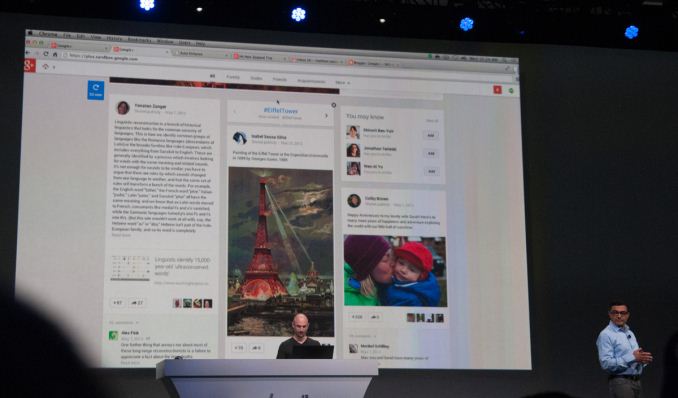 10:34AM PDT - Image analysis combined with knowledge graph can suggest hashtags as well
10:33AM PDT - Related hashtags, analyze the content of a post and suggest hashtags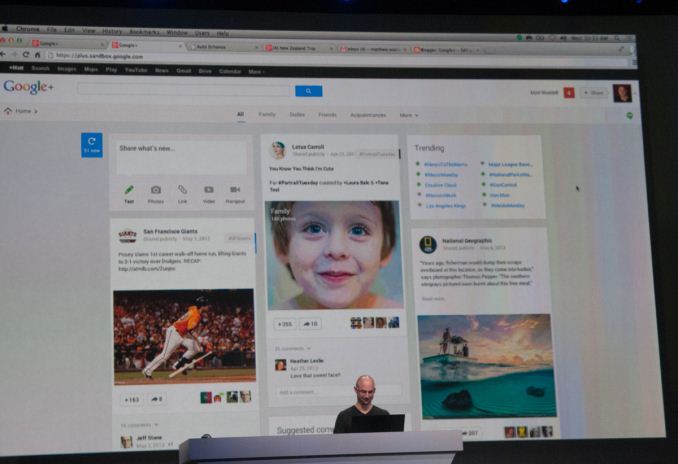 10:33AM PDT - Flips and fades, cards in the UI
10:32AM PDT - Videos and photos can span multiple columns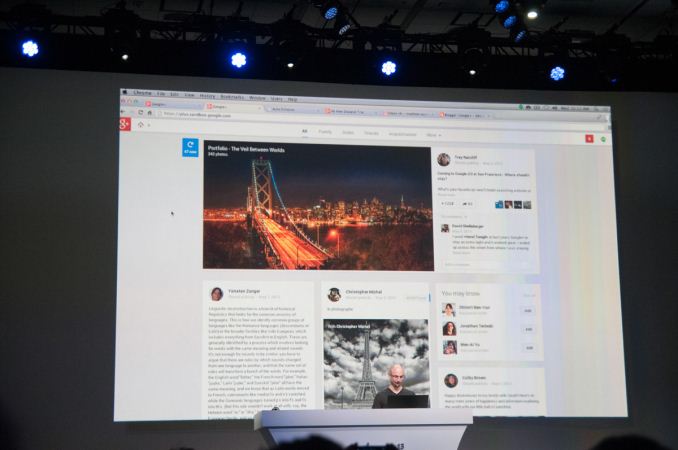 10:32AM PDT - Dynamic layout with 1, 2, or 3 columns, or forced single column
10:32AM PDT - Looking at the new Google+ and old Google+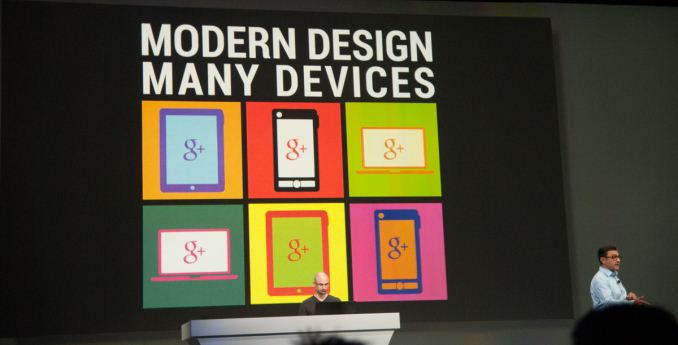 10:31AM PDT - Newly designed stream on all devices
10:30AM PDT - New stream, hangouts, and photos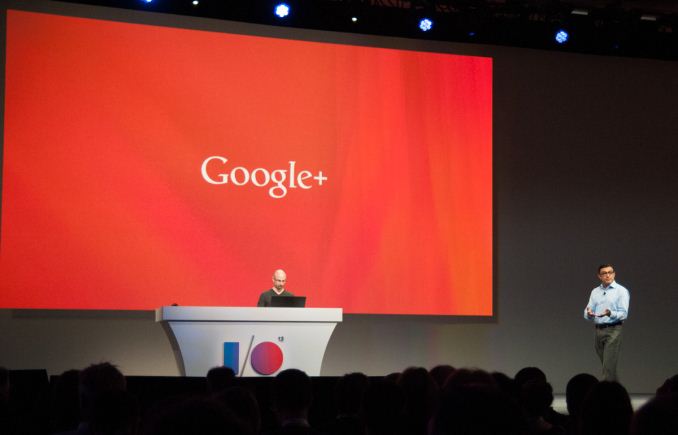 10:30AM PDT - Vic is out again to talk about what's next with Google+ with 41 new features
10:28AM PDT - Now we're going to hear from the Google+ team, Search team, and Maps team
10:27AM PDT - 4G connectivity to all schools across the country, 10,000 schools
10:26AM PDT - We're watching a video about Chromebooks being used in Malaysia for education
10:25AM PDT - Now Chromebooks in Education, after Android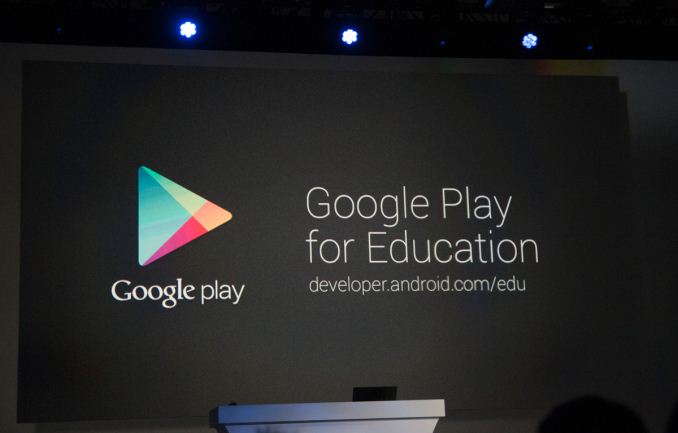 10:25AM PDT - Google Play for Education launches in the Fall
10:23AM PDT - Ability to push an application install to a bunch of tablets, for example all the tablets in the school
10:23AM PDT - Looking at Google Play for Education now, categories for various subjects with applications rated by educators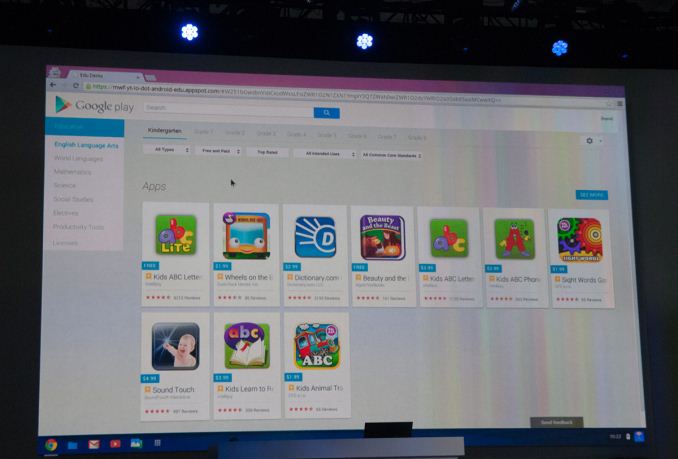 10:22AM PDT - New initiative to put Android tablets in the hands of kids, Google Play for Education
10:21AM PDT - Talking about tablets in education now and Google's role
10:20AM PDT - I guess we just dropped the Chromebook Pixel giveaway news right then, now we're talking about Google Apps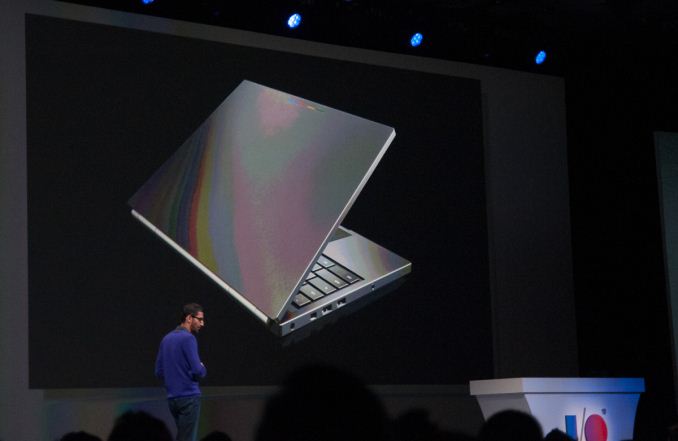 10:18AM PDT - "Do you guys know why I'm holding one here up in my hand?" Pixels are apparently the giveaway for everyone
10:18AM PDT - Talking about the Pixel now - "our goal was to build the best possible laptop out there"
10:17AM PDT - Now we're looking at a video showing the progression of the web
10:16AM PDT - Pretty neat demo, web sockets are being used and keeping the game in sync, it also knew screen sizes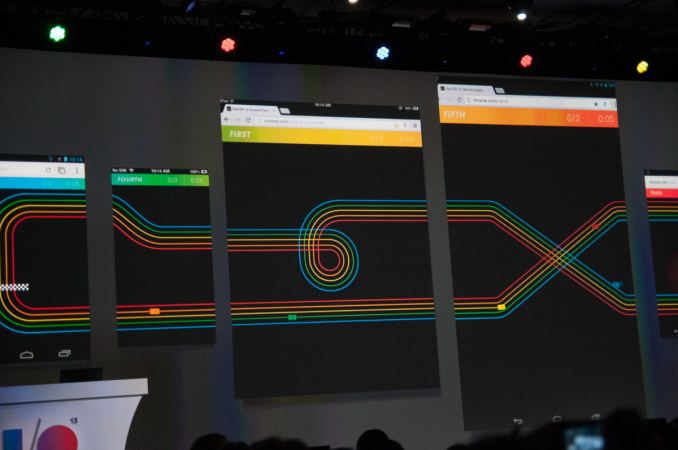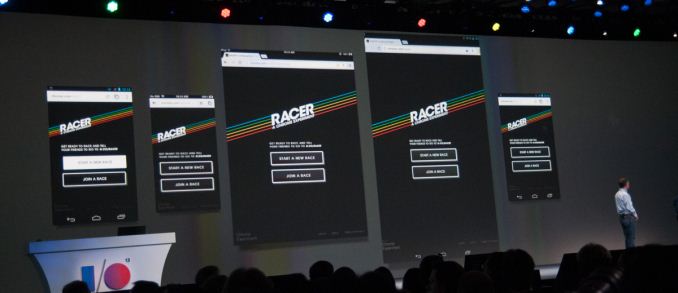 10:14AM PDT - Talking about applications that run in Chrome now, Racer, only requires Chrome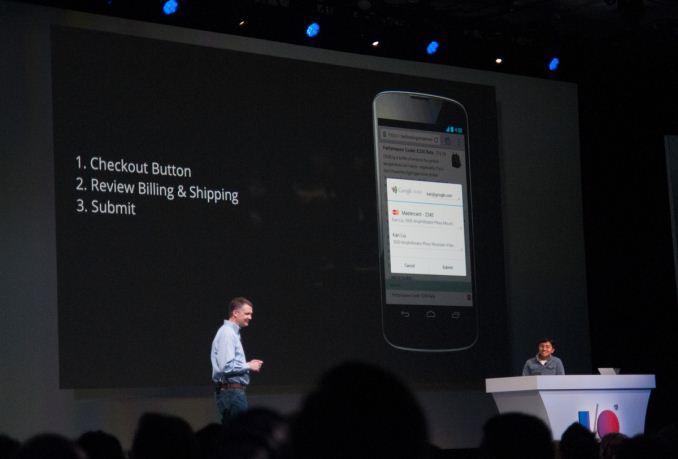 10:10AM PDT - Consolidated payment information in Chrome for making payments easier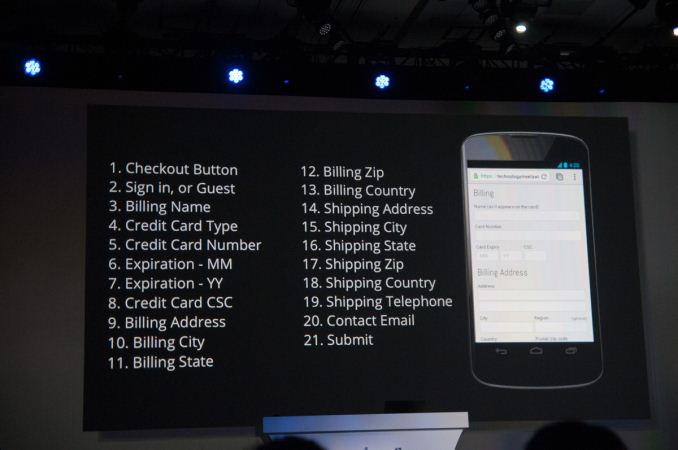 10:09AM PDT - Abandonment rate of shopping carts on mobile phones is in the 90 percent range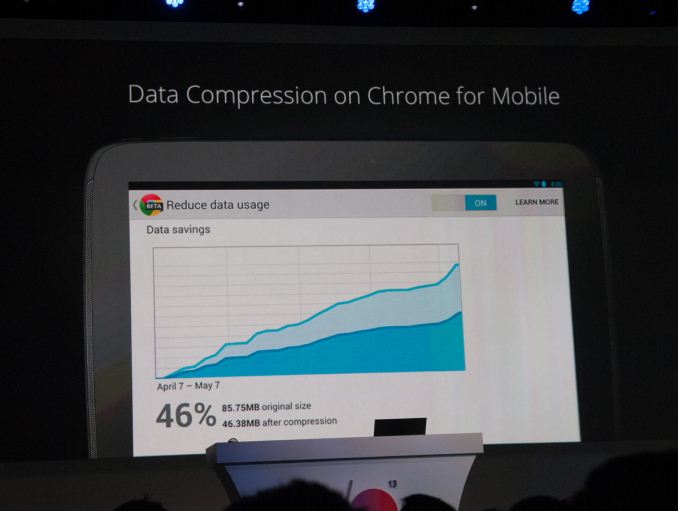 10:08AM PDT - "We speak SPDY in Chrome for Android as well"
10:08AM PDT - "We've been running this in the Android Beta channel"
10:08AM PDT - Data compression proxy for Chrome for Android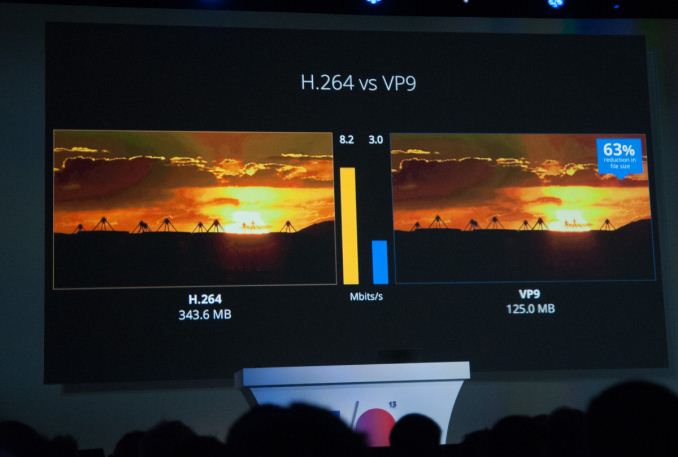 10:08AM PDT - YouTube is rolling out support for VP9 later this year, more encode targets
10:07AM PDT - Kind of odd to see VP9 compared to H.264 instead of H.265 / HEVC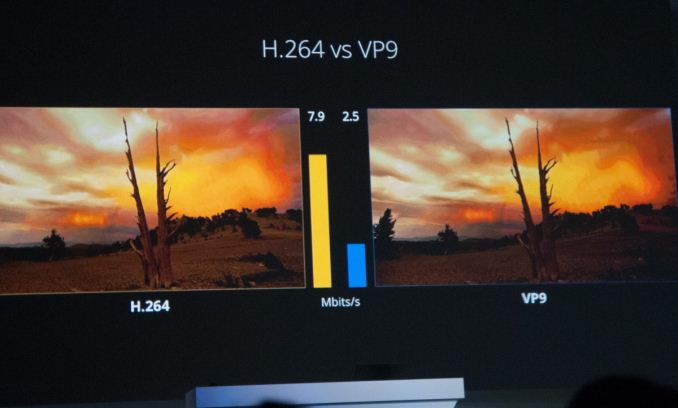 10:07AM PDT - H.264 vs VP9 now
10:06AM PDT - Google is talking shop about WebP now
10:05AM PDT - Talking about ASM.js and running that C and C++ code compiled out to ASM.js, 2.4 times improvement on V8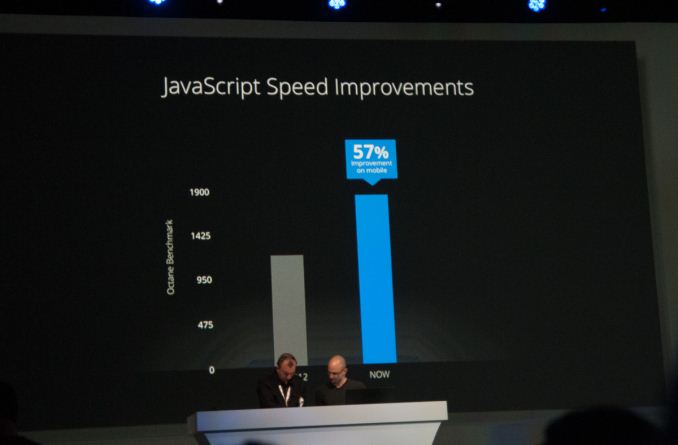 10:04AM PDT - Talking about V8 performance differences now, 28 percent on desktop, 57 percent on mobile
10:02AM PDT - Looking at another sound and touch driven WebGL experience on the Nexus 10, a few dropped frames but decently smooth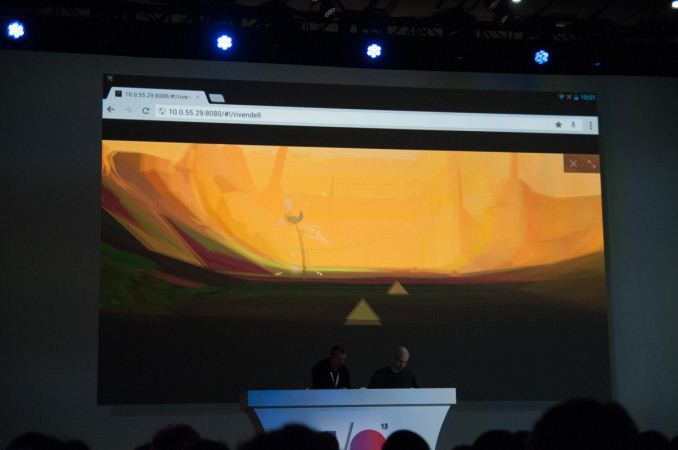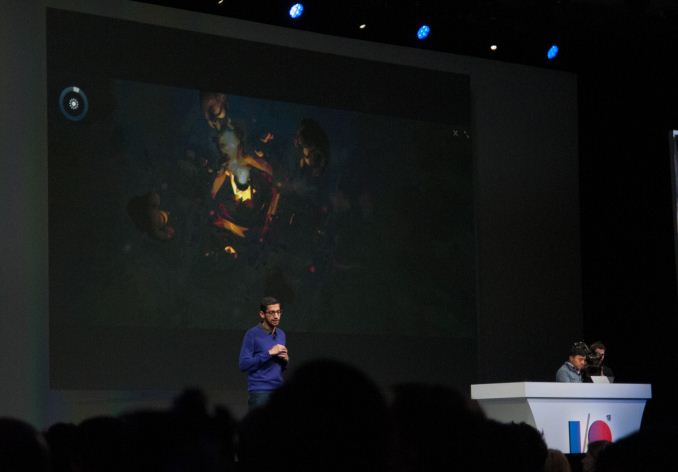 10:01AM PDT - Looking at WebGL experience on a Nexus 10 with the Hobbit
10:00AM PDT - Talking about web experiences and how those are easy to get users to experience versus applications which are difficult to get users to install on their devices
09:59AM PDT - We need to take mobile web forward to deliver a consistent experience across mobile devices and the desktop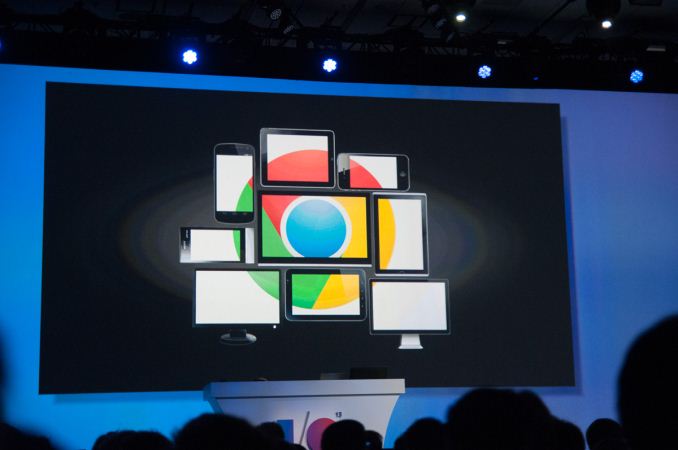 09:59AM PDT - Talking about Chrome OS and the prevalence of Chrome on phones and tablets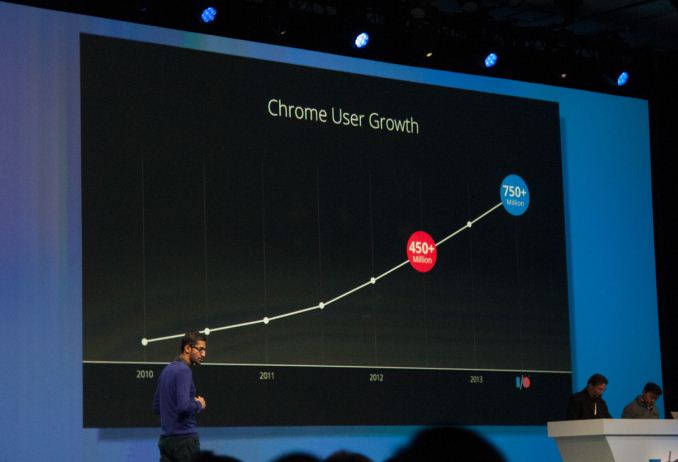 09:57AM PDT - 750 million active users of chrome this month
09:56AM PDT - Talking about Chrome now and talking about monthly active users
09:55AM PDT - Room had a sharp intake of breath about the SGS4 unlocked pricing, as if $649 is anything unexpected for these devices unlocked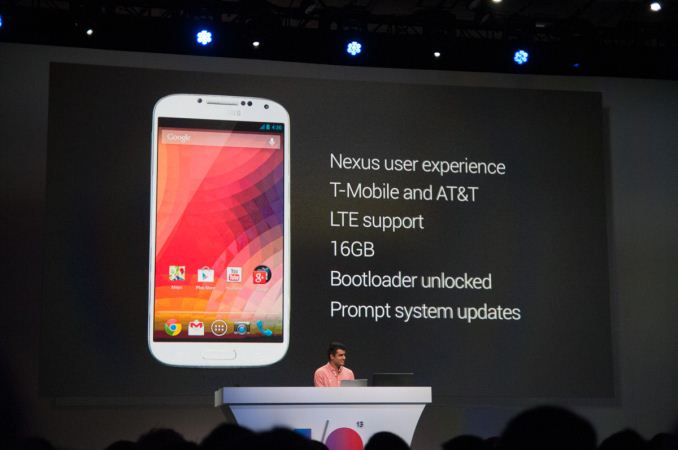 09:55AM PDT - Unlocked and on Google Play for $649
09:54AM PDT - Prompt system updates
09:54AM PDT - Available directly in the US through Google Play, unlocked model that works on AT&T and T-Mobile LTE
09:54AM PDT - "This is a SGS4 running Android 4.2 Jelly Bean running the same experience we ship on our devices"
09:53AM PDT - Stock Android home screen on an SGS4
09:53AM PDT - "There's something a bit different about this SGS4"
09:52AM PDT - Devices are up next, "we do not have a device giveaway"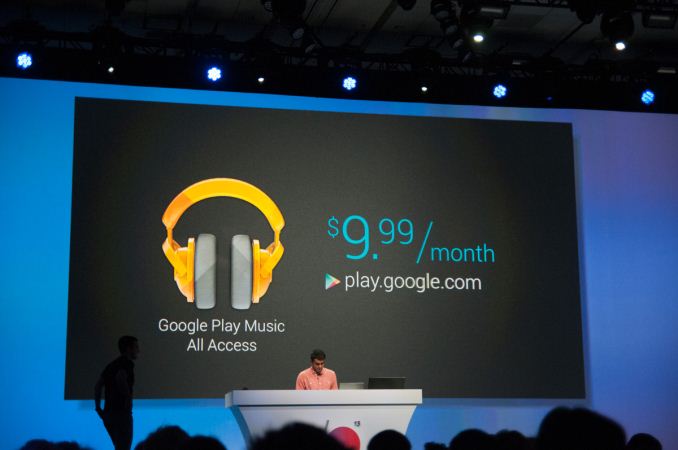 09:51AM PDT - Rolling out today, if you start a trial by June 30th it's only $7.99/mo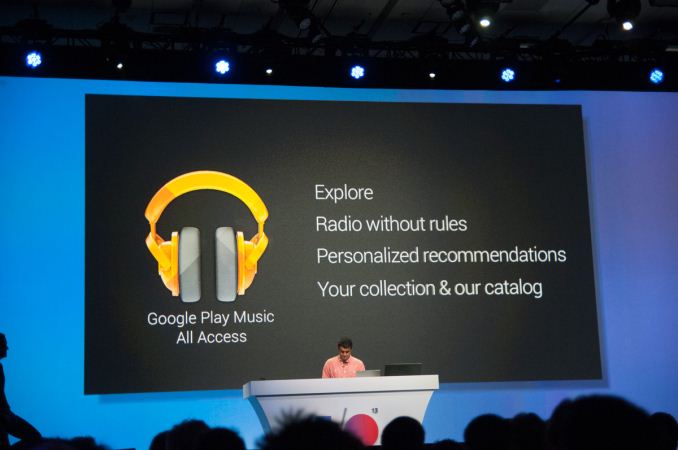 09:51AM PDT - Priced at $9.99/month in the US, with a 30 day free trial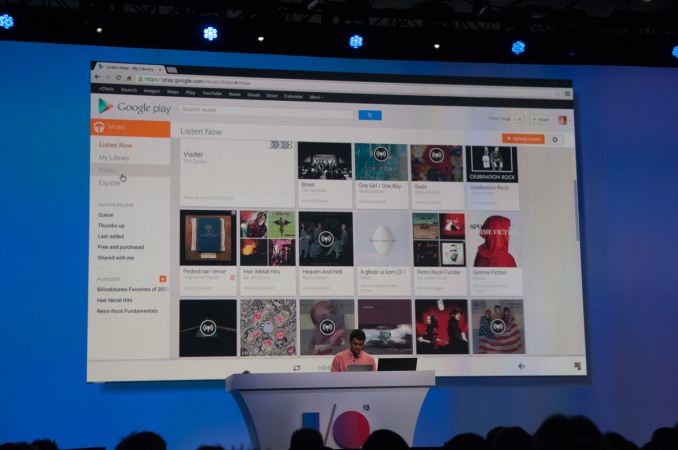 09:50AM PDT - Works great on tablets and web browsers as well
09:50AM PDT - Listen Now includes music recommendations to listen to
09:49AM PDT - Google's Spotify competitor looks pretty nice thus far, can add things from all access to the user's library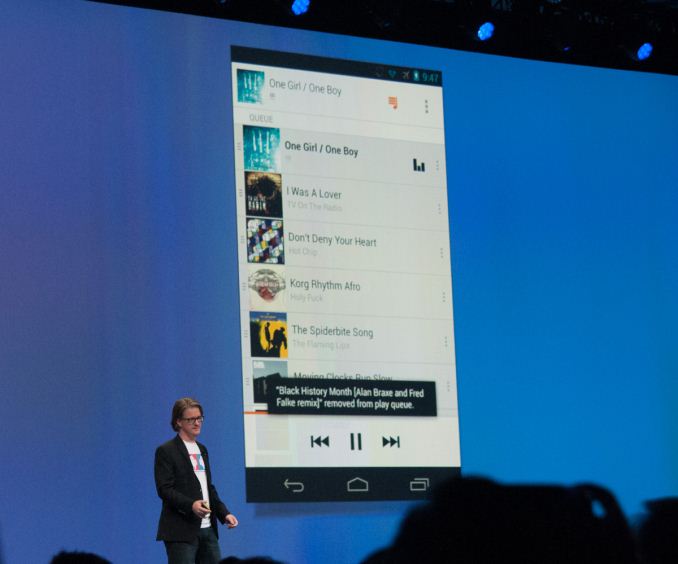 09:48AM PDT - Queue reordering on the device and the interface looks very nice, hands off or interactive
09:47AM PDT - Anything can be turned into a radio station with an endless playlist of tracks tailored to your needs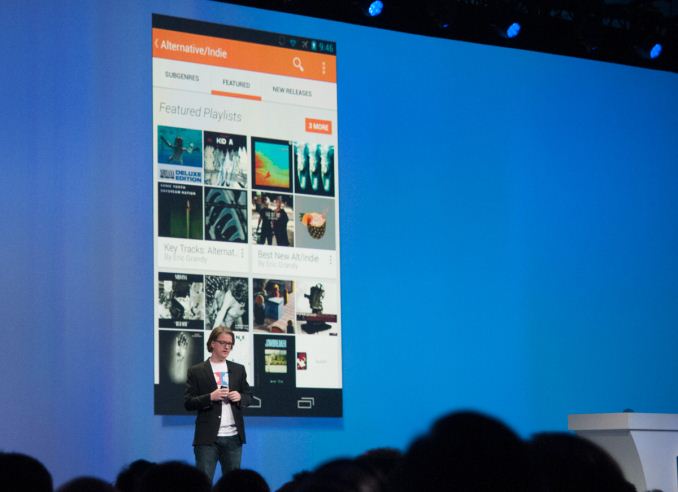 09:47AM PDT - Expert recommendations inside, key albums that define the genre, music immediately starts playing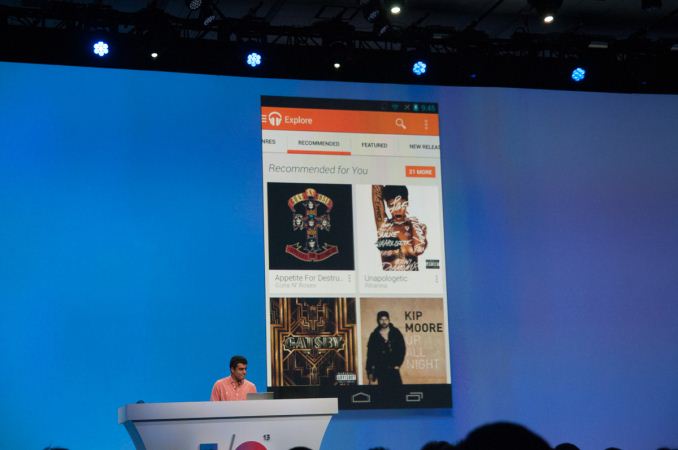 09:46AM PDT - All access starts with explore, looking at it on a phone now
09:46AM PDT - Google Play Music All Access subscription music service with uniquely Google approach
09:45AM PDT - Talking about the history of Google's Play Music rollouts and offerings
09:44AM PDT - "Do you guys want to hear about music?"
09:43AM PDT - The Play Store logo looks different there, possibly some testing build indicator?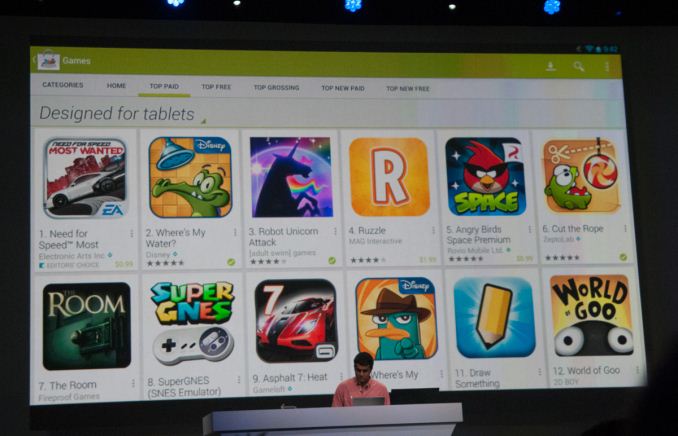 09:43AM PDT - The dev console includes suggestions and tweaks to get apps featured here
09:42AM PDT - New view with designed for tablets that meet the tablet app design guidelines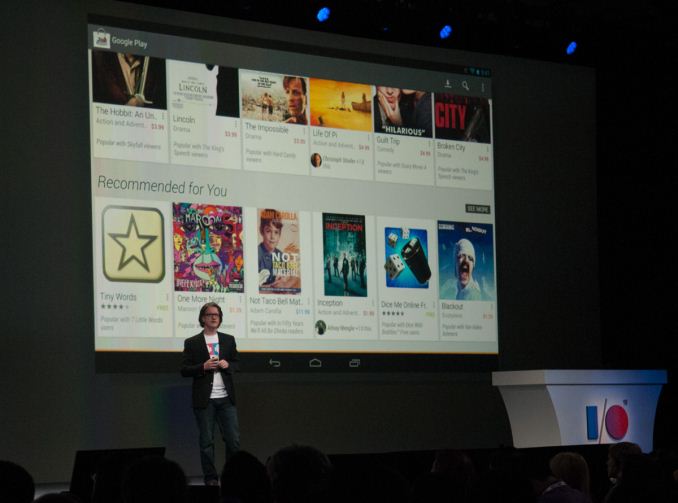 09:41AM PDT - New Play Store isn't just about looks, but also helps the discovery problem
09:41AM PDT - Looking at the new layout on the Nexus 10 tablet
09:40AM PDT - Improvements being made to Google Play, recently launched the redesigned Google Play store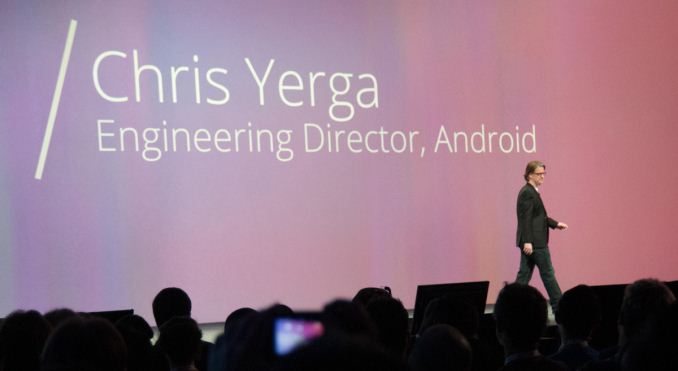 09:40AM PDT - Chris Yerga is on stage now
09:39AM PDT - Moving on to something more "playful"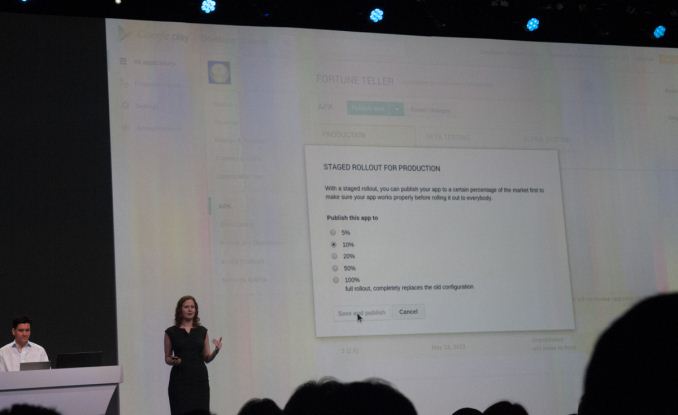 09:39AM PDT - Phased rollouts for application updates, not sure how I feel about this, but it's a great feature for mitigating updates with bugs
09:38AM PDT - Feedback from beta testers is sent directly to the developer and not directly to reviews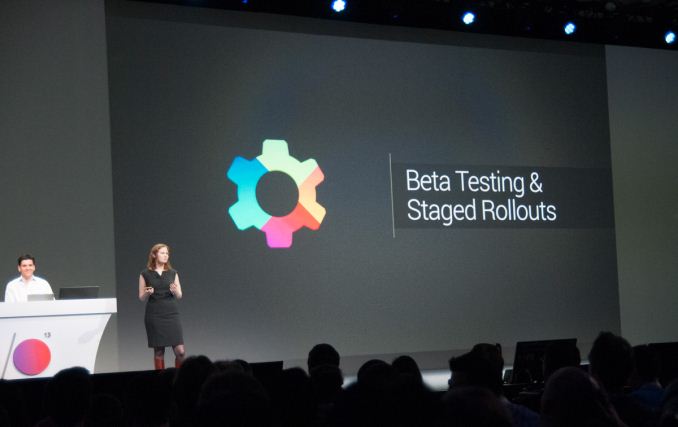 09:38AM PDT - Beta testing support now and staged rollouts, alpha testers, beta testers, and production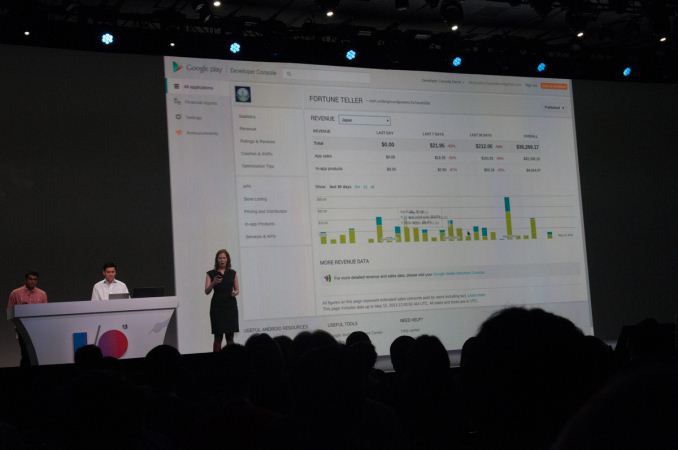 09:37AM PDT - Better revenue tracking with better granularity per country
09:36AM PDT - Engagement metrics from Google Analytics will be offered directly in the developer console, rolling out later in the summer
09:35AM PDT - Referral tracking next up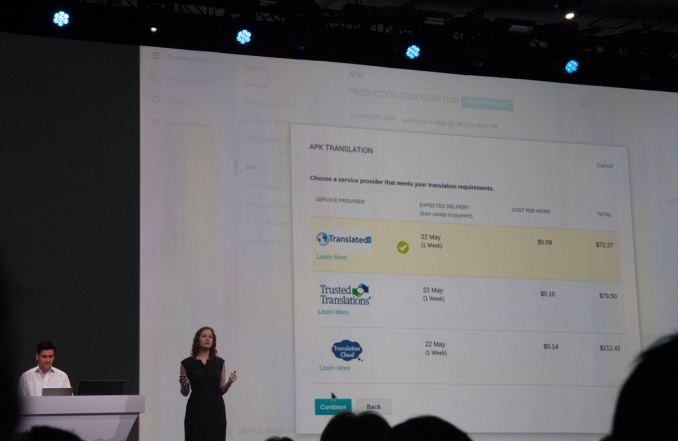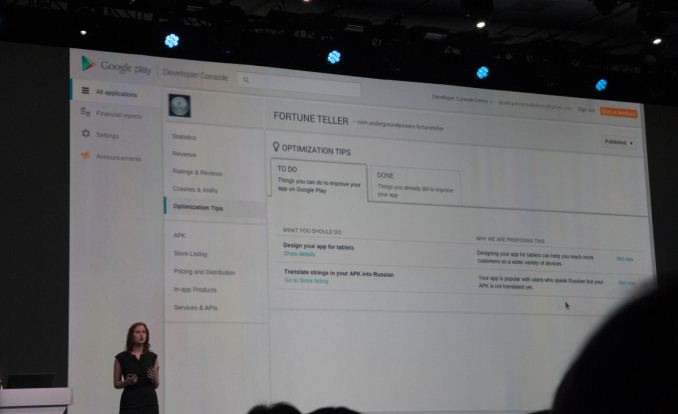 09:34AM PDT - Professional translations offered directly in the developer console
09:34AM PDT - Includes suggestions about how to fix problems in the application to increase breadth and depth
09:33AM PDT - Optimization tips — analyzes the app and offers insights for how to improve it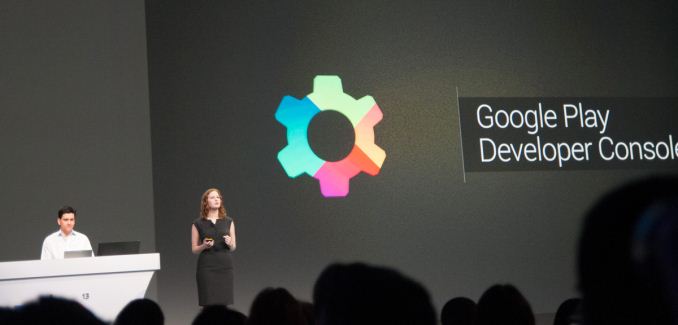 09:33AM PDT - Ellie Powers is on stage now talking about Google Play features being added to the Developer Console
09:32AM PDT - Very loud cheers about the new Android Studio IDE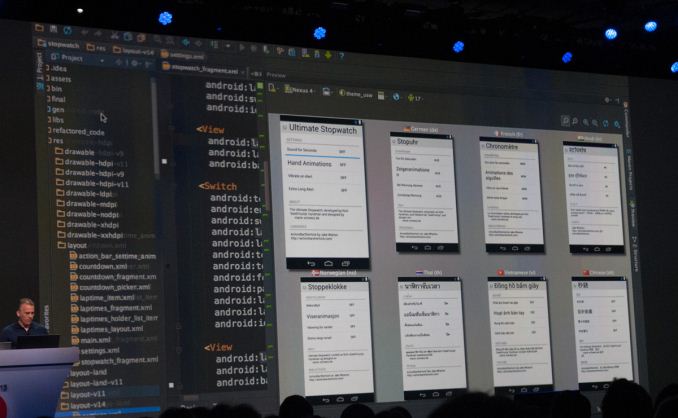 09:31AM PDT - Plan to integrate more services into the IDE with direct support for all the APIs mentioned earlier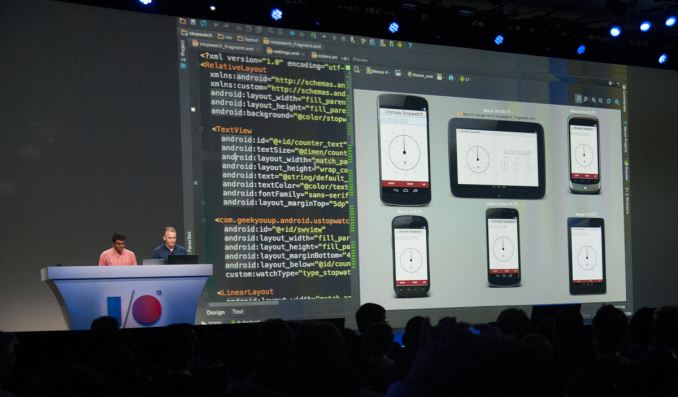 09:30AM PDT - Lots of cheering about this new IDE in the room
09:30AM PDT - Layouts rendered in real time to preview what it looks like on various other devices with different screen sizes, nice
09:29AM PDT - Live rendering of the layout and what it will look like at runtime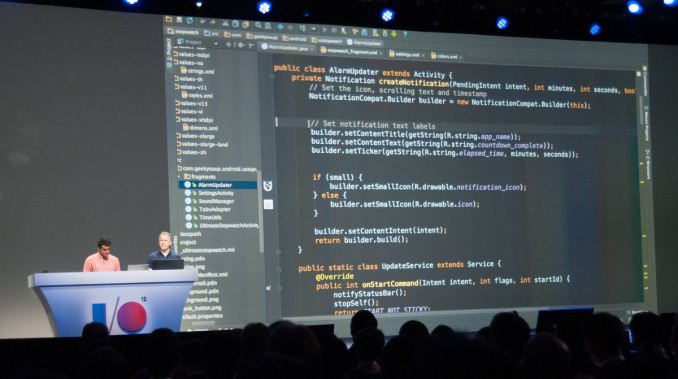 09:29AM PDT - New IDE for Android, looks fancy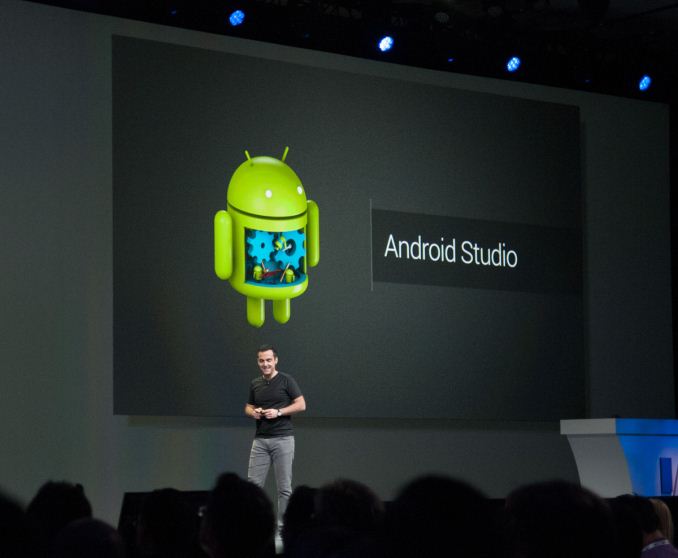 09:28AM PDT - Android Studio is an IDE built for making developers more productive
09:27AM PDT - They skipped that demo, can't believe they were trying to do that over WiFi here, that's never a recipe for success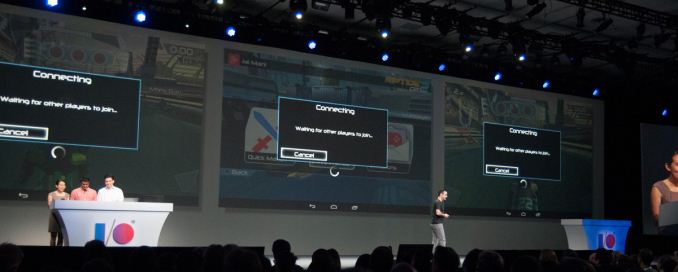 09:26AM PDT - Why are they only on WiFi when they had USB-OTG Ethernet adapters last year? Some issues it looks like getting this demo working.
09:25AM PDT - Oh no, google play services crashed there briefly
09:25AM PDT - One thing really sticks out at me here - Google is going for parity with Apple's API support on iOS, if not slightly beyond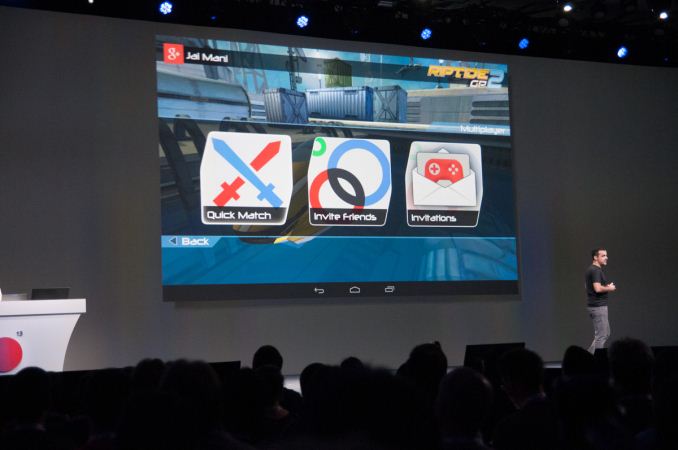 09:24AM PDT - We're looking at Riptide 2 with support for the new multiplayer APIs
09:24AM PDT - "We want to manage all the networking connections and manage peer to peer connections for you"
09:23AM PDT - Comprehensive multiplayer API as well, sounds like matchmaking support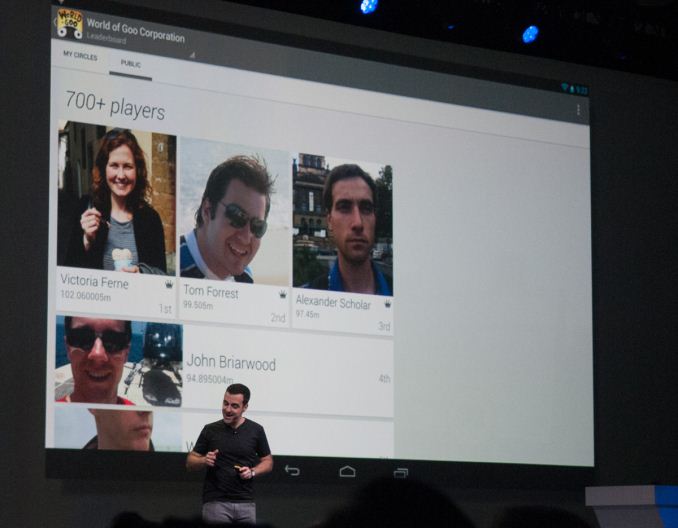 09:23AM PDT - Works across iOS and Web as well, not just Google devices
09:23AM PDT - We're looking at the leaderboard - there's global and also among friends pivot panes
09:22AM PDT - Achievements and Leaderboard support as well, leaderboards use Google+ accounts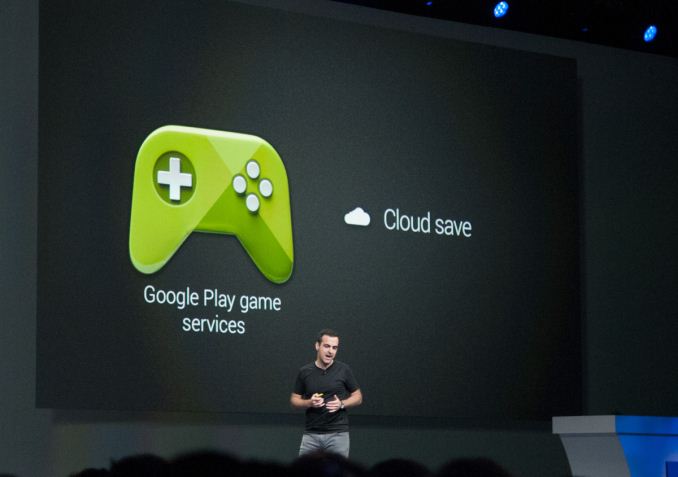 09:22AM PDT - First new API is called game save which syncs saves and game state across devices
09:21AM PDT - Announcing a new family of APIs for Developers, Google Play game services
09:21AM PDT - Let's talk about one new major service - Gaming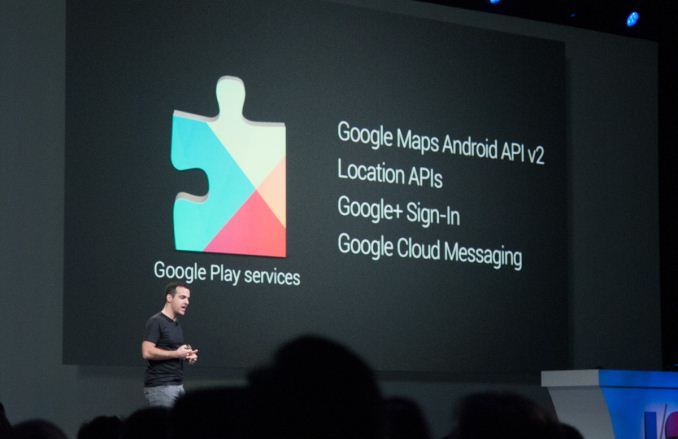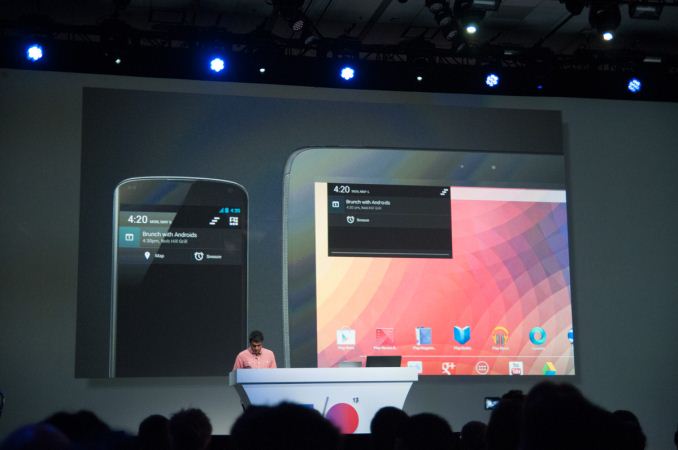 09:20AM PDT - Another GCM API syncs notifications now, wow this is very cool for multiple devices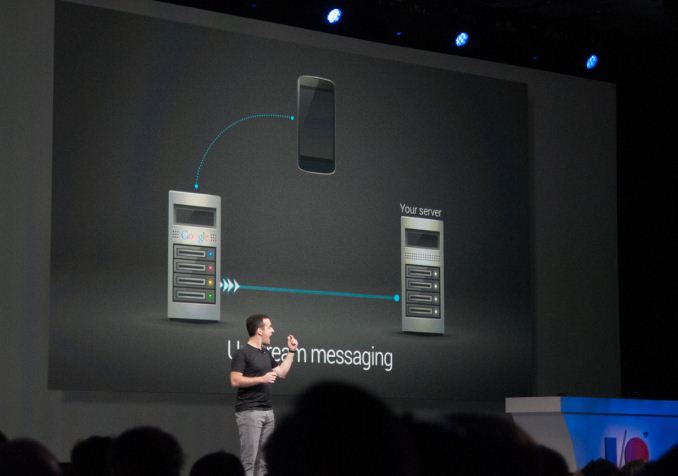 09:20AM PDT - Persistent connections are now supported, upstream messaging is now supported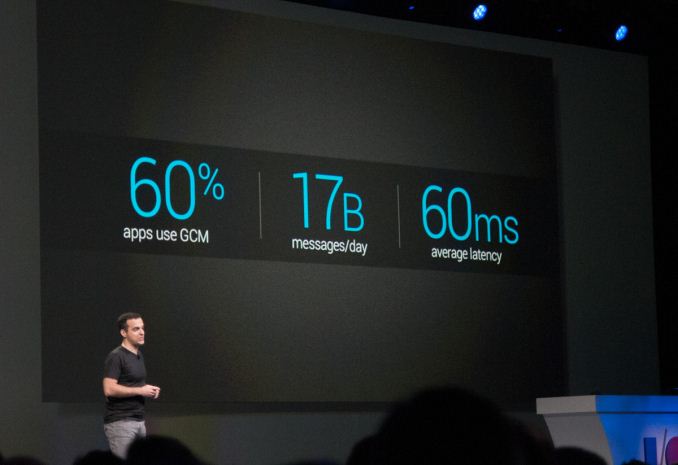 09:19AM PDT - Push notification latency is around 60ms average latency, now a part of Google Play services
09:19AM PDT - 60 percent of the top 100 apps in the play store today use GCM, 17 billion messages a day
09:19AM PDT - Google Cloud Messaging is next, GCM
09:18AM PDT - He's automatically signed into the app on his tablet, after being logged in on the desktop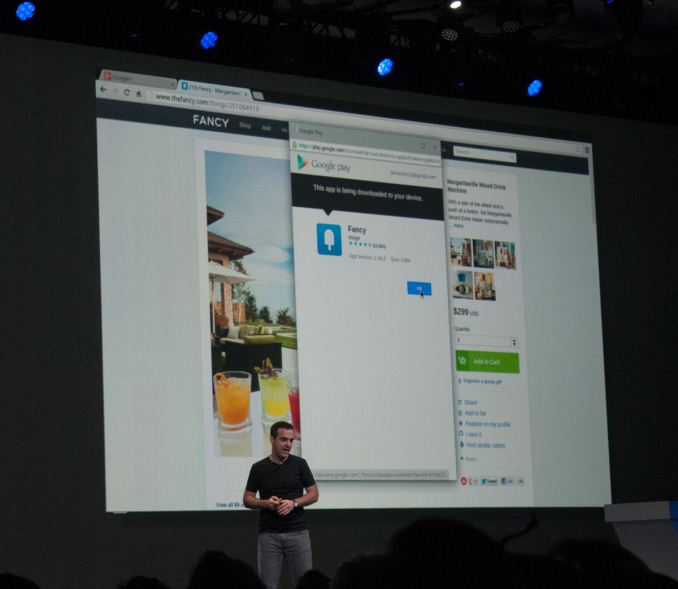 09:17AM PDT - Google+ sign in is next, being expanded with cross platform single sign on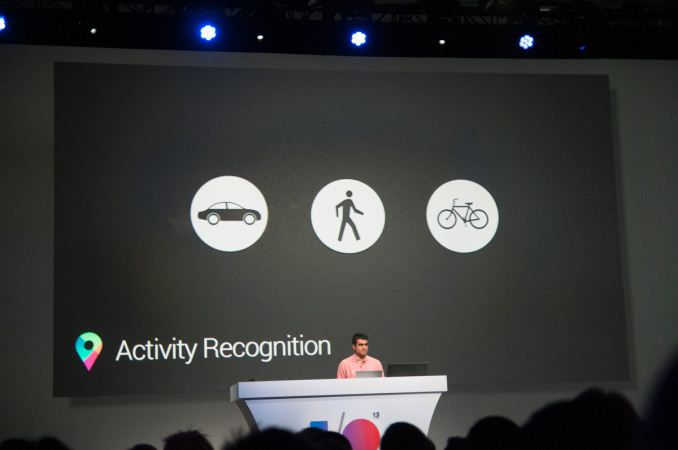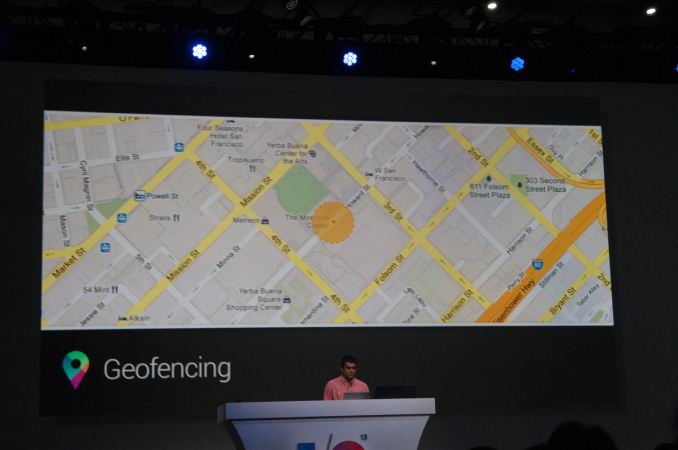 09:16AM PDT - Third new API is activity recognition, to track physical activities through accelerometers and machine-learned classifiers to detect walking, cycling, or driving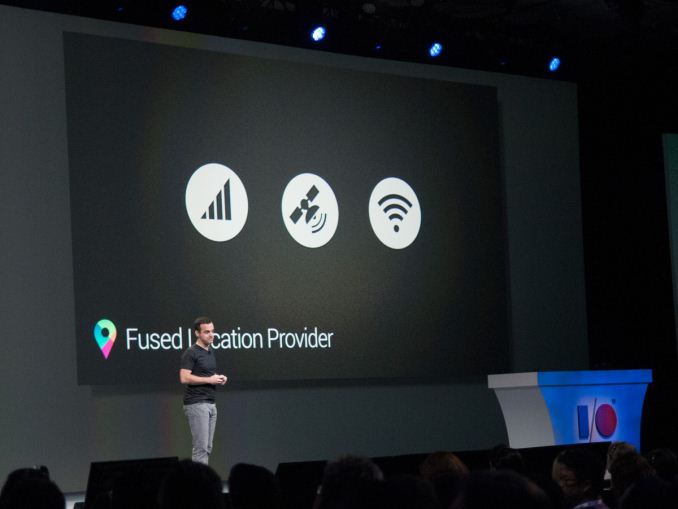 09:15AM PDT - Geofencing is up next
09:15AM PDT - Fused all the location inputs together and includes a new lower power location mode that uses less than 1 percent per hour
09:15AM PDT - Three new location APIs as part of Google Services - Fused Location Provider is the first
09:14AM PDT - Showing the Google Maps API v2 right now
09:14AM PDT - Google Play services updated automatically by Google through the Play Store to enable latest APIs on devices consistently
09:13AM PDT - Google Play services is the subject now, a layer built and managed by Google on top of the Android platform
09:13AM PDT - Preview of exciting developer tools being announced here at I/O
09:12AM PDT - Revenue per user is 2.5 times what it was a year ago for Android globally
09:12AM PDT - Over the last 4 months Google has paid out more money to developers on Google Play than all of last year
09:12AM PDT - Google Play has just passed 48 billion app installs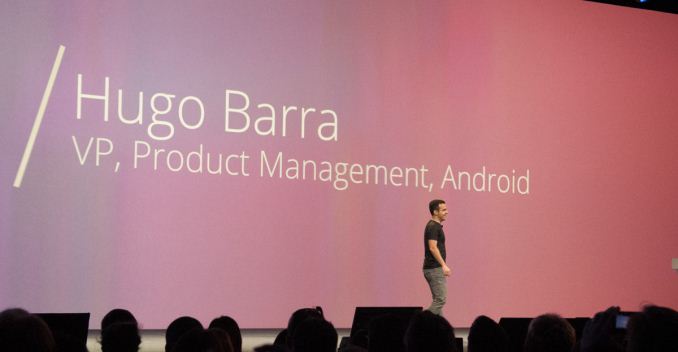 09:11AM PDT - Hugo Barra is now out on stage
09:11AM PDT - The next part of Android is about bringing that experience into their lives, that 4.5 billion people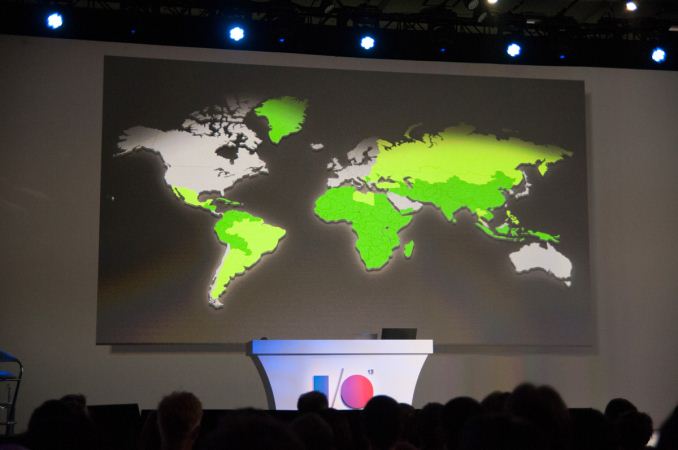 09:11AM PDT - Countries in green represent over 4.5 billion people and have less than 10 percent android penetration
09:10AM PDT - There are over 7 billion people on this planet, so we have a long way to go, and the journey is just getting started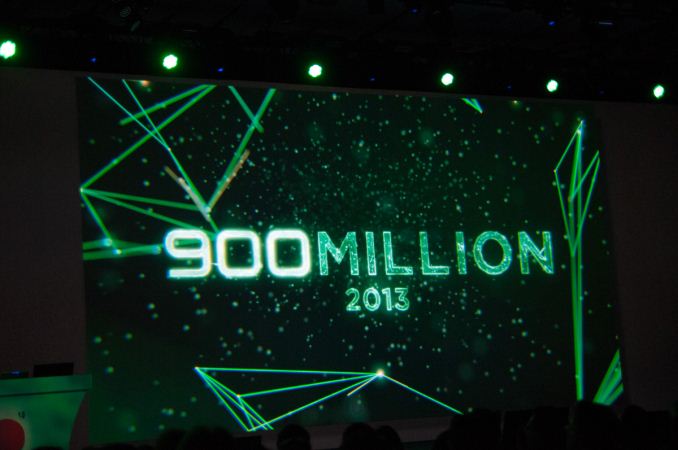 09:10AM PDT - 900 million activations 2013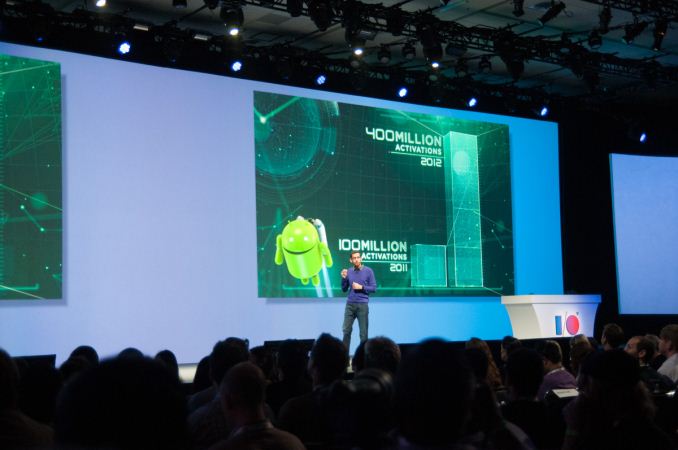 09:09AM PDT - Talking about Android activations now and momentum
09:08AM PDT - A lot of what this keynote is about is what we are doing and enabling on these platforms
09:08AM PDT - Both of these platforms are home to "the best of google" search, Google Now, Maps
09:08AM PDT - "Chrome started as a faster and simpler browser, and today it is the most popular browser in the world"
09:07AM PDT - Talking about how Android started with the goal of bringing open standards to the mobile industry and now the most popular mobile OS in the world
09:07AM PDT - "Google has two large open scalable fast growing platforms to build amazing experiences, Android and Chrome"
09:06AM PDT - Talking about all the computing devices with smart displays from watches, to thermostats, to cars, to Glass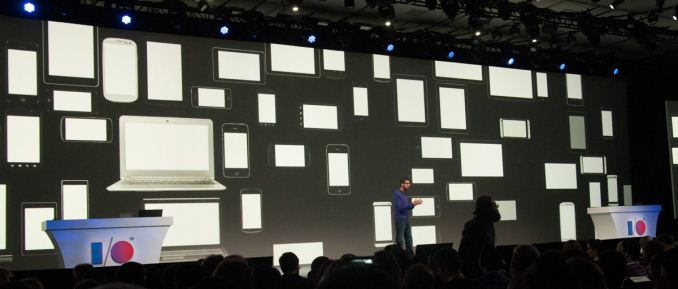 09:05AM PDT - They're showing the iconic photo from Saint Peter's basilica where everyone is holding a phone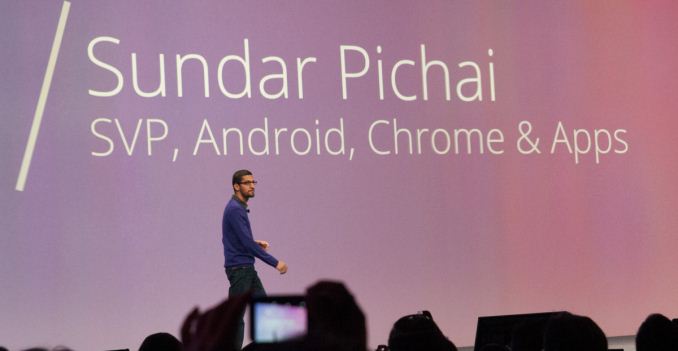 09:04AM PDT - Talking about how this is one of the most exciting times for computing and the evolution from desktops to laptops and mobile devices
09:04AM PDT - Now Sundar Pichai is out on stage
09:03AM PDT - Vic is thanking developers for their apps built on Google services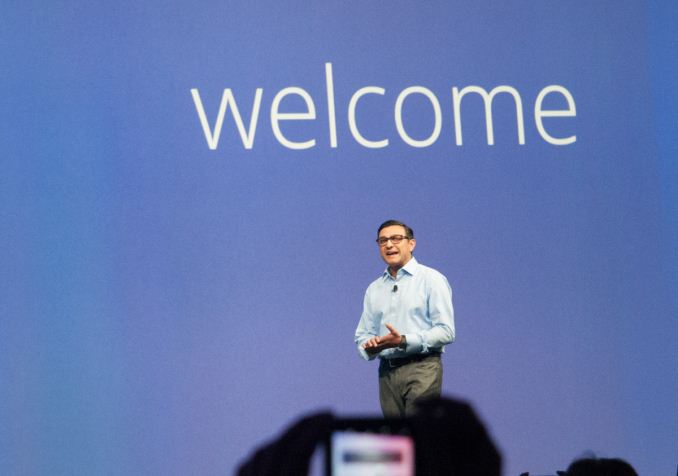 09:02AM PDT - Vic Gundotra is out on stage welcoming us to the 6th annual Google I/O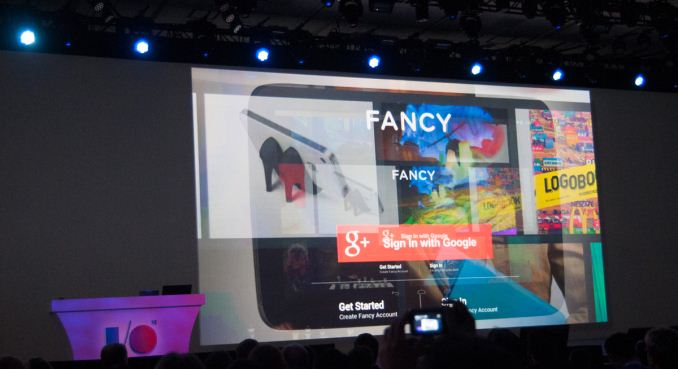 09:00AM PDT - And we're underway, looking at photos of various google products now, I saw Nexus 10 and maps already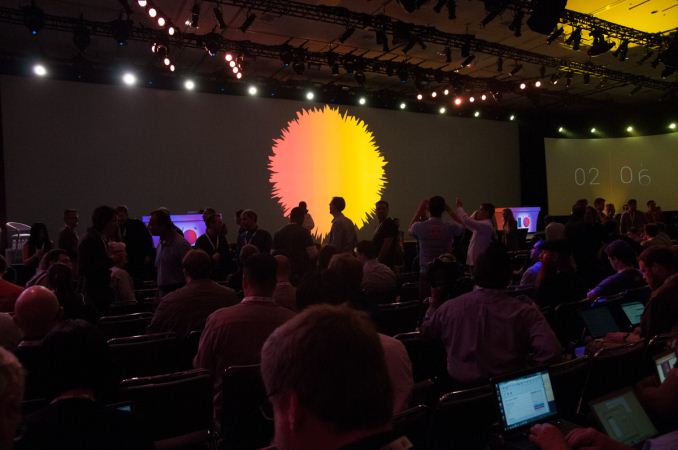 08:58AM PDT - We're getting close here, under two minutes away
08:55AM PDT - So I'm wearing Google Glass at I/O 2013, it turns out it's difficult to take pictures through a DSLR viewfinder wearing Glass
08:51AM PDT - We're about ten minutes away from the keynote going on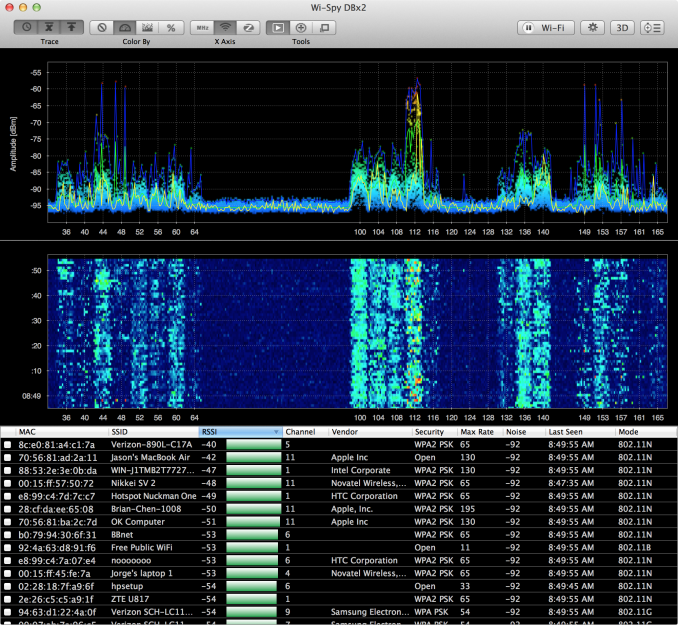 08:50AM PDT - 5 GHz is home to a ton of carriers, literally all the spectrum is lit up in here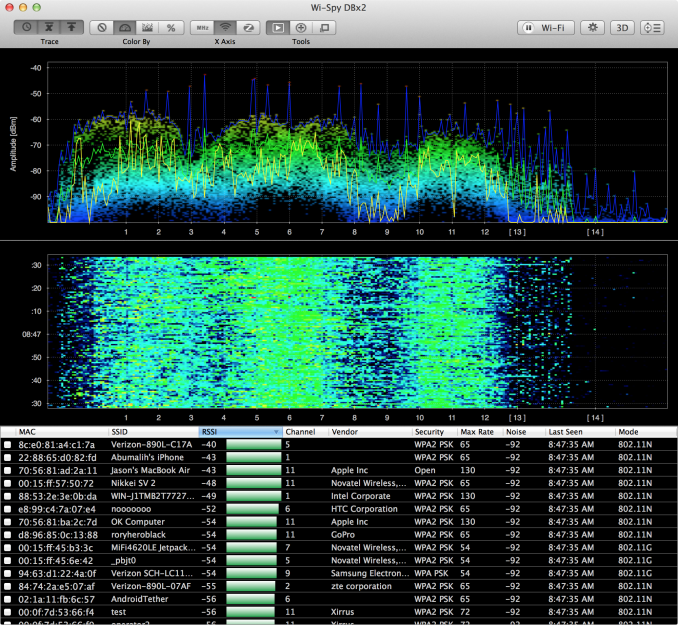 08:48AM PDT - I've gotten into the habit of bringing along a Wi-Spy DBx to keynote events and saw a couple Googlers running around with spectrum analyzers and directional yagi antennas, 2.4 GHz is a mess already
08:44AM PDT - I'll be liveblogging the entire keynote today, but Google also has a stream of the events as they unfold: http://www.youtube.com/user/GoogleDevelopers?v=9pmPa_KxsAM
08:41AM PDT - We have ethernet and power for this 3 hour long keynote thankfully, obligatory speedtest from the ethernet: http://www.speedtest.net/result/2709807456.png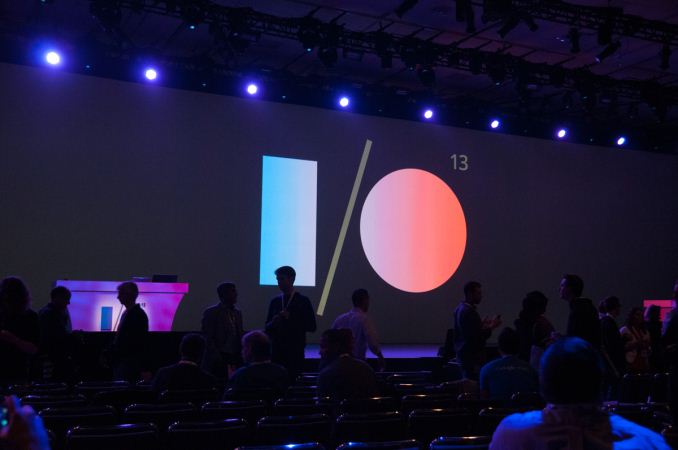 08:41AM PDT - We're seated in the keynote venue right now, still about twenty minutes until things should hopefully get underway