Assembling the NZXT Phantom 530
I'm sure it's not going to surprise anyone to learn the NZXT Phantom 530 is a very easy case to assemble. NZXT has taken pains to ensure the case is as modular as you need it to be, and the reality is that unless we're looking at a radical redesign on par with what SilverStone tends to do, convenience should be expected in a modern enclosure by now.
About the only thing NZXT is missing for the motherboard is an alignment stud for the center mounting hole of the board itself; they have the motherboard standoffs pre-installed for ATX boards, and snapping in the I/O shield then lining up the board didn't take a whole lot in the way of effort. NZXT also includes all of the different types of screws in individual baggies to make sure you don't have to waste time flitting through one big pool of screws looking for what you need.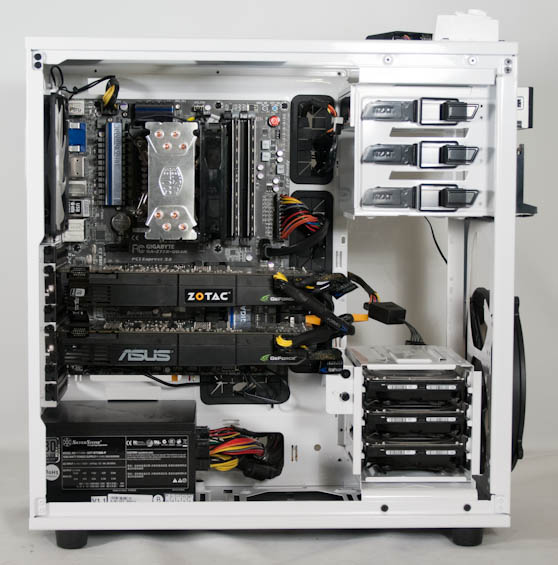 Two of the three modular drive cages are held in place with four thumbscrews each; the third, single-sled cage just uses two. It's good to have a power screwdriver handy to expedite the process and get you down to just what you need. From there, snapping a hard drive into one of the 3.5" trays is a breeze and these trays at least feel like they may be a bit stronger than the ones NZXT normally uses. A 2.5" drive can be installed in a sled behind the motherboard tray; it'll run hotter than usual due to proximity to the motherboard but still well within spec. Finally, the toolless clamps on the 5.25" drive bays are as sturdy as they've ever been.
Honestly, the assembly of the NZXT Phantom 530 is incredibly uneventful, and that's a good thing. Expansion cards go in easy, as does the power supply which is amply supported from beneath. Cable routing holes are where they need to be, and the fan controller goes a long way towards making things easier. NZXT opts to use a 4-pin molex power connector for it to ensure enough power is available. Headroom around the power leads for the motherboard proper is plentiful, too. My only real complaint is that because of the way the drive sleds are designed, it can make routing power cabling between multiple 3.5" drives a little bit difficult.