Hybrid Systems
While the Cortex-M series aims to be the MCU for many application markets including IoT and wearables, ARM does not expect M series processors to always be used alone and expects many devices to combine A series application processors with the M seires. When I mentioned the word coprocessor referring to the M series, Nandan quickly pointed out that in this market, the A series might actually be considered the coprocessor. Considering the MCU is the always on device and the A series CPU wakes only sparingly, I can see his point of view. The following diagram from ARM lays out this perspective well.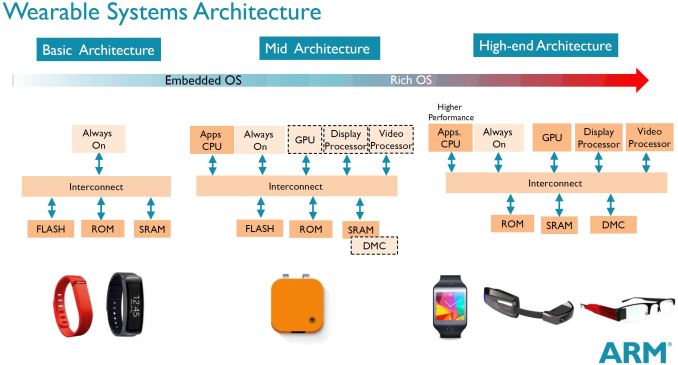 MediaTek used a much simpler table to describe the sub markets of IoT and wearables that, as I noted at the time, insinuated there was no overlap between MCUs and APs. I tend to agree more with Intel's Edison platform and ARM's slide here that there are large market segments that will indeed be combining these differentiated processors.
When designing hybrid systems like this for IoT and wearables, it is very important to synthesize the AP with power optimization goals. The process of synthesizing HDL to an ASIC is essentially an optimization problem, much like all engineering. Targeting one aspect of performance, such as power consumption, means you're willing to sacrifice something else. The prevailing trend so far has been to reuse smartphone processors in wearables. Companies practicing this approach are not optimizing their wearables' power use but are instead optimizing time to market and internal expenses.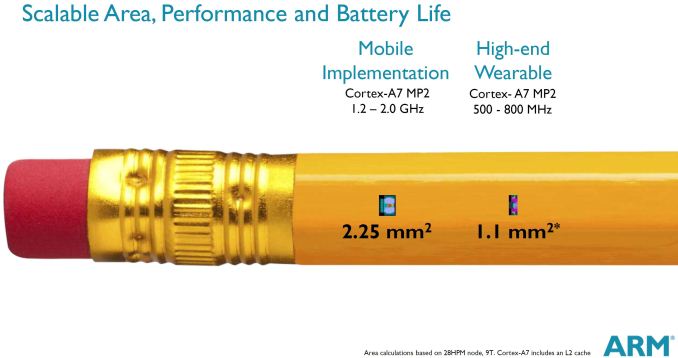 To emphasize what this means, when the Cortex A15 launched ARM stated it was optimized for 1.2 GHz operation. When the first smartphone featuring an A15 hit the market it actually ran at much higher voltages to achieve higher frequencies and thus relatively high power consumption. Reusing this chip inside an IoT or wearable device is not only choosing a performance focused CPU instead of a power optimized one like the A7, but it has also been synthesized to further push the CPU away from power efficiency. This is why many wearables today featuring rich operating systems have struggled with battery life. Apple has traditionally been conservative with smart phone SoC power consumption and it will be interesting to see how their new wearable is designed.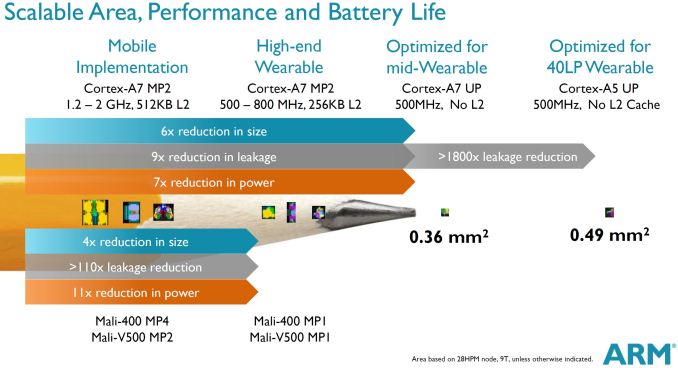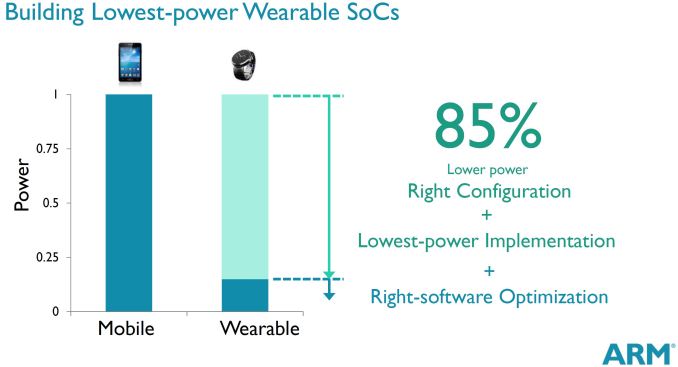 For wearable devices, ARM recommends reducing A series frequency and area by over half, which has a direct effect on power consumption. ARM states that wise choices of CPU cores and caches, synthesis goals, and software optimizations to offload certain tasks to an MCU, can reduce power consumption by as much as 85%. This will be something we will keep an eye on when we review future wearables.