Hot Test Results
The tables below show that the Antec EDGE 550W has very good, albeit strange, electrical performance. It has excellent voltage regulation, maintaining all voltage lines between 1.7-2% across the load range. The filtering is where things get a bit peculiar.
The EDGE 550W has exceptional filtering on the 12V line, with our instrumentation displaying a maximum voltage ripple of just 38mV; however, the filtering of the 5V line is mediocre, reaching 38mV as well, which is nearly 80% of the 5V line design limit. The filtering of the 3.3V is excellent as well, with the ripple peaking at just 20mV under maximum load. As the 5V line is being derived by a DC-to-DC conversion circuit similar to that of the 3.3V line, we investigated this result extensively and even searched the parts for a malfunctioning component, but nothing was found to be problematic. It appears that the filtering of the 5V line (at least on the sample we received) is rather weak.
Main Output
Load (Watts)
111.69 W
278.11 W
412.77 W
548.36 W
Load (Percent)
20.31%
50.57%
75.05%
99.7%
Line
Amperes
Volts
Amperes
Volts
Amperes
Volts
Amperes
Volts
3.3 V
3.12
3.37
7.79
3.36
11.69
3.32
15.58
3.31
5 V
3.12
5.04
7.79
5
11.69
4.98
15.58
4.95
12 V
7.01
12.19
17.53
12.15
26.29
12.01
35.06
11.97
Line
Regulation
(20% to 100% load)
Voltage Ripple (mV)
20% Load
50% Load
75% Load
100% Load
CL1
12V
CL2
3.3V + 5V
3.3V
1.7%
10
14
16
20
8
16
5V
2%
12
20
28
38
12
42
12V
1.8%
16
24
30
38
40
18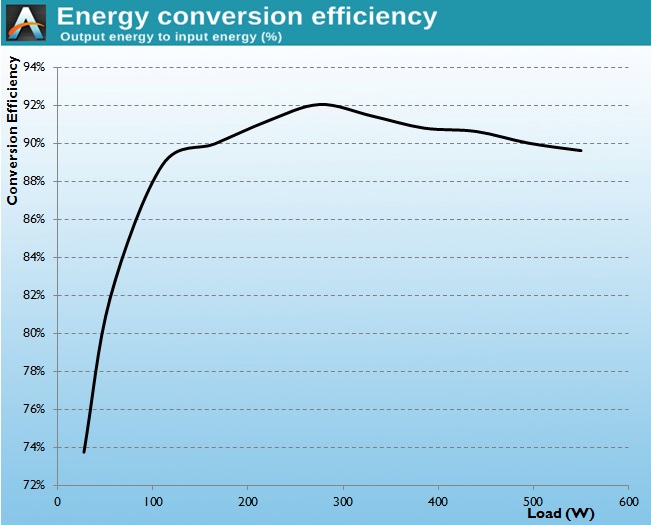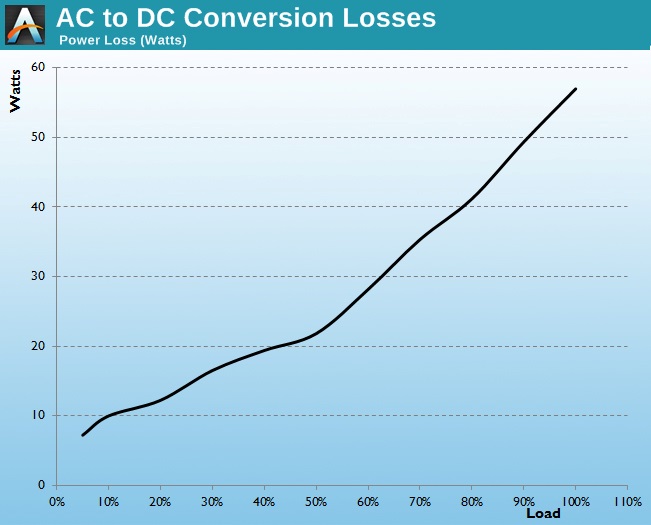 Aided by its low thermal losses and internal temperatures, it appears that a high ambient temperature hardly affects the performance of the Antec EDGE 550W unit. The reduction of the average nominal load (20-100%) efficiency is minimal, just 0.4%, while the maximum efficiency is 92.1% at 50% load. With these performance figures, the Antec EDGE 550W could receive its 80Plus Gold certification even under this much higher ambient temperature.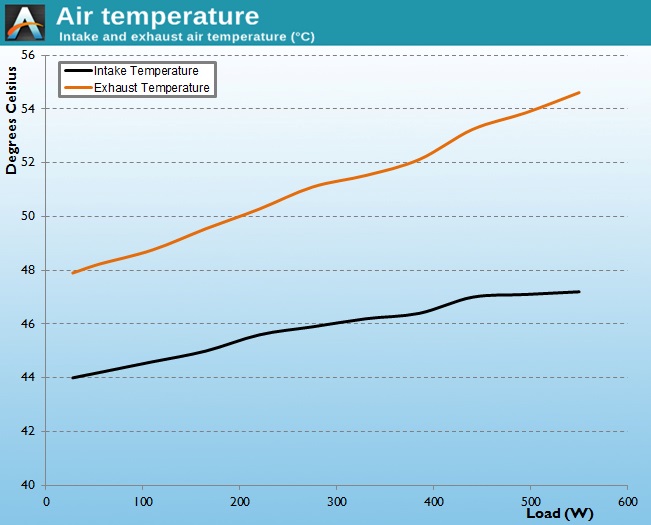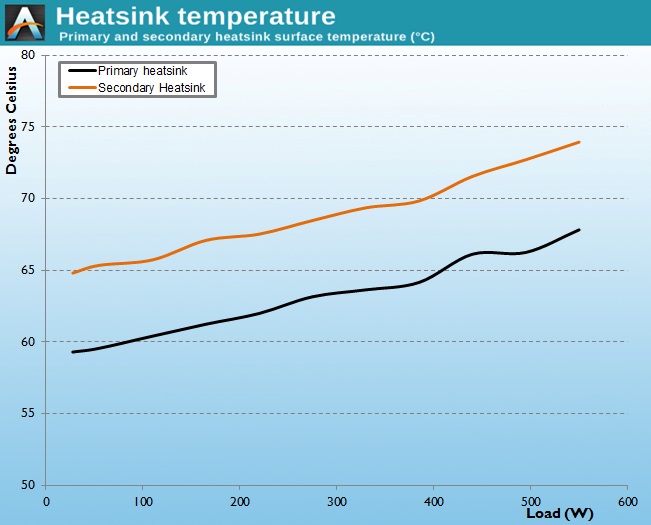 The high ambient temperature naturally affects the behavior of the cooling system and the acoustic performance of the unit. However, due to the low output of the unit, the temperature of the heatsinks still remains relatively low. As such, the Antec EDGE 550W does not really need to make its fan spin faster in order to maintain safe operating temperatures. The only difference is that the fan increases its speed further while the unit is under maximum load, but the higher SPL hardly makes a change that would be easily noticeable by a person's ear.