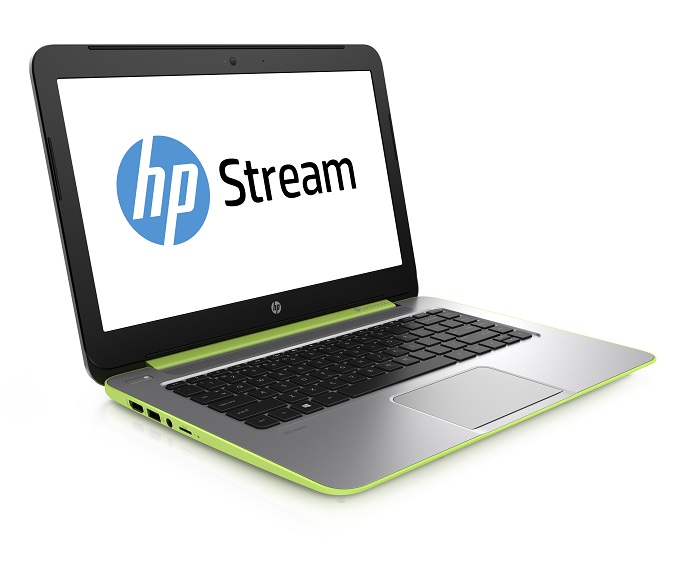 Several weeks ago, Hewlet-Packard announced the HP Stream 14" Notebook. The Stream series is HP's version of the low cost Windows laptop, meant to compete head to head with Chromebooks on price, but still offer the power of a fully fleshed out operating system. The Stream 14 (pictured above) is available to purchase now for only $299, and comes with an AMD A4 APU, 2 GB of RAM, and 32 GB of eMMC storage.
Today, HP revealed the rest of the Stream lineup, with two additional laptops, and two tablets. In a world where the Chromebook has put some serious price pressure on the Average Selling Price of low cost computing, OEMs are trying to win over consumers with nice designs and additional perks in an effort to differentiate from the competition.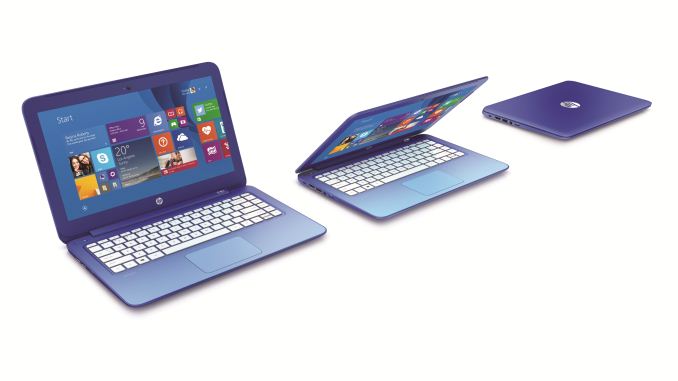 HP Stream 11
First up is the laptops. There are two screen sizes with the smaller being 11.6" and the mid-size being 13.3", to compliment the already released 14" model. Exact specifications have not been disclosed yet, but both units will be powered by an Intel dual-core Celeron processor based on the Bay Trail architecture. This will make it a fanless device, and both come with 2 GB of RAM and 32 GB of eMMC storage. The 13.3" device has an optional touchscreen to go with the 1366x768 resolution that both laptops share. The 13.3" model also is available with optional 4G connectivity, and as a value add, HP is including 200 MB of free data every month for the life of the device. As another value add, HP is offering one year of Office 365 personal, which includes 1 TB of online storage and 60 Skype minutes per month. Battery life is listed from HP at 8:15 for the 11.6" model, and 7:45 for the 13.3" model. The HP Stream laptops are available in several colors, and will be priced at $199.99 for the 11.6" model and $229.99 as the starting price for the 13.3" model.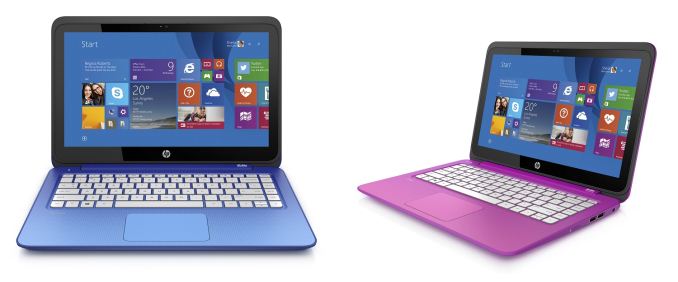 HP Stream 13
With the race to the bottom on pricing, one has to wonder where it will end, but all we know is it has not ended yet. Today HP also announced the HP Stream 7 Tablet, which is a 7" Windows 8.1 with Bing device that comes in at only $99.99. If you are in need of a slightly larger device, with optional 4G, then HP also has you covered with the HP Stream 8 which has a starting price of $149.99. Both tablets are powered by Intel Atom quad-core processors, and 1366x768 screens. Like the larger of the two laptops, the 8" tablet, if equipped with the optional 4G, comes with 200 MB of data per month for the life of the device, and both also come with Office 365 personal for one year. Office 365 personal is $70 to purchase on its own, so for only $30 more you can get it with a 7" tablet.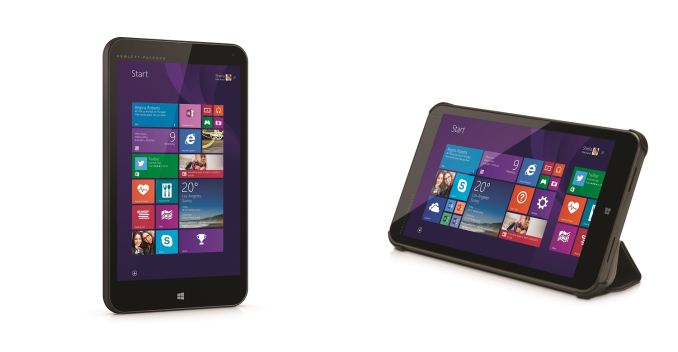 HP Stream 7 (left) HP Stream 8 (right)
It has been a bit painful to see the thin and light Chromebooks popping up over the last couple of years, and it was always especially frustrating that low cost Windows laptops were large, thick, noisy, and had very slow spinning hard disks. It is great to see the Chromebook styling now coming to Windows PCs, and with the Chromebook pricing as well. Microsoft is making a big push to recapture some of this end of the market by offering Windows 8.1 with Bing, and they are now starting to see some examples of great looking Chromebook competitors.
The tablet side is not as rosy, with Windows 8.1 not having the same mobile ecosystem as Android, but at least the pricing is now in line for the bottom end of the market. The add-ons offered by HP are pretty strong, with the Office 365 Personal costing almost as much as the tablet itself, and 4G for life is a nice bonus to those who just need a bit of data when they are not on Wi-Fi. Of course what the Windows Tablets need as the killer app is the touch version of Office, but that is not available as of yet, so anyone who wants to take advantage of Office 365 will have to do it from a 7-8" desktop, but as with most Windows tablets these can be connected to a keyboard, mouse, and monitor if you were so inclined. This is a strong push by HP to get a foothold in the low end of the market, with sharp looking products and useful value adds as well. Hopefully we can get some of these as review units to give you the full break down on just what you get for so little money.
Source: HP