Battery Life
The battery life is one of the areas that I was concerned about when I purchased the Stream 7. It sports an 11.1Wh battery, which is smaller than the battery in some smartphones like the Galaxy Note 4 and the Nexus 6. However, the battery life of a device does not depend entirely on the battery capacity. The power draw of the display, CPU, RAM, and other components will be what determines how fast the battery is drained. To evaluate the battery life of the HP Stream 7, I've run it through our web battery life test and our video playback battery test. I've also run our video test on the iPad Air 2 as it was unable to be tested in time for its original review. This provides a point of comparison to another modern tablet, albeit a much more expensive one.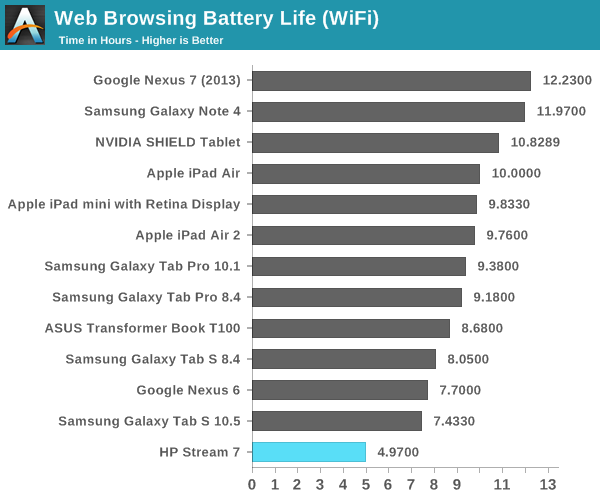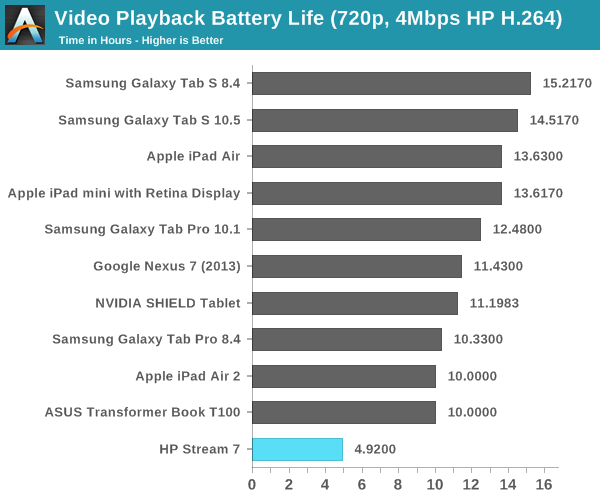 Unfortunately, there's just no getting around the fact that the Stream 7 has a really small battery for a 7" tablet. It gets the lowest score in both our web browsing and video playback tests. Both results are significantly less than the "up to 8 hours" that HP rates the battery for. It's likely that enabling Intel's DPST will improve these results, but all that really means is that dimming the display below our 200nits standard will improve battery life.
Charge Time
With a smaller battery, one can at least hope that the time to charge it will be shorter than other devices. However, this will be influenced by the charger that the company supplies with the device. In this case, HP has included a 10W charging block with the Stream 7. What's funny is that it's not an HP branded charger; it's a Chicony Electronics charger with an HP sticker on the front.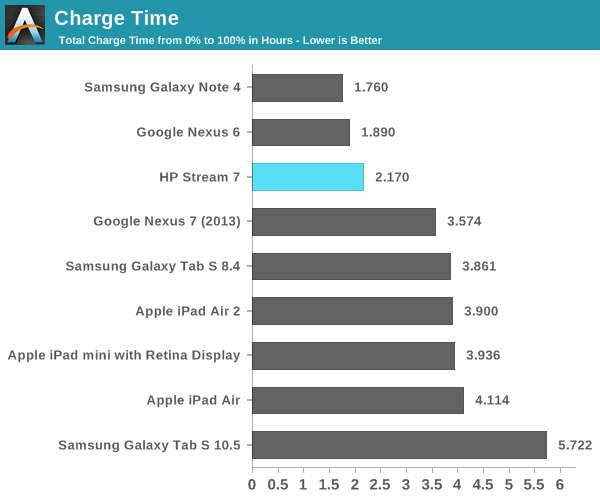 Thankfully, the Stream 7 doesn't take very long to charge after its short battery life has been used up. It's not quite as fast as the Galaxy Note 4 or Nexus 6, both of which ship with higher wattage chargers, but it's still much quicker than the other tablets on our list as a result of its smaller battery. One thing to note about charging the Stream 7 is that I was unable to get it to charge off of any computer USB ports. This was surprising, because my computer has 1.5A USB 2 ports that are able to charge even the iPad 3 and its massive battery.