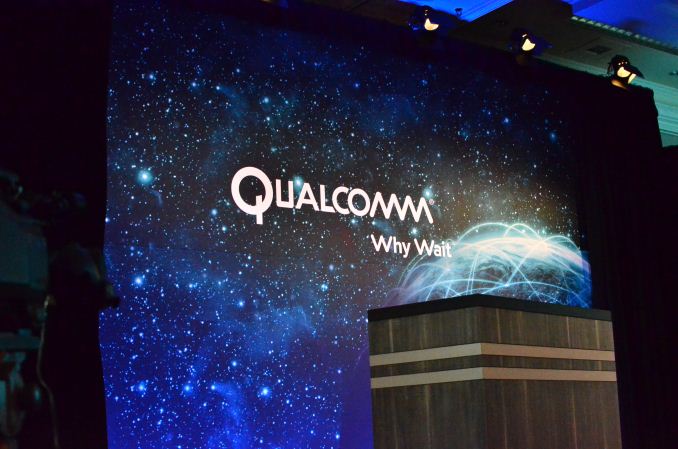 03:44PM EST - That pretty much wraps things up. Thanks for joining.
03:43PM EST - "We try not to comment too much on rumors. We're on track with the 810 and LG is planning to launch the G Flex 2 in the near future with 810."
03:42PM EST - Someone is asking about issues with power consumption of Snapdragon 810. This will be interesting.
03:33PM EST - Q&A time starting.
03:32PM EST - Summary of the announcements now, so we're about done.
03:31PM EST - Demonstration on stage of LIFX light that allows turning an LED light into a connected light using a plug in module.
03:30PM EST - [Note: Camera uploads are basically dead at this point.]
03:30PM EST - LIFX collaboratoin. Lighting platform with AllJoyn support, with a reference light. Full turnkey solution.
03:29PM EST - This gives zones where 60GHz 11ad can stream 4K video at high rates in a matter of minutes.
03:28PM EST - Showcasing first tri-band WiFi solution that enables 802.11ad plus two flavors of 802.11ac.
03:27PM EST - AllPlay technology allows wireless speakers to work with any device that has AllJoin and AllPlay support.
03:26PM EST - Smart home announcements -- AllSeen Alliance launched about a year ago and now has over 100 members.
03:25PM EST - Greater capacity and performance with WiFi Multi-User MIMO. Allows 802.11ac to service multiple users simultaneously.
03:23PM EST - Moving on to wearables. 15+ products shipping across 30+ countries.
03:23PM EST - FYI, some of the images are uploading at the wrong spot in the live blog due to upload speeds. Bear with us.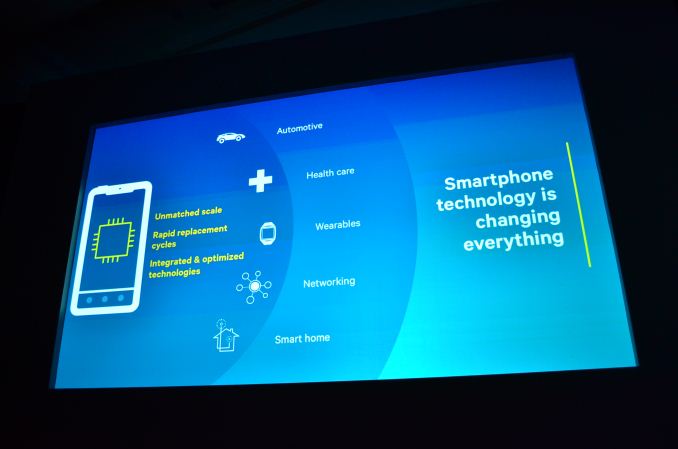 03:21PM EST - Qualcomm has the largest ecosystem in connected health with more than 500 partners now.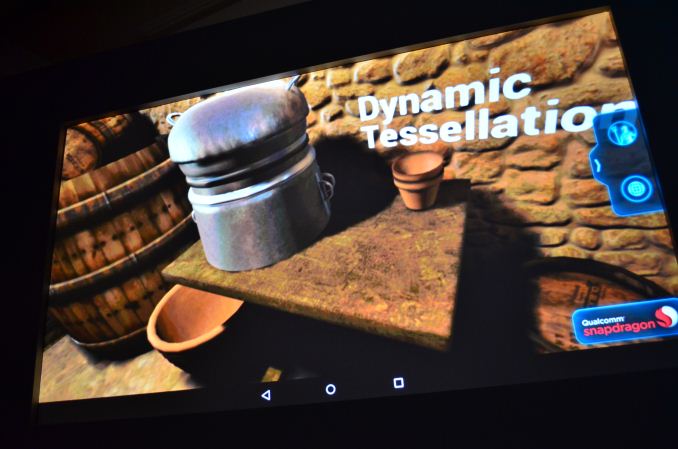 03:21PM EST - 2net platform and Healthy Circles platforms developed by Qualcomm to help reduce costs.
03:19PM EST - Transforming health care. Remote monitoring.
03:17PM EST - Concept cars will be demoing new technologies using Snapdragon automotive platform.
03:16PM EST - Qualcomm has been working with automotive industry for more than a decade.
03:16PM EST - "Qualcomm is really doing IoT."
03:16PM EST - Moving on to Internet of Everything (IoT).
03:15PM EST - Rapid upgrade cycle also helps get new tech to market -- 30% (?) of all mobile devices were upgrade in 2014.
03:14PM EST - The smartphone and mobile platform are driving innovation.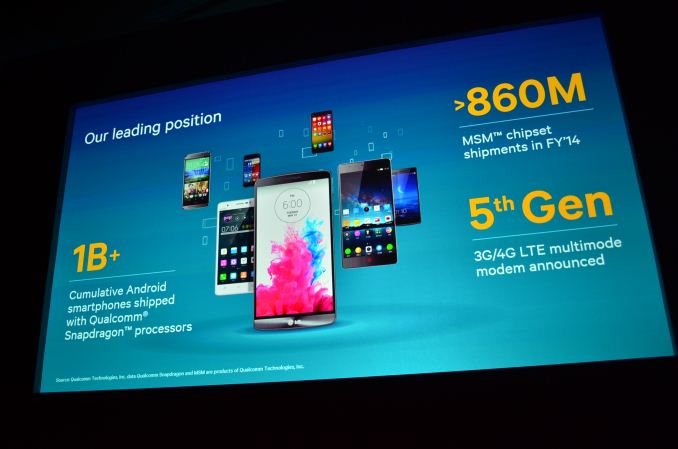 03:14PM EST - Correction: this demo using Unreal Engine is running on some form of tablet, not G Flex 2.
03:13PM EST - Dynamic tessellation, HDR (high dynamic range) rendering, linear space lighting.
03:12PM EST - Showing a technology that's previously mostly been used on PCs and consoles....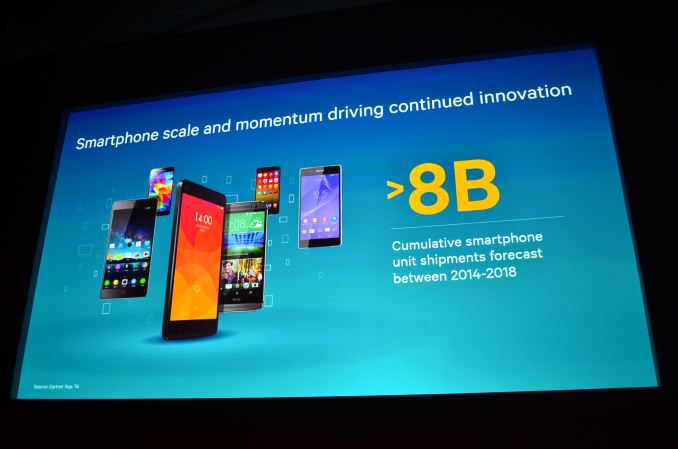 03:11PM EST - Demo on stage using the LG G Flex 2. This is the first device shipping with the 810 processor.
03:10PM EST - Claiming 30% better performance with 20% less power with 810 SoC.
03:10PM EST - Showcasing streaming of 4K video over LTE at Qualcomm at CES this year.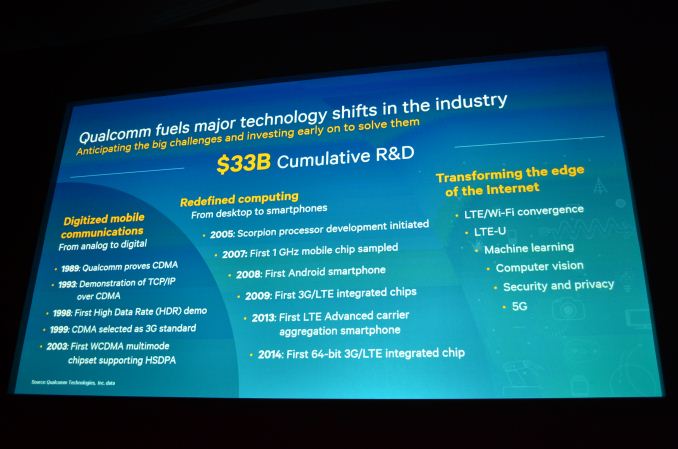 03:09PM EST - Talking about Snapdragon 810 SoC now. "Ultimate Connected Computing Processor".
03:09PM EST - 5th generation 9X45 modem with cat 10 shipping in devices in 2015.
03:08PM EST - >860 million MSM chipsets shipped in fiscal year 2014.
03:08PM EST - More than a billion Android smartphones shipped with Qualcomm processors.
03:07PM EST - >8 billion unit shipments projected for smartphones in 2014-2018.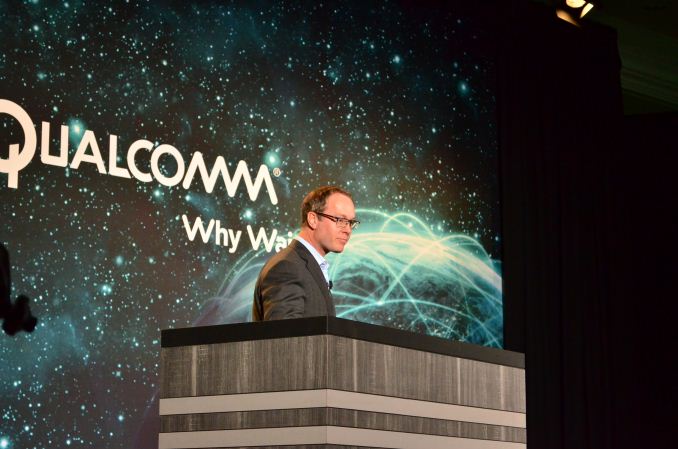 03:06PM EST - It's a medium that can coexist with WiFi in a meaningful way.
03:06PM EST - Investments into LTE-U -- using unlicensed spectrum as a supplemental data channel.
03:04PM EST - Talking about how Qualcomm invested into CDMA years before it was selected as the 3G standard.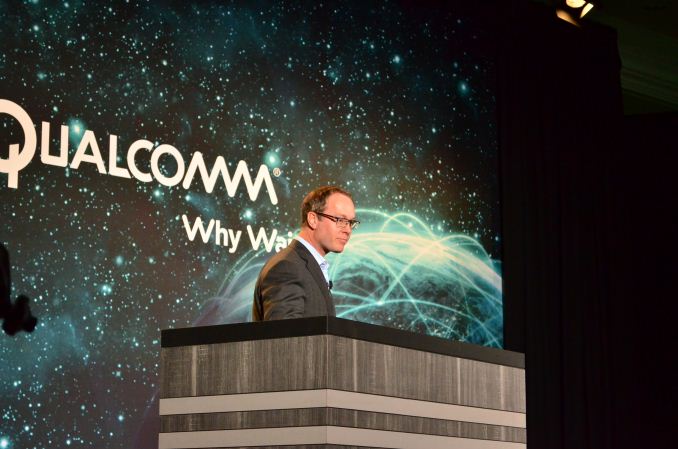 03:03PM EST - $33 billion invested in R&D over the history of Qualcomm.
03:03PM EST - Uh oh... Internet speed is way slower than what I had in the LG conference. This may get messy.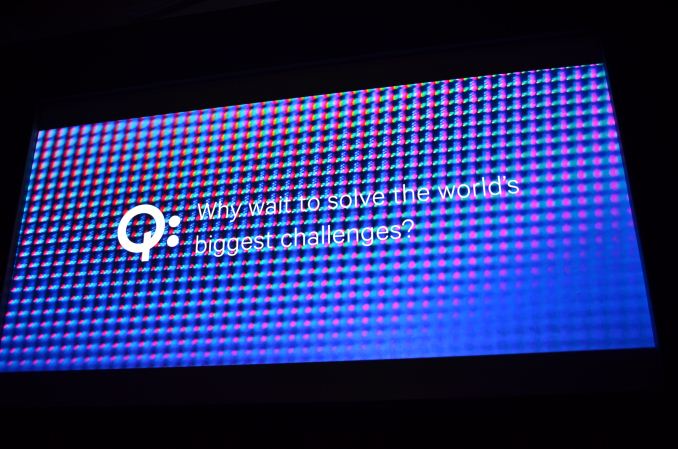 03:02PM EST - Derek Aberle is on stage, Qualcomm's president.
03:00PM EST - And we're starting. Why wait to solve the world's biggest challenges?
02:50PM EST - Josh is also on AT&T instead of T-Mobile this time.
02:50PM EST - Hopefully the images go better this time; we're dropping the resolution a bit to speed the upload process.
02:49PM EST - We're here at the Qualcomm press event, Jarred on text and Josh on images.