Tablet Performance
So far we have compared the Venue 11 Pro with its Windows PC based brethren. And that is a fair comparison to make, since the Venue 11 Pro is offered with accessories to transform it into exactly that. But to complete the picture we should take a look at how it performs as a pure tablet.
We do not have all of the same benchmarks available on Windows as we do on iOS and Android, but we will make what comparisons we can to get a general feel for how this tablet compares against competing devices.
Web Performance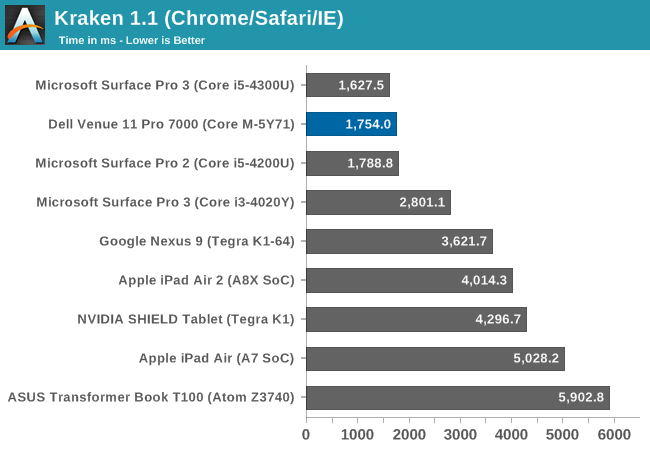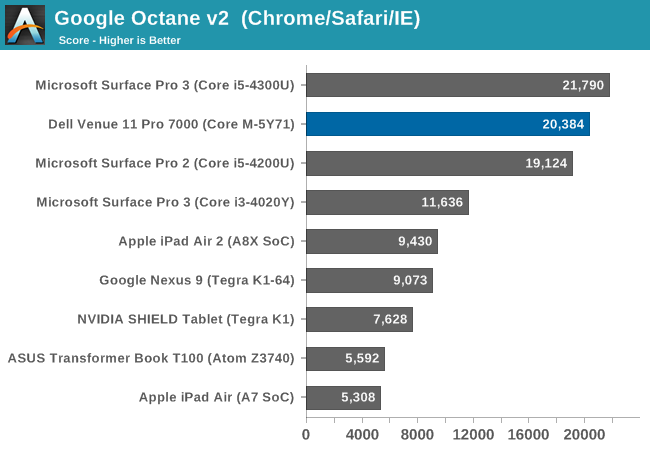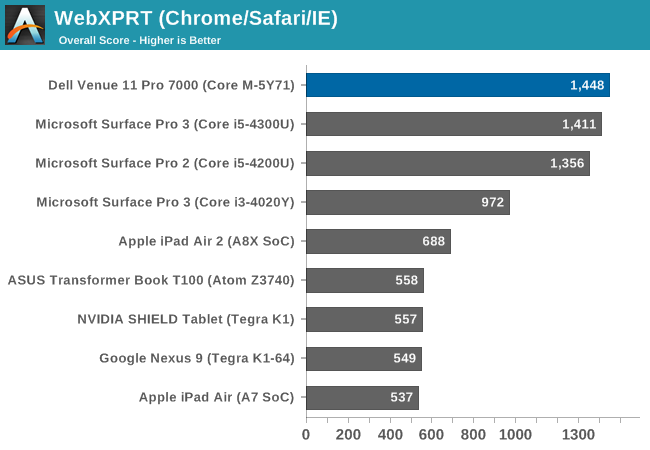 Core M offers a lot more performance than any of the ARM based tablets when it comes to CPU bound tasks. It is easily double the performance of the best ARM or Atom based devices. It is a pretty great achievement when you look at how far back Intel was in the mobile game a few years ago. Atom got them to somewhat competitive performance and TDP, but Core M has pushed them well past. Of course that is ignoring the huge price differential, with the Core M CPU having a tray price of more than many Android tablets, as well as the larger circuit board that Core M requires. Intel still has Atom, and for good reason. They can and do price Core M at a premium, but have Atom to provide the less expensive option.
3DMark Unlimited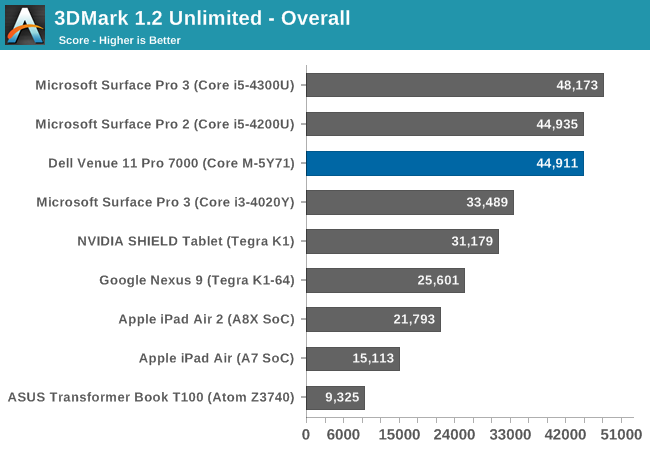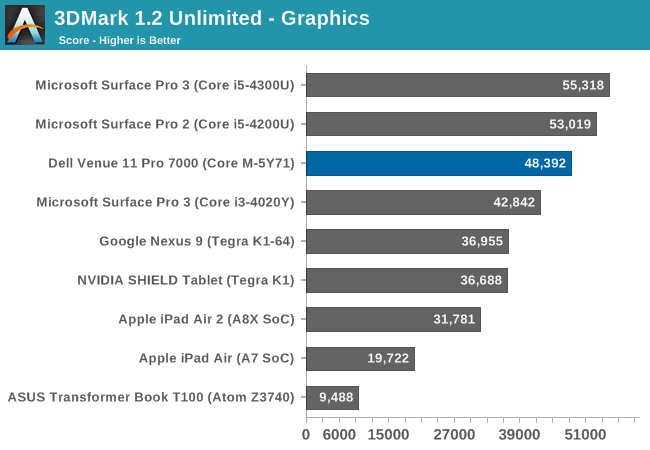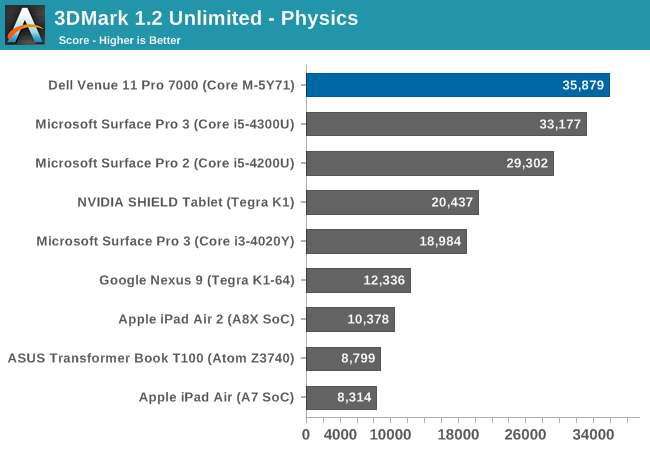 Ice Storm Unlimited is rendered off-screen, so that it can be used to compare across devices and platforms. As we have seen in the PC comparison, the Venue 11 Pro can perform quite well if given such a short benchmark. This does show to capabilities of the GPU inside, but unfortunately it is more limited in performance when doing longer workloads.
GFXBench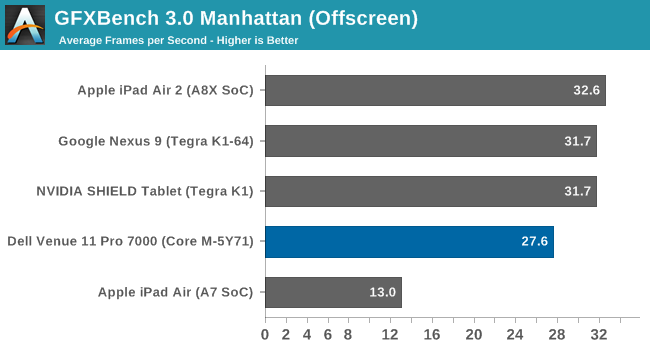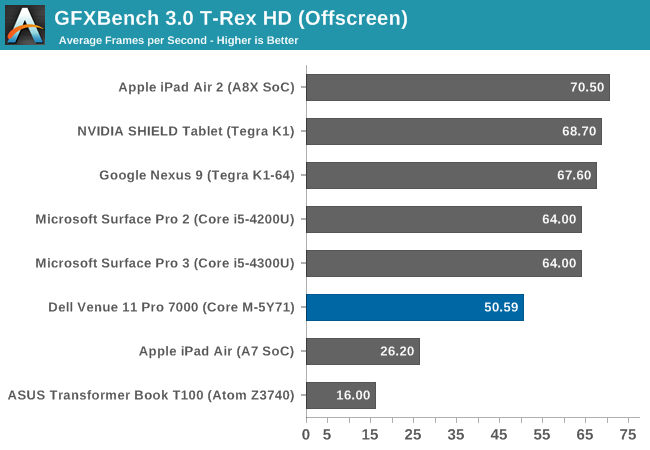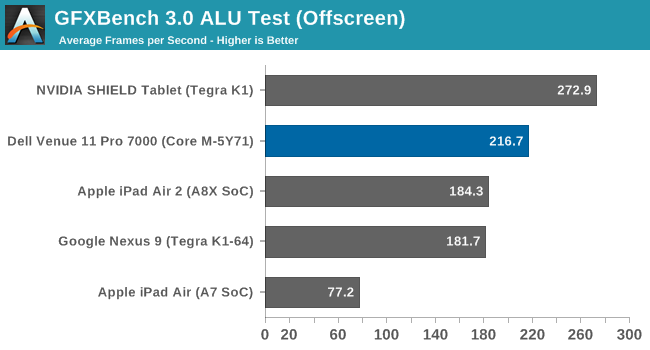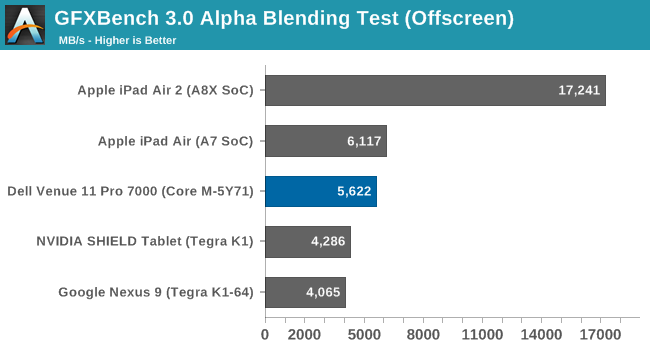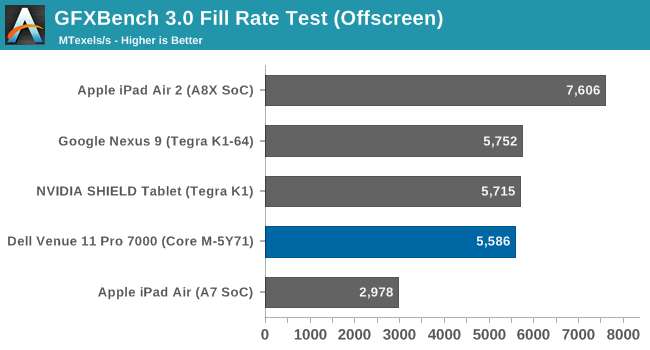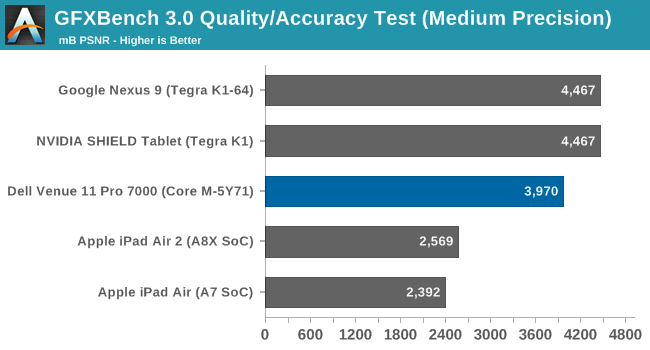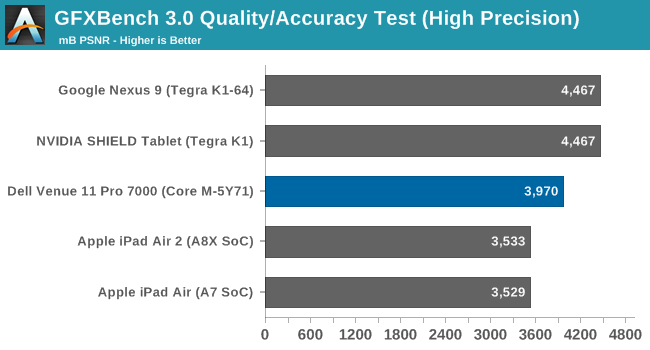 On the CPU side, Core M dominates the ARM competition, but on the GPU front it is not the same story. As we saw in 3DMark, the GPU can perform very well, but on a test like this where sustained performance is required, the performance does drop off quite a bit. The GPU is not terrible, but it cannot compete with the top GPUs available in a tablet today. Perhaps that will change with Skylake. At the moment, it is only ok.
NAND Performance
The Venue 11 Pro has an older model of SSD, but it is still a SSD, where as most tablets are outfitted with some form of eMMC storage.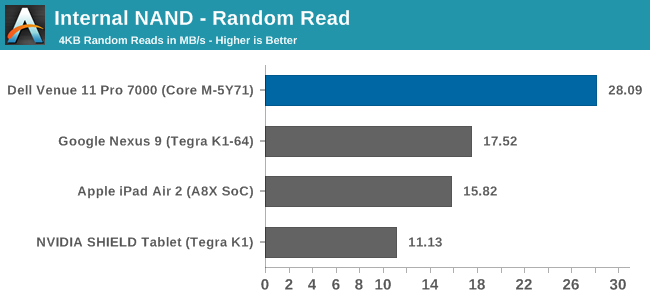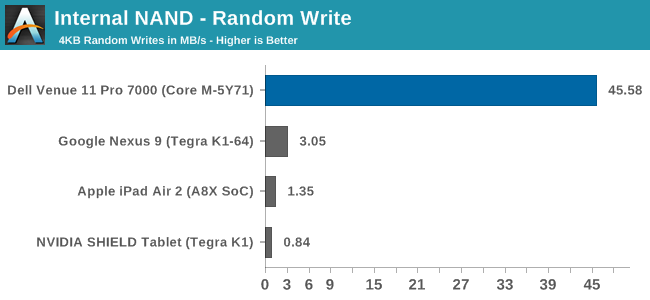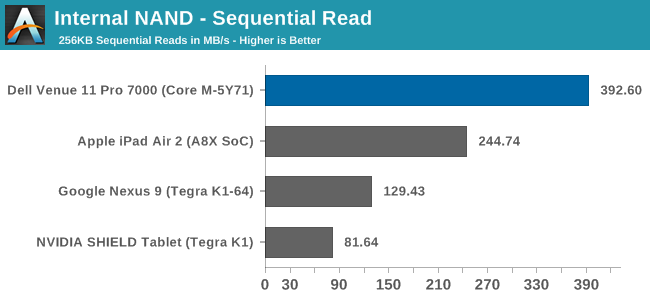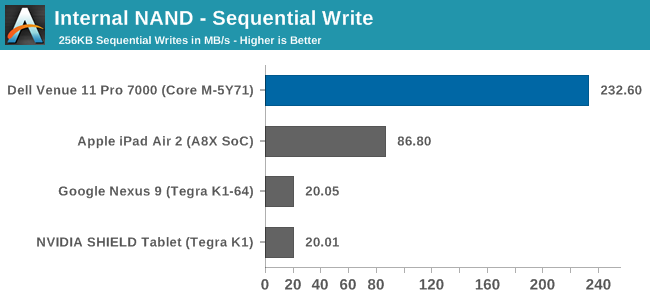 Building a tablet out of PC components still has its upsides, and storage performance is one of them. There is still quite a gap between a true SSD and eMMC storage. The Venue 11 Pro has the SanDisk X110 SSD, which is an older model drive, yet performance is still a good bit better than the average tablet.
Tablet Performance Summary
The Venue 11 Pro, with Windows 8.1, a Core M CPU, and a SSD, has very competetive performance compared to the standard tablets of today. There are certainly advantages to a true tablet, such as weight and thickness, but as far as performance, the Venue 11 Pro outclasses these devices in everything except GPU performance. The GPU performance is still good, but it is not class leading.