Test Setup
As we mentioned in our introduction, Intel's 9-series chipset were designed from the start to allow future compatibility with Broadwell. As a result with a BIOS update we're able to drop these processors into our existing MSI and ASUS Z97 boards, though not without some pre-release BIOS teething issues.
Many thanks to...
We must thank the following companies for kindly providing hardware for our test bed:
Thank you to AMD for providing us with the R9 290X 4GB GPUs.
Thank you to ASUS for providing us with GTX 980 Strix GPUs and the R7 240 DDR3 GPU.
Thank you to ASRock and ASUS for providing us with some IO testing kit.
Thank you to Cooler Master for providing us with Nepton 140XL CLCs.
Thank you to Corsair for providing us with an AX1200i PSU.
Thank you to Crucial for providing us with MX200 SSDs.
Thank you to G.Skill and Corsair for providing us with memory.
Thank you to MSI for providing us with the GTX 770 Lightning GPUs.
Thank you to OCZ for providing us with PSUs.
Thank you to Rosewill for providing us with PSUs and RK-9100 keyboards.
Load Delta Power Consumption
We'll start things off with a look at power consumption. Power consumption was tested on the system while in a single NVIDIA GTX 770 configuration with a wall meter connected to the OCZ 1250W power supply. This power supply is Gold rated, and as I am in the UK on a 230-240 V supply, leads to ~75% efficiency > 50W, and 90%+ efficiency at 250W, suitable for both idle and multi-GPU loading. This method of power reading allows us to compare the power management of the UEFI and the board to supply components with power under load, and includes typical PSU losses due to efficiency.
We are reporting the power consumption difference when idle and during an initial OCCT load. This is slightly skewed by the adjustment up the efficiency chain of our power supply, showing lower power CPUs consuming a little more, but despite this the qualitative comparison is a still a good place to start.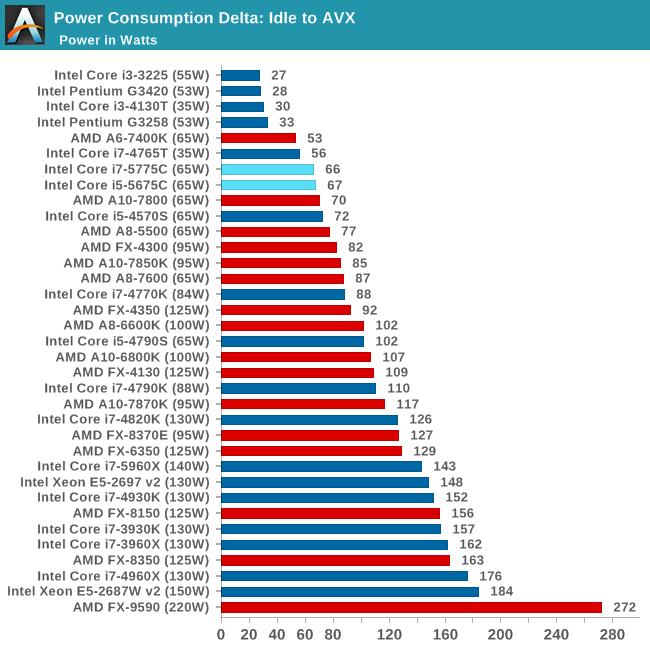 Despite our test being almost qualitative, it is exciting to see that in our power consumption limit test both CPUs score around their TDP values.