Construction
Unlike the Samsung we reviewed two months ago, the Cornerstone is not a flat screen monitor. Instead, the 21" c1035 relies on a 400mm by 300mm traditional CRT with very little curvature. Sitting next to an older 19" Sony Trinitron, we can definitely see the difference. However, we noticed even though it is not a true flat screen, there was very little distortion even when viewing from extreme angles. The actual CRT manufacturer, Samsung, has a long history of creating rock solid, and high performing monitors, and it shows in the construction of this Cornerstone.
Opposed to most graphic intense monitors that use aperture grill displays, the c1035 uses a Shadow Mask CRT. The shadow mask is basically a fine mesh that the electron beam shines through to create a softer but brilliant image. While the Shadow Mask CRT is not as sharp and brilliant as an aperture grill, it still provides a very crisp and attractive image.
The c1035 puts out an attractive 380mm x 285mm (19.7") viewable screen. However, since the c1035 is a "corporate" line as opposed to the "professional" line, it has its limitations. The Professional 21" model, the p1500, has approximately 10 percent more viewable area then its Corporate cousin. Interestingly enough, the p1500 doesn't have much else on the c1035 except a price tag that is almost an additional $200. However, the p1500 is of Hitachi manufacture, and supports one more resolution mode of 1600 x 1280.
Bumping the monitor to 1600 x 1200 was no problem under 75Hz. Typically, below 75Hz the human eye begins to detect flickering. This of course causes unnecessary strain on the eye which is ultimately unhealthy. The Cornerstone webpage quotes the c1035 to be "optimized for 1600 x 1200 resolution at a rock solid 85Hz refresh rate". However, according to the datasheet, the monitor was preconfigured to run 1600 x 1200 at only 75Hz. We were a little shocked that this 85Hz refresh rate was only guaranteed at 256 colors. No worries of course; we told Windows 2000 to "unhide modes that the monitor cannot display" and set the monitor refresh rate back up to 85Hz. Two minutes later, we were playing Neverwinter Nights, flicker free.
Through various attempts to push the monitor past 1600 x 1200, we eventually got it to accept some higher resolutions, but with too much flickering.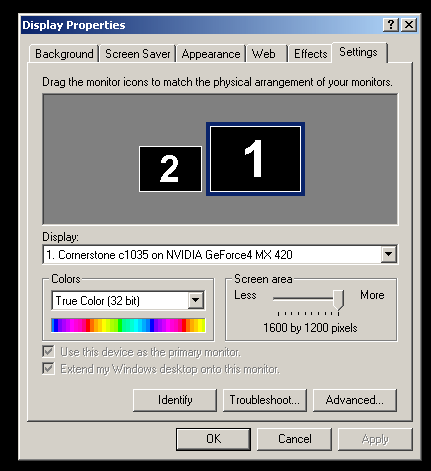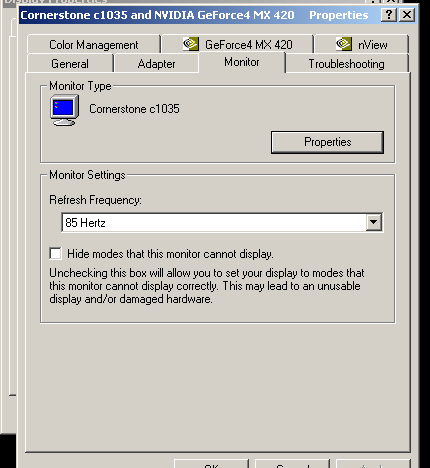 1600 x 1200 is great, but what about users who really want to push the envelope and take it to 1920 x 1440? We were a little disappointed to not see more resolution options. However, considering the bang we are getting for our buck, 1600 x 1200 is OK.
Even though the Cornerstone c1035 by no means has a small footprint, it does not consume an unreasonable amount of deskspace for a 21" monitor. The Sony G520 (geared at the corporate market as well) takes up a full 6 more inches in each dimension! It even takes up a smaller amount of deskspace than its Professional cousin, the p1500. Also, at just over 53lbs, the c1035 is one of the lighter 21" CRT's on the market.
Even though the c1035 is not a top of the line monitor, we were thankful it boasted an unplugable 15 Pin D-sub and a 5 BNC connection in the back. Cornerstone's 15 Pin VGA connector was of good quality and worked just fine when it was plugged into the computer. Since the VGA connection is unpluggable on this monitor, those looking to reduce ghosting could replace it with a higher quality cable. We were a little disappointed in the lack of a BNC cable set. BNC cables are generally used when cables have to be stretched over a longer distance than D-sub cables typically allow. Ghosting will appear on a typical D-sub monitor cable after 10 feet unless it is extra shielded. A BNC cable will run a tad more expensive but usually will reward the monitor with very little ghosting, even at longer distances.
One of the great things we liked about this monitor was the dual input support. With a few pushes of a button, we were going from Dungeon Siege to XMMS and back. Unfortunately though, the dual input support is only for video in, and does not support USB or PS/2 connectors to make it a KVM.
Cornerstone 21" c1035

CRT

21" Samsung CRT
Shadow mask pitch: 0.21mm (horizontal)
19.7" viewable area

15.0" x 11.2" viewable dimensions

Scanning Frequency

Horizontal: 30-107kHz
Vertical: 50-150Hz

Pixel Clock

230.0MHz

Features

Dual Input (5BNC, 15 Pin D-sub)

Compatibility

1600x1200 / 85Hz
1280x1024 / 100Hz
1024x768 / 131Hz
800x600 / 150Hz
640x480 / 150Hz

Dimensions (WxHxD)

19.7" x 19.5" x 19.1"

Weight

53.46 Lbs

Warranty

3 Year Standard Warranty