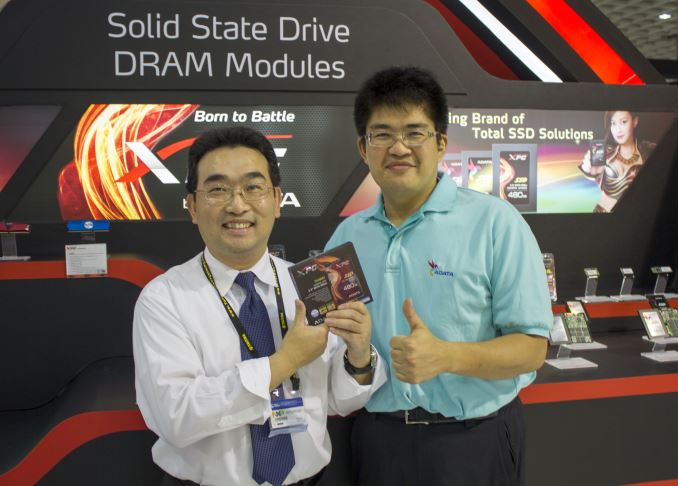 Last year at Computex I had the opportunity to interview ADATA's President Shalley Chen. At the time, we discussed the SSD and DRAM industries in general as well as ADATA's strategy especially in the dynamic SSD market. This year I got the chance to sit down with Kevin Chen, Vice President of SSD Marketing, to focus on ADATA's plans for TLC and PCIe SSDs. Rather than a pure Q&A outlay interview similar to what we have done in the past, I've put together what we discussed in a general written format.
ADATA's SSD Business
Mr. Chen joined ADATA last year and prior to that he served a year as the President of Taiwan IC Packaging Corporation. He was also the Vice President of R&D at Transcend, another SSD company, for nearly a decade and academically Mr. Chen holds a degree in Communication Engineering from National Chia Tung University.
To give some background, Mr Chen explained ADATA's business model and key partners in the SSD industry first. ADATA's business model is a so called 'module house', meaning that the company doesn't design or manufacture the chips it uses, but merely does the assembly, validation and marketing of the final product. This stems from the pre-SSD days when the main product for companies like ADATA, Kingston and G.Skill was DRAM modules, which didn't need much more than assembly and validation to be ready for the store shelves. SSDs are a little more complicated since in addition to the NAND chips an SSD needs a controller and a firmware which ADATA needs to source from a third party because its expertise is not in semiconductors or software/firmware. Some firmware might be optimised in house, but the goal of a module house is to source the controller (with firmware), and source the NAND, and put the two together. Different companies have competing combinations of controller/NAND, which makes the market interesting.
Currently ADATA's key partners on the SSD controller side are Silicon Motion, Marvell, JMicron and Seagate. The secret behind Silicon Motion's recent success is that the company offers both the silicon and firmware to its OEM partners like ADATA, who only have to assemble the actual drive, which is what all the module house companies do. That's essentially why SandForce became so popular among various OEMs, as it was able to deliver one of the first SATA 6Gbps controller platforms that all module house companies wanted to use because the companies didn't have their own controller or firmware technologies and needed a full solution for easy integration to their SSDs. Many companies, including ADATA, have since switched mostly to Silicon Motion controllers as the SF-2000 series is starting to be a bit long in the tooth and Silicon Motion is apparently able to offer better performance and cost efficiency over other offerings.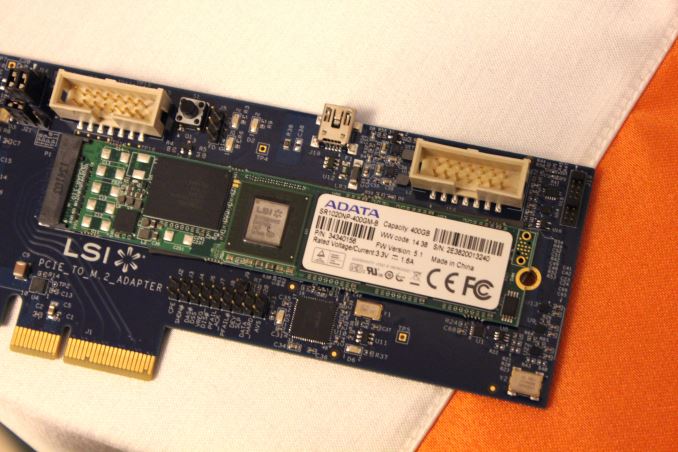 SandForce SF3700 engineering sample at CES
Speaking of which, Mr. Chen said that ADATA hasn't fully abandoned Seagate/SandForce, but the constant delays with the SF3000 series have forced the company to shift its focus to other controller vendors. As we saw at ADATA's booth this year, the company didn't have any new SandForce based solutions to show, whereas last year and at CES earlier this year the SF3700 live demo was one of the highlights. Mr. Chen told me that ADATA still has a SandForce engineering team, but the team has been downsized and currently has only three members. Still, ADATA plans to make SF3000 based SSDs when the controller is finally available, but on the other hand it's no longer relying heavily on SandForce like in the past.
On the Marvell side, ADATA doesn't design its own firmware. Instead it uses firmware from a company called QSI, which is essentially a firmware house because QSI doesn't sell or assemble drives – it only makes the firmware and licenses it to its partners. ADATA does, however, have a firmware team for JMicron and SMI controllers that mostly focuses on the industrial side, but Mr. Chen explained that Marvell's architecture is totally different and would need a specific group of engineers. In addition, Marvell only provides a high level set of tools since the company itself doesn't do any firmware (although I've heard rumors that this is about to change), whereas JMicron is more cooperative on that front.
The New SSDs
We already covered ADATA's booth and the new SSDs at a high level and one of this year's highlights for ADATA will be its TLC SSDs for which the company will have a two-product strategy by offering both SP550 and SP560 to the market. The SP550 features Silicon Motion's SM2256 controller while the SP560 is Marvell based, and ADATA will be sourcing NAND from both Micron and SK Hynix. Mr. Chen explained that the reason behind the product positioning strategy is to offer two levels of performance because the controllers as well as the NAND have different performance characteristics. Mr. Chen didn't want to speculate which of the drives, SP550 or SP560, will be better because the company is still in the middle of validation and final specifications have yet to be decided. Mr. Chen did however disclose that the SP550 and SP560 will both use NAND from both Micron and SK Hynix, meaning that we will likely see some performance variation depending on the NAND configuration. I suspect this is supply related because there will be a spike in TLC NAND demand in the second half of this year, so using two suppliers guarantees that ADATA won't run into supply issues.
Given that there will be numerous TLC SSDs on the market by the end of the year, I asked Mr. Chen what is ADATA's strength. Mr. Chen replied that unlike many other companies, ADATA does IC sorting (i.e. NAND binning) in-house, which guarantees a high level of quality. Mr. Chen said that many of ADATA's direct competitors just buy NAND from the open market, which frankly results in varying quality of NAND inside the final product because not all dies are the same despite the matching part number. This aligns with what we've discussed at AnandTech, as NAND binning is important with TLC NAND. TLC is more complex by design than MLC and less tolerant against errors, meaning that only the best dies are qualified as SSD-grade whereas the rest end up in low-cost products like USB sticks and SD cards where quality isn't as big concern. Additionally, Mr. Chen said that LDPC error correction is a must for long term durability, which is what both the SM2256 and Marvell's 88SS1074 "Dean" controllers support.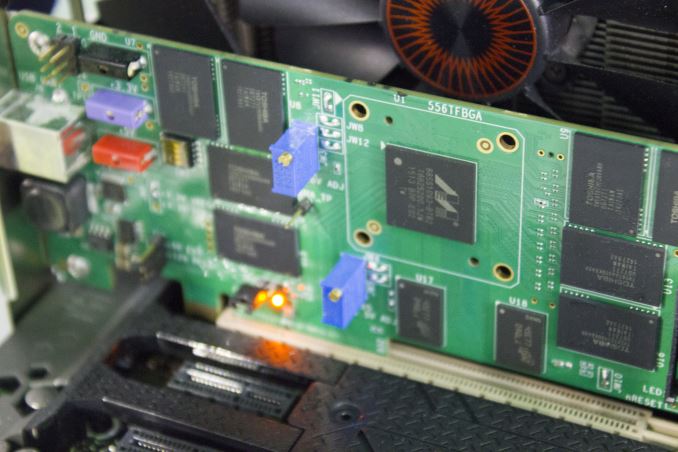 SR1020 engineering sample on display at Computex
On the PCIe side ADATA will have three products. The Marvell "Artemis" based PCIe 3.0 x1 NVMe drive that we saw at the booth will be ADATA's entry-level offering and is mostly aimed towards replacing the current SATA 6Gbps drives, particularly in mobile devices. For the high performance client segment ADATA will have a Marvell "Eldora Lite" based solution, which will be a PCIe 3.0 x4 NVMe design with four NAND channels. ADATA didn't show this drive at its booth, but it's essentially a lighter and more client-oriented version of the SR1020 that carries the full "Eldora" controller with eight NAND channels.
The first batch of ADATA's PCIe drives will all be Marvell based with QSI firmware. The reason for this lies in silicon availability because there aren't any other commercially available controllers shipping this year. Seagate SandForce SF3000 series, Silicon Motion SM2260 and JMicron JMF815 are all scheduled for next year, so in order to provide PCIe drives to the market this year ADATA must rely on Marvell silicon. The only exception would be Phison and its new E7 PCIe controller, but Mr. Chen explained that Phison's business model differs from the other controller vendors in the sense that it delivers a "turn-key" solution (i.e. a fully assembled drive) to its partners, which doesn't suit ADATA's business plan because the company's strength lies in assembly. ADATA is, of course, keeping a close eye on the controller market and will consider other controllers when they get closer to being finalized.
We would like to thank ADATA and Mr. Chen for their time at Computex. The company has numerous exciting SSDs coming up and we're working closely to get our hands on them. The SP550 and SP560 should be available within the next couple of months, and ADATA will begin PCIe SSD production at full pace in the second half of 2015, so stay tuned for our reviews.