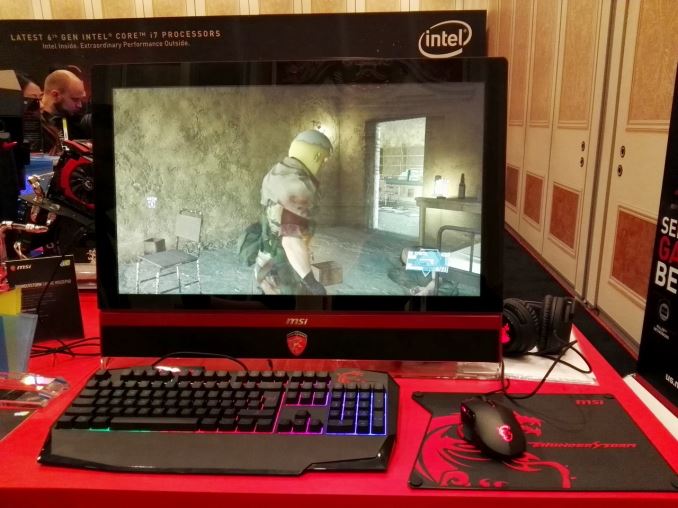 Back at Computex in 2015 we saw and reported on MSI's first design ideas surrounding an all-in-one computer (where the PC is essentially in the frame of the monitor and not a separate 'machine') with a discrete GPU attached. At that time, it was more a proof of concept – they housed a mini-ITX system in the monitor chassis using a custom PCB and heatsink arrangement, and then extended the PCIe 3.0 x16 connection out to a bay on the back of the monitor that housed a discrete graphics card. This is more basic that something like Thunderbolt where you have to worry about hotplug, but you get a full PC in a monitor. This year at CES we saw the concept in the final stages of design, and spoke to the key product managers behind this new 27XT 6QE model.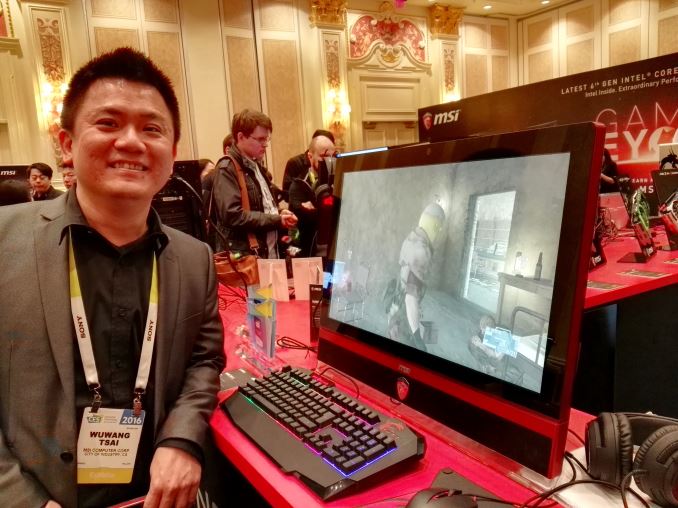 The unit on display was a H170 system with a Core i7-6700 processor, with support up to 64GB of DDR4-2133 using SO-DIMMs and graphics card support up to a GTX 980 Ti 6GB or Titan X 12GB – the graphics card requiring an external power brick that comes with the machine. The LCD panel will come in two forms – either 1920x1080 at 144 Hz, or 4K, featuring anti-flicker and subdued blue-light functionality with 10-point touch on some models. The system can house two PCIe M.2 SSDs in RAID as well as a full 3.5-inch drive.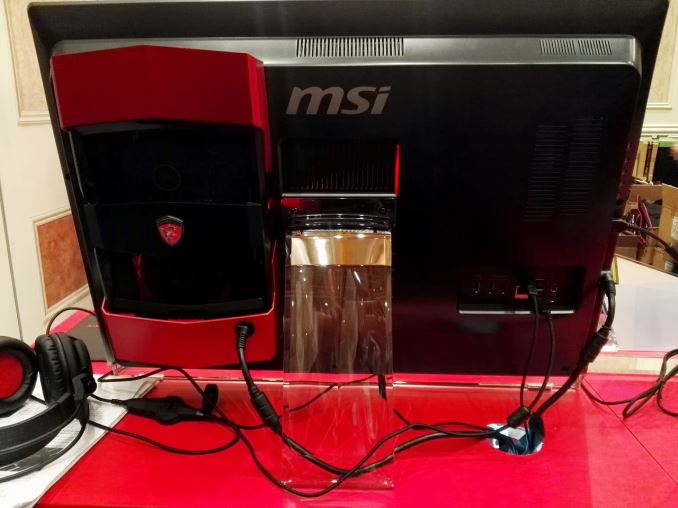 It is the design ID though which stands out. The clear plastic stand attached the VESA mount is sturdy, although does not allow much room for tilt/pitch/rotate. This is because the monitor is actually elongated at the bottom to accommodate the hardware inside – but MSI uses this extension to their advantage with the design, which means the system would look odd at 90 degrees. The rear housing for the GPU is in typical MSI Gaming style, mirroring the design patterns of their SLI bridges. The AIO supports alternative inputs or DP outputs to other monitors, in case you want to run another monitor alongside. I assume these are routed from the GPU for extending the display, with the inputs from other sources being handled by the monitor.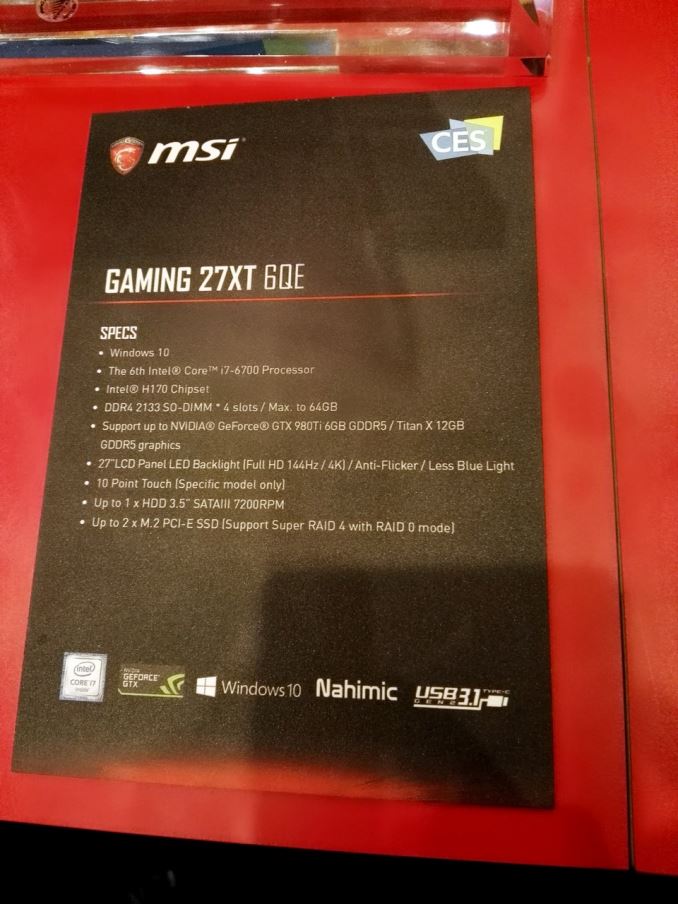 Pricing was not given, although put together a 27-inch 4K or FHD 144Hz with an i7-6700 and a GTX 980 Ti and we are approaching $2000 quite easy. MSI did not say if they will sell certain configurations at retailers, or if users will be able to configure, or if it will be sold as a barebones. I would imagine that system integrators could speak to MSI to create custom designs around it.