IOGear
We visited IOGEAR's booth at CES 2015 to take a look at the new products on display. The most striking was the DisplayLink-based products. Similar to Diamond Multimedia, we had the usual USB 3.0 dock with Ethernet, multiple display outputs, audio jack and multiple downstream USB ports (GUD342 - $200). However, while Diamond's dock required another adapter for 4K support, the GUD342 is 4K-enabled by itself. IOGEAR GUD342 - DisplayLink USB 3.0 Dock There were two USB 3.0 external video card for sending out 4K signals, one over Display Port (GUC34DP - $100) and the other over HDMI (GUC34HD - $120) IOGEAR was particularly proud of their long range wireless 5x2 HDMI Matrix PRO. It even allows for multi-casting from one source to five different locations. It...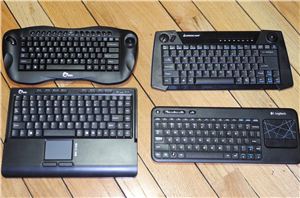 There are many options in the market for users wanting to interact with HTPCs and media streamers. In this short piece, we review the keyboard / trackball / touchpad...
74
by Ganesh T S on 3/2/2014
We visited IOGear's booth at CES and saw a variety of devices including HDMI switching solutions, I/O devices and other A/V gear. This post covers the HDMI switching solutions...
3
by Ganesh T S on 1/14/2013