Conclusion
Building our high-performance system with the Corsair Hydro X Series water cooling gear was no different to other loops in terms of difficulty. Anyone looking to build a loop with the Corsair Hydro X Series will need to make some considerations in terms of planning and setup, just like with any other loop. One thing users can benefit from is Corsair's Custom Cooling Configurator which allows users to input their hardware including motherboard, chassis, and graphics card. This allows users to pre-plan a loop based on what a particular chassis can accommodate in terms of radiators by recommended an optimal setting, or a higher-end loop for maximum performance.
Comparing the performance from default settings on our ASRock RX 5700 XT Taichi 8 GB and AMD Ryzen 3950X water-cooled system which we overclocked to 4.3 GHz on all cores, we saw the benefit in some areas and weakness in others. Benchmarks that used all 16-cores and 32-threads including our POV-Ray and Blender rendering tests saw the performance increases, but tests limited to single-core frequency lost out to the higher single-core boost frequencies.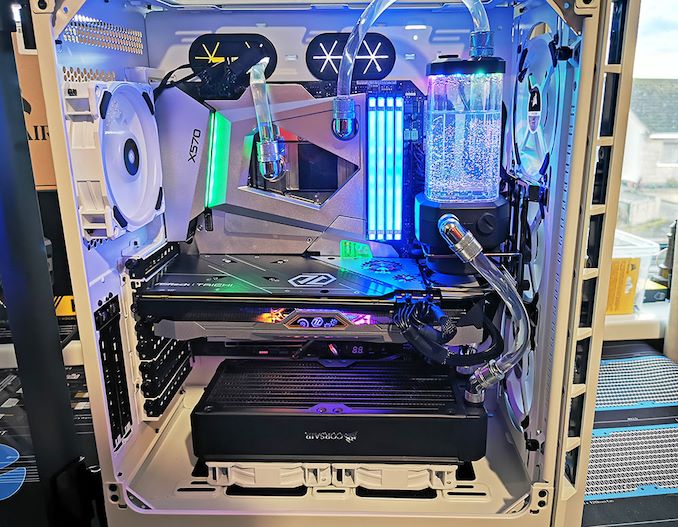 Our ASRock X570 Aqua and Ryzen 3950X system water-cooled by Corsair Hydro X
Focusing on the cooling performance, and our Corsair Hydro X series loop does run 3°C cooler at default settings, and 5°C when our CPU is overclocked to 4.3 GHz compared to our ID-Cooling 240 mm Auraflow AIO cooler, which is already a high-performance off-the-shelf liquid cooling loop. This is one of the main caveats to custom water cooling loops; minimal thermal gains compared to cost. It should be noted that the difference between the ID-Cooling 240 mm AIO at stock settings and the Corsair Hydro X Series 240 mm custom loop was just 6°C which makes the custom solution look much better. Another thing to note is that our loop isn't just cooling the processor, but the hot running X570 chipset and the board's power delivery too, which of course would increase overall temperatures further. This makes the performance of the Corsair Hydro X Series even more impressive when taking this into consideration.
Below is the cost per part of the Corsair Hydro X series including a CPU block and GPU block if we would have used one:
Corsair Hydro X System Cost
Component
Product
Price in USD
CPU Block
Corsair XC7 LGA115x/AM4
$74.99
GPU Block
Corsair XG7 RX 5700 XT
$149.99
Pump/Reservoir

Corsair XD5 Pump/Reservoir

$154.99
Radiator

Corsair XR7 240 mm

$79.99
Fans

Corsair LL120 RGB 120 mm (triple pack)

$129.99
Fan Controller

Corsair Commander Pro RGB

$74.99
Fittings

Corsair Softline 10/13 mm Compression Fittings (four-pack)


Corsair Rotary 90° Adapter (twin-pack)
Corsair Rotary 45° Adapter (twin-pack)
Corsair Ball Valve
Corsair Fill Port
$26.99
$26.99
$26.99
$19.99
$14.99
Tubing

Corsair Softline 10/13 mm 3 meter

$16.99
Coolant

Corsair XL5 Clear 1 litre bottle

$17.99
Adding up the cost of the full custom loop used on our AMD Ryzen 9 3950/ASRock RX 5700 XT Taichi system, including multiples of the above and a CPU block, the total comes to $822.86. This includes two packs of Corsair LL120 RGB 120 mm fans and all the fittings we needed. This isn't a solution for those on a budget, but the Corsair Hydro X series does offer high-quality components with great and ARGB influenced aesthetics which was never going to be cheap.
If we strip the non-essential components including extra system fans, and fittings such as the ball valve, angled fittings and used the bare minimum, it becomes more comparable to other brands offerings. A core Corsair Hydro X series 240 mm CPU loop would cost $528.92. In comparison, an EKWB RGB 240 mm water cooling kit costs $459.99 on Newegg which is a similar setup. The Corsair Hydro X series loop overall pricing could be cut down by opting for other brands fittings, tubing, and cooling fans, but the Corsair store can sometimes be a little overpriced when compared to direct retail channels such as Amazon and Newegg.
Corsair Hydro X Series Conclusion
In terms of aesthetics, compatibility with other Corsair RGB components with its iCUE software, and cooling performance, most things lean on the positive side of things for the Hydro X Series. The primary caveat is the price, and while custom liquid components have never been cheap, the Corsair Hydro X Series doesn't capitalise on that part of the market. Instead, it offers impressive looking parts for one of the best RGB ecosystems from any brand, and each part built to a high-quality standard. The Corsair iCUE software is very intuitive, and the Hydro X Series in conjunction with its Custom Cooling Configurator adds an extra element that some brands cannot compete with. It's not a cheap method to cool a processor and graphics card, but for users looking to build a full Corsair rig as much as possible now have a platform to do so.