BIOS
The MSI Creator TRX40 motherboard is using its Click BIOS 5 firmware which it regularly uses throughout its current range of motherboards. It follows a simple black and white contrasting design with a black background, with white text and grey highlights. Included are two primary modes including an EZ mode designed for novice users, and an advanced mode which allows users to access the core settings including overclocking and TRX40 chipset options.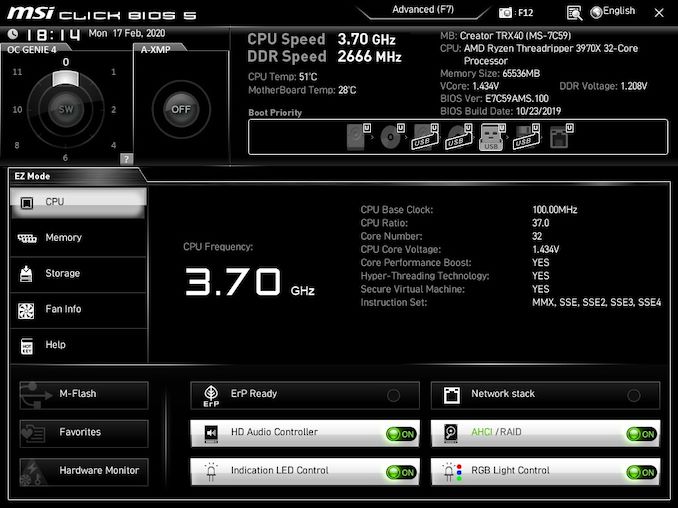 Pressing the F7 key allows users to switch between the EZ and Advanced firmware modes. On the EZ mode, a basic list of information is available about the installed components including the processor and memory, with an easy to navigate menu on the left-hand side. Users can also enable XMP 2.0 profiles on supported memory kits, with access in the top left-hand corner to the boards MSI Game Boost overclocking profiles. MSI omits a hardware-based dial on the PCB and users will need to use the firmware to activate these.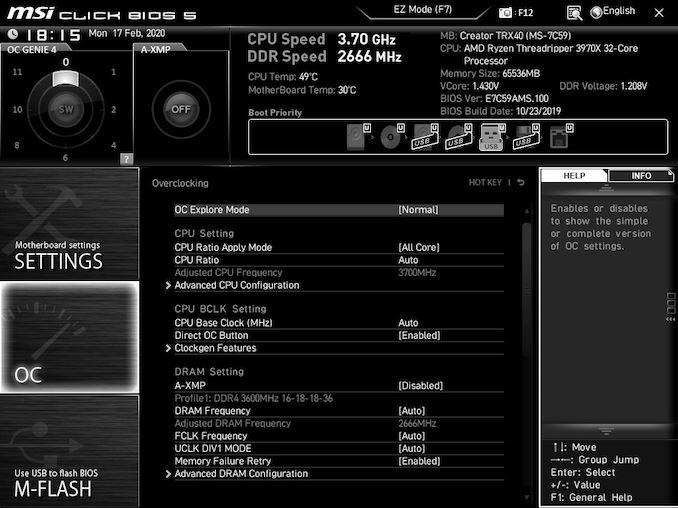 Moving onto the advanced section and the OC section includes all of the overclocking and power-related settings. This includes CPU overclocking settings including core frequency, CPU VCore voltage, and BCLK options, with the advanced DRAM configuration menu offering a plethora of tweakable memory latency settings. Users can alter the Infinity Fabric/FCLK setting to further enhance memory performance by overclocking the interconnect, with options for AMD's Precision Boost Overdrive and plenty of power settings including Load Line Calibration and voltage options.
Below is a list of limitations when using the current firmware for settings such as CPU VCore, CPU frequency, DRAM frequency, and the Infinity Fabric/FCLK frequency. It should be noted that most of these maximum values won't even be able to be reached, even with extreme cooling methods:
Maximum CPU Frequency = 6.375 GHz
Maximum CPU VCore = 1.5 V
Maximum DRAM Frequency = DDR4-6000
Maximum Infinity Fabric/FCLK Frequency = 3000 MHz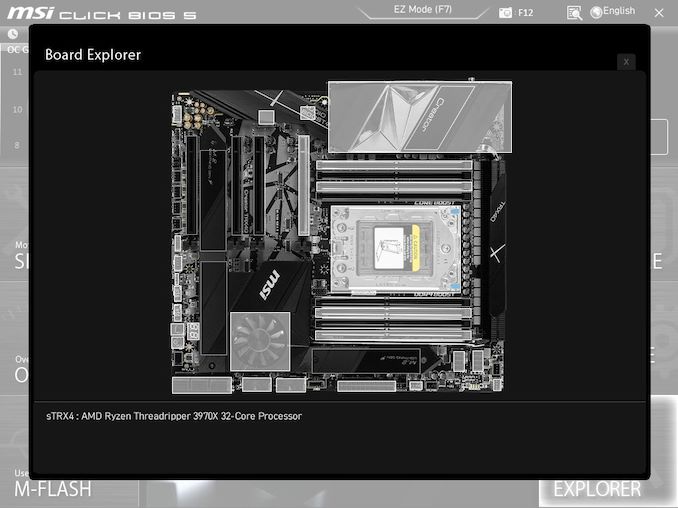 One of the interesting elements to the MSI Click BIOS 5 firmware is it includes a visually impressive and intuitive hardware explorer feature. Within the Board Explorer, users can hover over each shaded area to see which component is installed to which socket and slot. This is also similar on the rear panel and users can see which inputs and outputs are being used, which can be useful in detecting defective USB devices which are plugged in, but aren't showing as installed.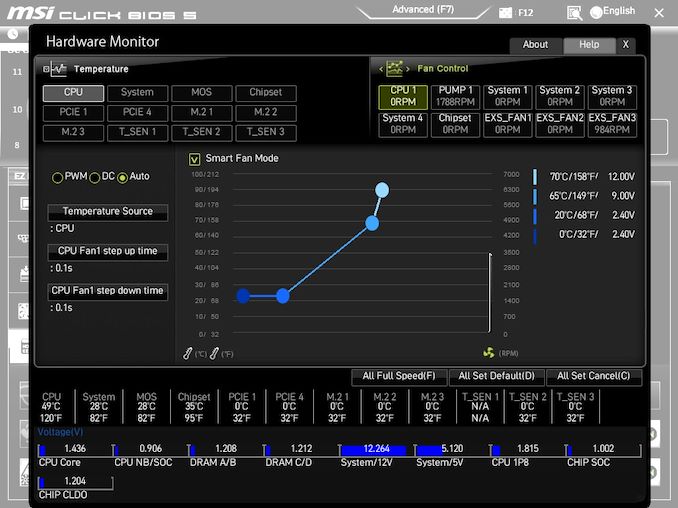 Within the hardware monitor which can be accessed from both the EZ and Advanced firmware modes, users can monitor and customize fan profiles across the nine 4-pin fan headers, as well as the fan integrated within the chipset heatsink. Each of the board's internal thermal sensors can be monitored, and each fan header can be set via a custom curve profile or set to default or to operate at full speed. Users can also set each header to operate in PWM, DC, or allow the firmware to determine via the automatic setting. MSI's hardware monitor is one of the better firmware implementations with a user-friendly GUI and useful array of options.
MSI is very consistent in its firmware across multiple platforms and the MSI Click BIOS 5 is no exception to this. It uses a familiar GUI to what we have seen from MSI over the last couple of years and includes all of the settings needed for users to customize AMD Threadripper 3000 series specific functions. This includes individual CCD overclocking, as well as intense memory latency tweaking. The MSI Click BIOS 5 firmware is responsive, easy to navigate, and caters for both novice and the more advanced enthusiasts with its EZ mode and Advanced modes.
Software
MSI has started moving away from disk media and has opted for a USB flash drive in the accessories bundle which includes the relevant drivers and software for the Creator TRX40. The main software utility included is MSI's Creator center which amalgamates many different software utilities into one main software package.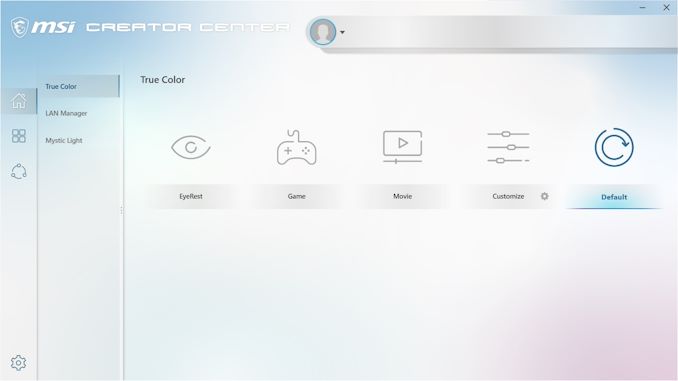 With the MSI Creator TRX40 motherboard aimed firmly at content creators and professionals, the MSI Creator Center has plenty of credence to bolster the hardware onboard. The True Color function allows users to change the dynamic of the visual experience through a couple of included presets including EyeRest, Game, and Movie. Users can also customize the visual experience through a set of parameters including brightness, contrast, and works independently from monitors with similar integrated controls.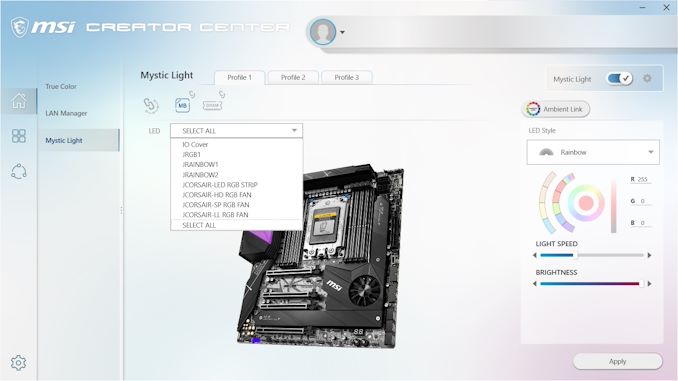 For users looking to customize the integrated and expandable RGB headers found on the board, MSI's Mystic Light RGB utility is located within the Creator Center. The software allows users to individually select each area and customize, or sync everything up together for a more uniformed look. On the right, users can customize the lighting effect which includes the usual modes including static, rainbow, wave, cycle, with light speed and brightness which can both be customized to a user's specific requirements.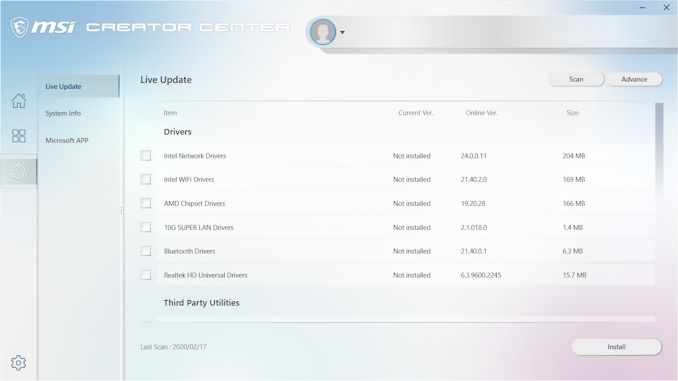 By the time users purchase motherboards from retailers, the included drivers and utilities are out of date, and to make the most of them, these will need updating with an internet connection. Live Update allows users to automatically search for the latest drivers and utilities directly from MSI's servers and install them all with one-click.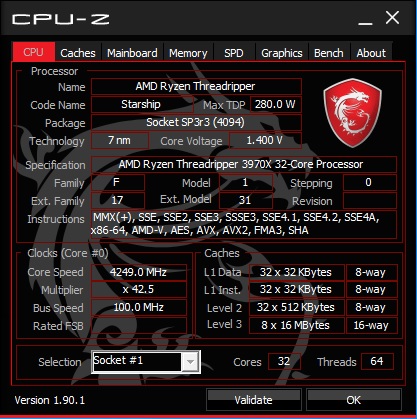 Also included within the software bundle is a custom MSI Dragon skinned version of CPU-Z. CPU-Z is a real-time monitoring tool which displays information on the installed processor, motherboard, and includes a benchmark tool. At present, the latest version with the MSI skin at the time of writing is version 1.90.1, whereas the latest version of CPU-Z is at 1.91.
For users looking to control and customize the onboard audio settings, the Realtek Audio Control Center needs to be downloaded directly from the Microsoft Store. The drivers are however included on the USB flash drive included with the accessories bundle, and can also be downloaded from the Live Update element of the MSI Creator Center.