Apple MacBook Pro 13—Awesome Display
Oh man, where do I start? Compared to most PC notebooks, especially thin and lights, this display is simply superb. Apple uses a very high quality, high contrast panel in the MacBook Pro, and it's one of the most noticeable advantages the MPB has over the PC notebook world. It just adds to the high quality feeling that the MBP practically exudes—it's like Apple thought of everything to make it more enjoyable to use. I really wish other manufacturers would put in the money and effort into speccing their systems with high quality displays.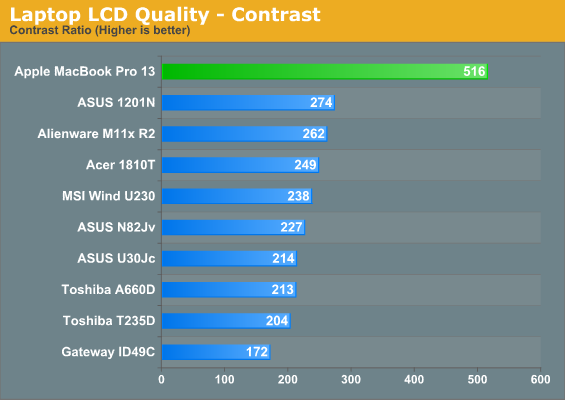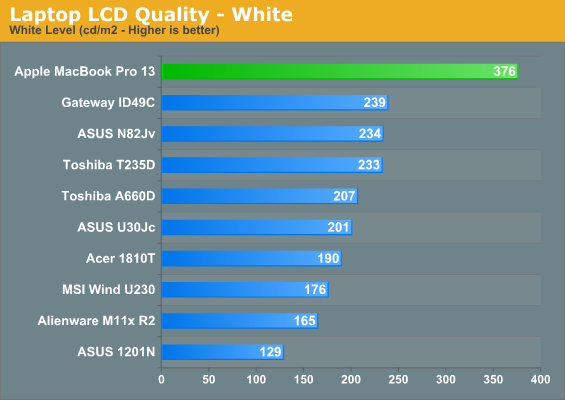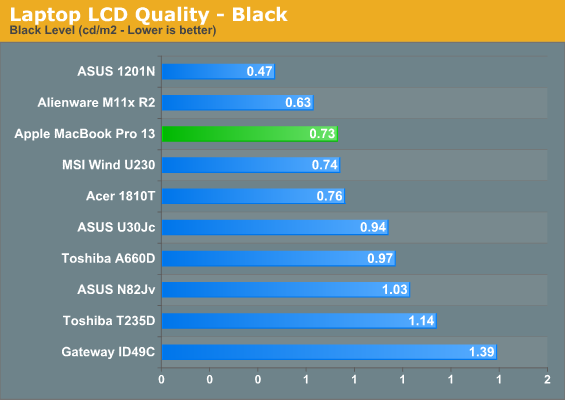 The contrast ratio of 516:1 is chart topping, even higher than the excellent RGB-LED backlit screen in the Dell SXPS 16. It's orders of magnitude better than basically any other thin and light or ultraportable notebook we've tested recently. Think about the same maximum white level as the Adamo, but with the black levels of something with half the brightness. I officially love this screen, even with all the super glossy stuff going around. (For the record, I still hate Apple for not offering the MacBook Pro 13" with a matte screen, but they could always make me happy and offer it as an option on the Sandy Bridge variant. I'm not holding my breath, though.)
There are of course other LCDs that can achieve higher contrast ratios, like the RGB LED panels in Dell's Precision M6500, HP's DreamColor offerings (i.e. EliteBook 8740w), and perhaps a few others. We've also seen plenty of decent panels in larger notebooks like the ASUS G73Jh, Clevo X7200, MSI GX640, etc. The problem is, few if any thin and light laptops have decent contrast, and those that do it with a 360nit maximum brightness are even harder to find. Also note that the MBP13 Anand tested under OS X scored even better than the results from this Win7 unit, but that may simply be variation among panels. The difference between 600:1 and 500:1 isn't all that striking; usually you need at least 50% more contrast before it becomes noticeable, and once you reach 1000:1 the only change is typically in fractionally darker blacks.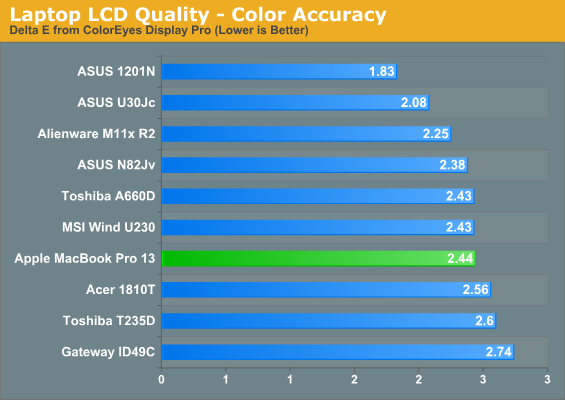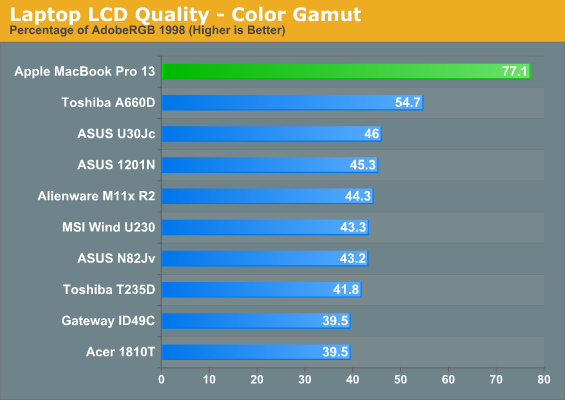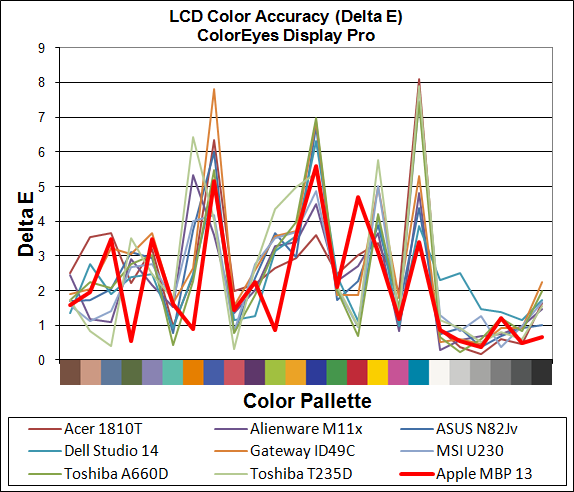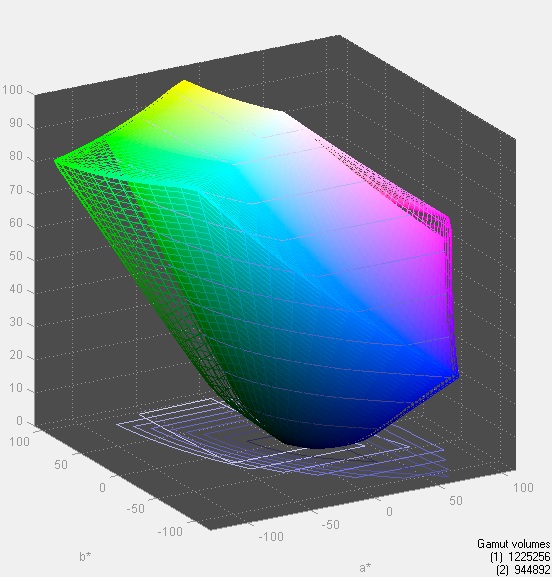 Color accuracy is pretty good, as is the color gamut. In fact, the MBP has one of the best color gamuts we've seen on a 13" notebook. But here's the takeaway from all this: the MacBook Pro is one of the only small notebooks with a decent display. I'm not going to say it's the only one, since I haven't tested all of them (and the Sony Z still exists), but of all the notebooks we've been through, it's by far the best one. I really wish more PC manufacturers would "get it" and spec their notebooks with higher quality displays, or at least offer a better screen as an option.