Thunderbolt is Intel's high-bandwidth, do-everything connector, designed as a potential future path for all things external to a system - displays, USB devices, external storage, PCI Express, and even graphics cards. The first version of Thunderbolt supported up to 10Gb/s bandwidth (uni-directional) for each port (double that of USB 3.0, but at a much higher implementation cost). Thunderbolt 2 doubled the bandwidth to 20 Gbps per port (bi-directional) by combining the four 10Gb/s channels into two 20Gb/s channels, thus enabling support for 4Kp60 raw video transfer (which may need up to 15 Gbps). Motherboards with Thunderbolt 2 certification started rolling out in the second half of 2013, but peripherals capable of taking advantage of Thunderbolt 2 were quite rare.
We were expecting a number of Thunderbolt 2 products at CES, but were able to get hands-on time with only a pre-production sample of the LaCie Little Big Disk Thunderbolt 2. With 4K being one of the main drivers for Thunderbolt 2, manufacturers have used the time around the 2014 NAB Show (the B2B media / broadcast trade show) to add new members to their Thunderbolt portfolio.
One of the interesting aspects to note is that the cutting-edge Thunderbolt products are being marketed through the premium brands/subsidiaries of the two major hard drive manufacturers. Representing Western Digital, we have G-Technology, a division of HGST (a wholly owned subsidiary of WD). Seagate is represented by LaCie. These products are also equipped with the latest high-capacity 6TB enterprise class drives.
G-Technology STUDIO SERIES:
G-Technology introduced two members, the G-SPEED Studio and the G-RAID Studio. The G-SPEED is a four-bay solution with a built-in RAID controller (hardware RAID) and dual Thunderbolt 2 ports (for daisy chaining). RAID 0,1,5 and 10 are supported, and the drives are user-replaceable. Performance tops out at 660 MBps in RAID 0. Pricing ranges from $2200 for the 12TB version to $3600 for the 24TB version.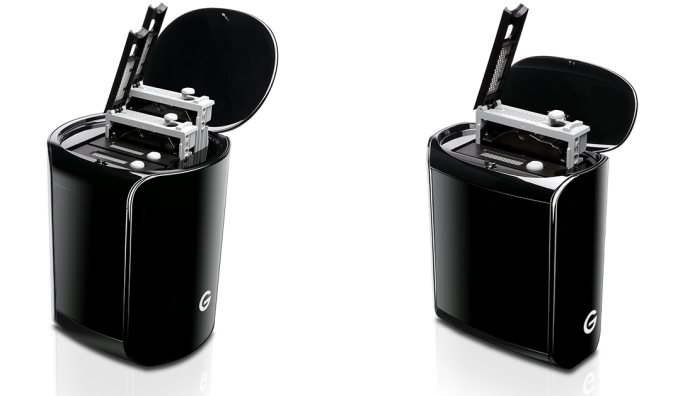 The G-RAID is a 2-bay solution with hardware RAID (user-selectable RAID 0,1 or JBOD). It features two Thunderbolt 2 ports for daisy chaining and performance tops out at 360 MBps in RAID 0. Pricing ranges from $650 for the 4TB version to $1500 for the 12TB version.
Both products claim compatibility with both Mac OS 10.9+ and Windows 7+. They will be available in May and carry a 3-year warranty.
LaCie 2BIG, 5BIG and 8BIG RACK:
LaCie announced three Thunderbolt 2 products at the 2014 NAB. The 2BIG is a two-bay hardware RAID unit similar to the G-RAID, but, in addition to the Thunderbolt 2 interfaces, it also sports a USB 3.0 port. With two 6TB 7200rpm drives in RAID 0, LaCie claims speeds up to 420 MBps.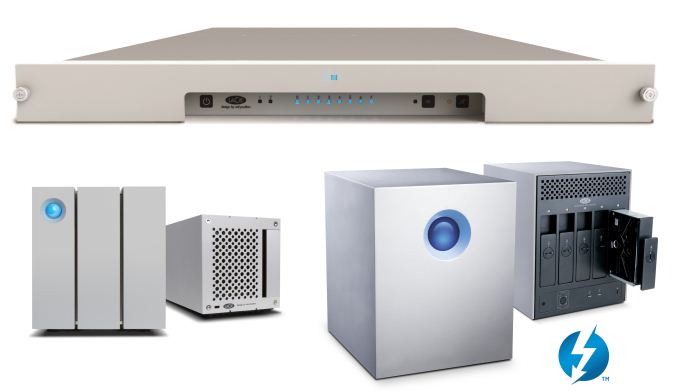 The 5BIG is a 5-bay hardware RAID unit with two Thunderbolt 2 ports (for daisy chaining). Equipped with 6TB Seagate hard drives, it can hit up to 1050 MBps. The 8BIG RACK is a 1U rackmount solution and provides up to 48TB of direct attached storage. LaCie claims speeds of up to 1330 MBps with this unit.
While the 2BIG enjoys Windows compatibility, thanks to the USB 3.0 port, LaCie is still working on Windows support for the other models (They are currently Mac OS 10.8.5+ only). All units have hot-swappable drives. Availability is slated for this quarter, and pricing is yet to be announced.
Before closing up this coverage, mention must also be made of Western Digital's My Passport Pro (launched at MacWorld). This bus-powered model is based on Thunderbolt (the first generation) and sports two 2.5" drives. There are two models, one with 2x 1TB drives and another with 2x 2TB drives. Drives can be configured in RAID 0,1 or JBOD. The units appear to be compatible with Macs only. Pricing comes in at $300 for the 2TB version and $450 for the 4TB version.