Team Group's Night Hawk RGB Memory
16GB of DDR4-3000 CL16 (TF2D416G3000HC16CDC01)
For our testing, Team Group provided us with a dual channel kit from its T-Force Night Hawk RGB range. This is a 2x8 GB kit rated at DDR4-3000 with latency timings of 16-18-18-38. The T-Force Night Hawk DDR4-3000's are a fairly middle of the road (spec wise) dual channel offering when compared to some of the high-end kits, but the Night Hawk kit comes aims at a much more reasonable balance of price point and performance. With the high-performance kits, the price is paid on the way the memory is binned - with kits like the Night Hawk RGB, there is a small 'RGB tax' over non-RGB mono-color variants, which usually comes in at around $5-$10 depending on the manufacturer. The RGB element is purely for aesthetics, so while on paper and financially it makes less sense to opt for the RGB option over the mono-colored version, our discussions with vendors gave an insight into this market. As far as we were told, RGB sales are growing faster than anyone ever expected - system design customisability is becoming an important consideration of a PC build.

For the memory itself, Team Group has gone with a rather eccentric hawk inspired heatsink design as the brand. The modules end up 1.73"/44mm in height, so for context, the Noctua NH-D14 CPU cooler has a clearance for memory of up to 45mm, so this kit should just about fit.
Under the heat sinks, Team Group has opted to use single sided Samsung B-die ICs. These memory ICs are highly favoured by extreme overclockers for their potential overclockability and frequency scaling, as well as the ability to really tighten the latencies; at very high frequencies and tight latencies, some of the more synthetic tests that competitive overclockers love make a difference, and memory manufacturers use that as a marketing tool when it comes to B-die. That being said, despite sending us a memory kit using B-die, Team Group did say however that in future it could change the ICs in the kits depending on market pricing and availability of such modules. This is disappointing, but not completely unexpected as other companies also do this. Our normal policy applies when this is the case: if this were to occur, we would want the model number would change to reflect this. There are attempts online by competitive overclockers to identify which memory modules use certain ICs, so if one model number had several IC versions, it would be very confusing to organise.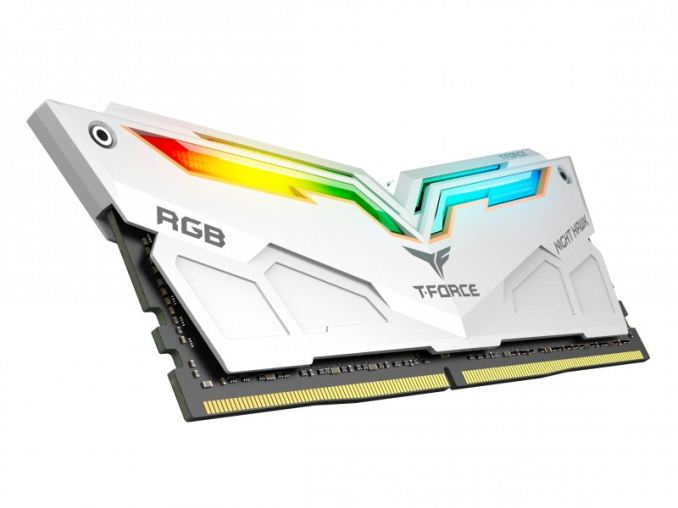 The Team Group T-Force Night Hawk RGB DDR4-3000 kit comes with a global lifetime guarantee in the US, and supports RGB LED customisation. This particular kit is synchronizable with ASUS motherboards via ASUS Aura Sync. The purpose of platforms like Aura Sync is to allow users looking to colour match their existing products through products such as peripherals, motherboards, VGA and even RGB LED strips such as BitFenix's Alchemy range and virtually all of Cablemod's current line-up.