Integrated Graphics
For our main tests, there are areas to consider to determine if these AMD Ryzen 4000 Desktop APUs are good for the expected market, and can claim the title as the best processors with integrated graphics.
Competition against other Desktop APUs: Ryzen 3000 or Intel i7-5775C
Competition against other integrated graphics: Ryzen 4900HS or Intel Tiger Lake
Competition against entry level graphics
When comparing these APUs against entry level graphics, the usual consideration is for combined price comparison – what would be the equivalent CPU+GPU combo in price against the integrated graphics solution.
We paid £307 for the Ryzen 7 Pro 4750G, which includes the UK 20% sales tax. Without tax, that is £255.83, and the converted to USD results in $346.36, or around about $345. This is very expensive for a processor with integrated graphics – usually AMD targets price points around $100-$160, but this is where we can see the better margins of mobile processors come in to play. The 4650G and 4350G come in at $262 and $170 respectively.
Our main data point is a Ryzen 5 2600 paired with a GT1030 2 GB, which is a $200 (SEP) processor paired with an $85 graphics card, and so would sit between the Ryzen 7 and Ryzen 5 in our testing. Technically the Ryzen 5 2600 has been cheaper than SEP, with the Ryzen 5 1600AF equivalent at one time being as low as $85.
We also have a Ryzen 9 5950X paired with a GTX 950 2GB (75W) in the results as well, which used to retail for $155. While the CPU value is obviously beyond being relevant for this test, it will show the GTX 950 in its best light.
Please note that some of this data includes notebook data, which was obtained during the loan period for that device. As a result, not all systems were tested on all benchmarks, depending on when the benchmarks were added to our testing (or were available at the time).
Gaming Tests: Chernobylite
Chernobylite is an indie title that plays on a science-fiction survival horror experience and uses a 3D-scanned recreation of the real Chernobyl Exclusion Zone. It involves challenging combat, a mix of free exploration with crafting and non-linear story telling. While still in early access, it is already picking up plenty of awards.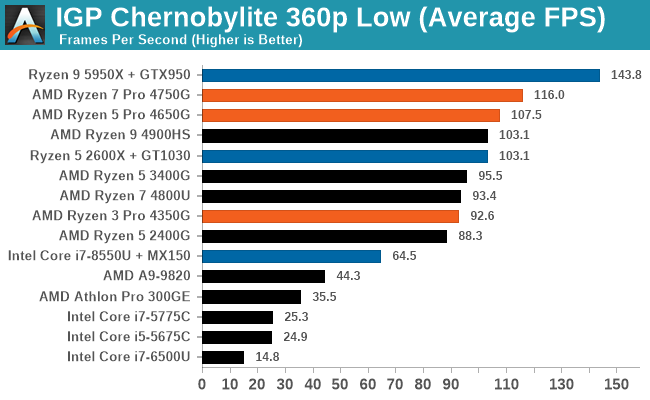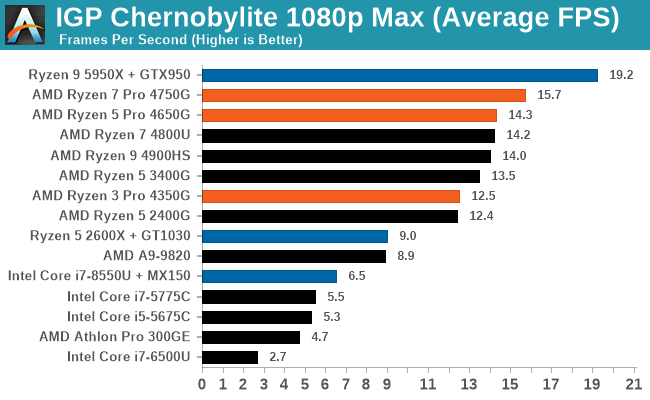 The GT1030 solution is in the ballpark for the low resolution setting, but falls behind when we crank it up. The GTX950 solution is an easy win here.
Gaming Tests: Civilization 6
Originally penned by Sid Meier and his team, the Civilization series of turn-based strategy games are a cult classic, and many an excuse for an all-nighter trying to get Gandhi to declare war on you due to an integer underflow.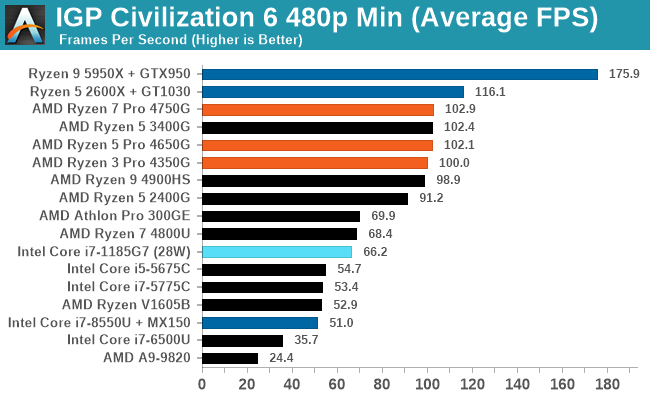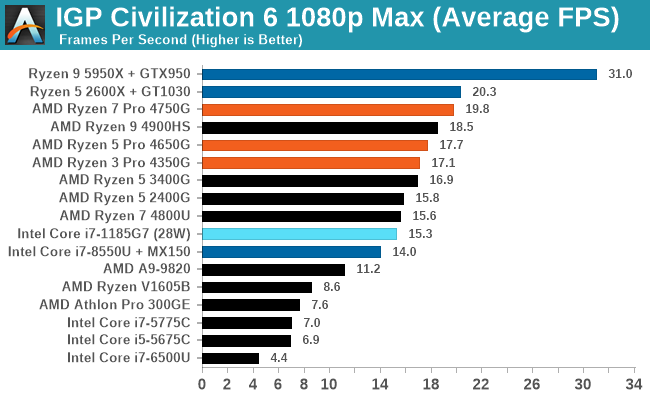 Both the discrete solutions win out for Civilization 6, but it is worth noting how much of a lead the AMD R4000 parts have over Tiger Lake. The Ryzen 4800U seems to fall behind the 65 W processors here, indicating that this is also a TDP heavy test.
Gaming Tests: Deus Ex Mankind Divided
Deus Ex:MD combines first-person, stealth, and role-playing elements, with the game set in Prague, dealing with themes of transhumanism, conspiracy theories, and a cyberpunk future. The game allows the player to select their own path (stealth, gun-toting maniac) and offers multiple solutions to its puzzles.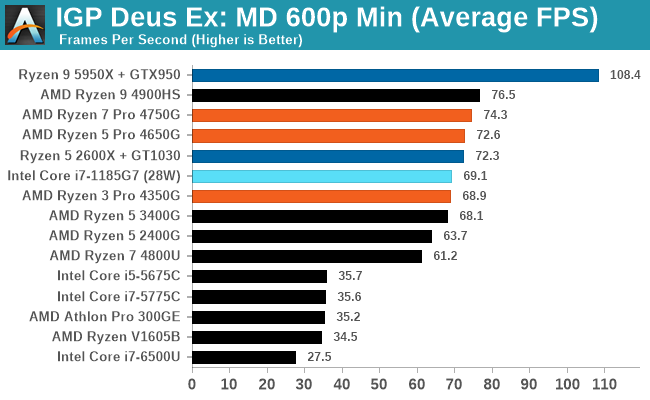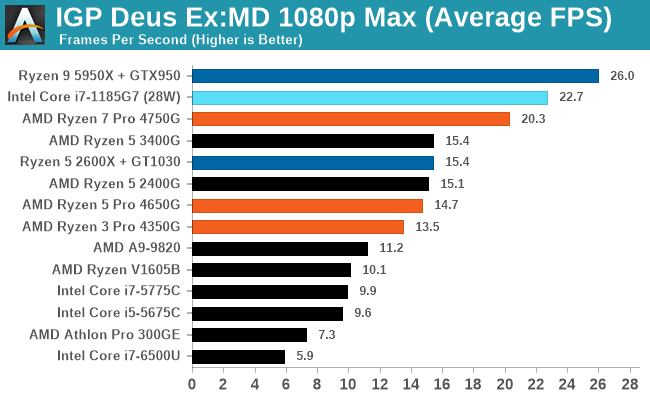 The GT1030 its more inbetween the APUs on DEMD, however the Tiger Lake processor does prefer the more complex test.
Gaming Tests: Final Fantasy XIV
In 2019, FFXIV launched its Shadowbringers expansion, and an official standalone benchmark was released at the same time for users to understand what level of performance they could expect. Much like the FF15 benchmark we've been using for a while, this test is a long 7-minute scene of simulated gameplay within the title. There are a number of interesting graphical features, and it certainly looks more like a 2019 title than a 2010 release, which is when FF14 first came out.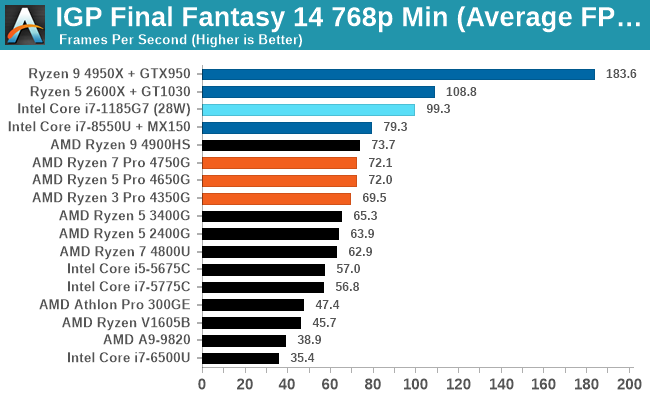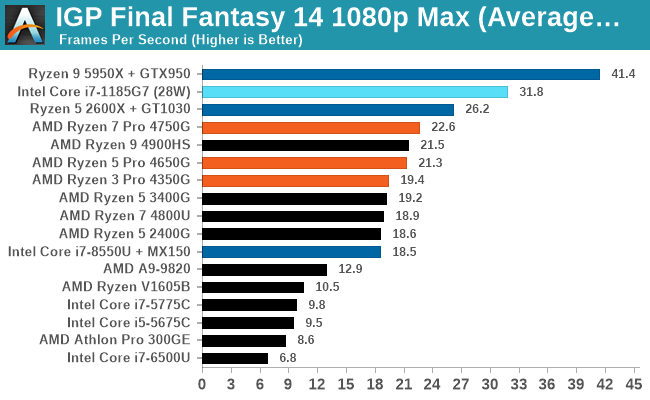 At the lower resolution, the discrete solutions certainly win out, along with Tiger Lake. When the detail is pushed higher, the MX150 falls behind the APUs, however the others stay ahead.
Gaming Tests: Final Fantasy XV
The game uses the internal Luminous Engine, and as with other Final Fantasy games, pushes the imagination of what we can do with the hardware underneath us. To that end, FFXV was one of the first games to promote the use of 'video game landscape photography', due in part to the extensive detail even at long range but also with the integration of NVIDIA's Ansel software, that allowed for super-resolution imagery and post-processing effects to be applied.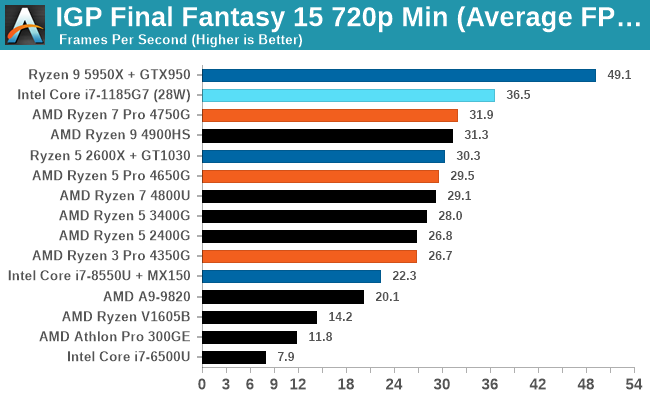 Tiger Lake also likes Final Fantasy XV, and the R4000 APUs are straddling that 30 FPS average mark.
Gaming Tests: World of Tanks
World of Tanks is set in the mid-20th century and allows players to take control of a range of military based armored vehicles. The game offers multiple entry points including a free-to-play element as well as allowing players to pay a fee to open up more features.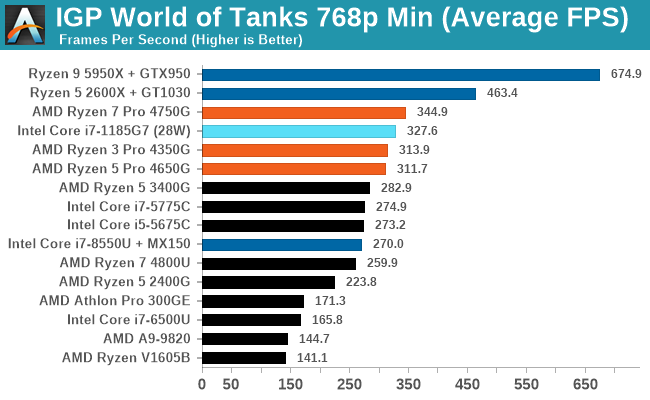 Gaming Tests: Borderlands 3
The fourth title of the franchise, Borderlands 3 expands the universe beyond Pandora and its orbit, with the set of heroes (plus those from previous games) now cruising the galaxy looking for vaults and the treasures within. Popular Characters like Tiny Tina, Claptrap, Lilith, Dr. Zed, Zer0, Tannis, and others all make appearances as the game continues its cel-shaded design but with the graphical fidelity turned up.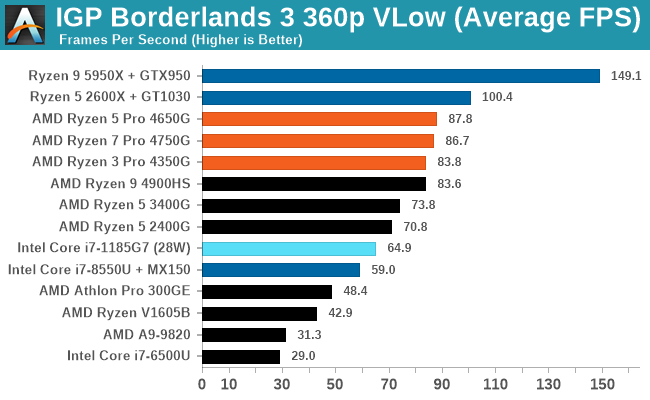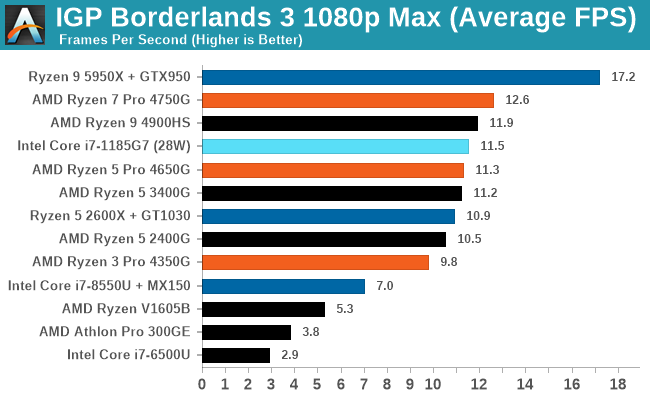 The Tiger Lake seems to have a bit of trouble on the lower resolution, with the Renoir APUs coming in strong, but still behind the desktop discrete solutions. The MX150 does relatively poorly here.
Gaming Tests: F1 2019
The 2019 edition of the game features all 21 circuits on the calendar for that year, and includes a range of retro models and DLC focusing on the careers of Alain Prost and Ayrton Senna. This edition revamps up the Career mode, with features such as in-season driver swaps coming into the mix, and the quality of the graphics this time around is also superb, even at 4K low or 1080p Ultra.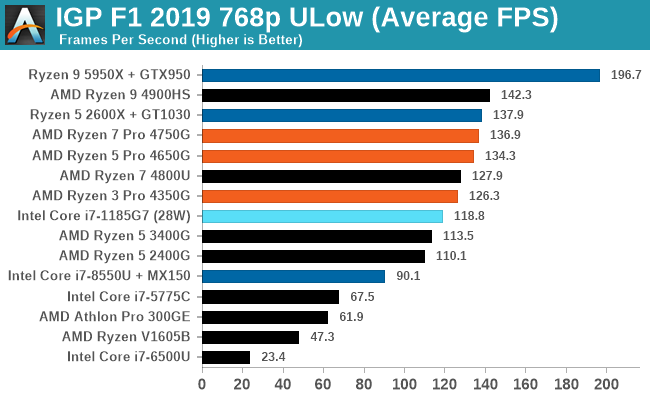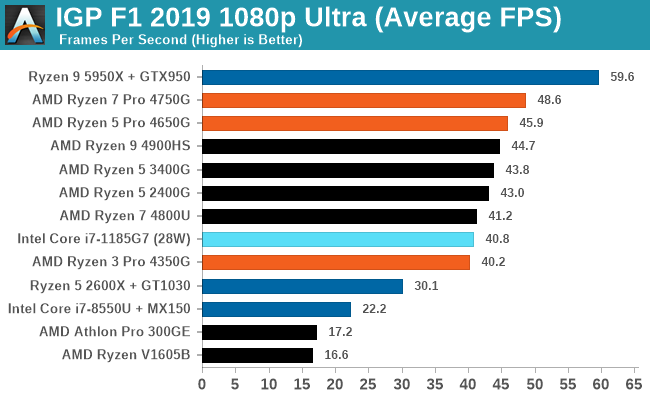 Gaming Tests: Far Cry 5
The fifth title in Ubisoft's Far Cry series lands us right into the unwelcoming arms of an armed militant cult in Montana, one of the many middles-of-nowhere in the United States. With a charismatic and enigmatic adversary, gorgeous landscapes of the northwestern American flavor, and lots of violence, it is classic Far Cry fare. Graphically intensive in an open-world environment, the game mixes in action and exploration with a lot of configurability.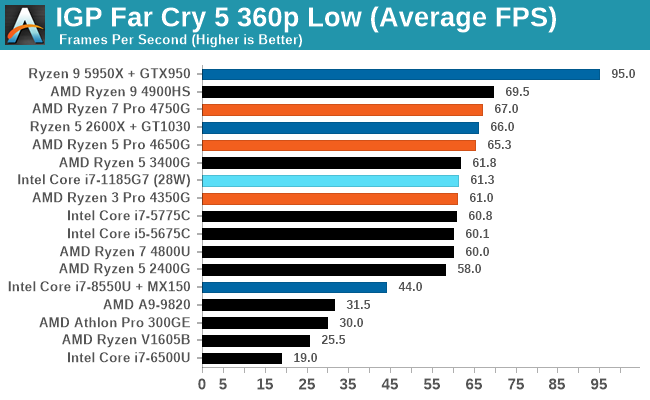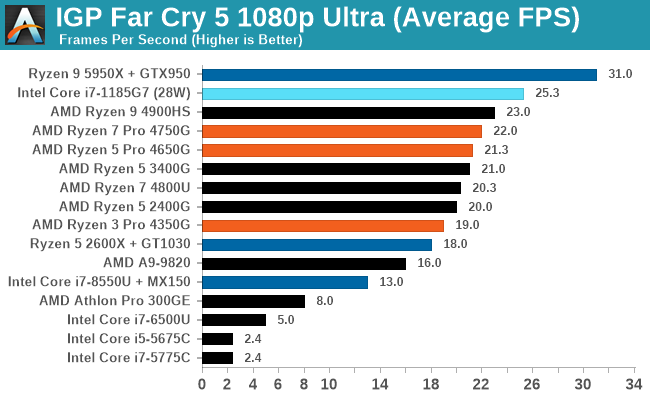 Gaming Tests: Strange Brigade
Strange Brigade is based in 1903's Egypt, and follows a story which is very similar to that of the Mummy film franchise. This particular third-person shooter is developed by Rebellion Developments which is more widely known for games such as the Sniper Elite and Alien vs Predator series. The game follows the hunt for Seteki the Witch Queen, who has arose once again and the only 'troop' who can ultimately stop her.