Five years ago Intel announced its ambitious tick-tock release cadence. We were doubtful that Intel could pull off such an aggressive schedule but with the exception of missing a few months here or there tick-tock has been a success. On years marked by a tick Intel introduces a new manufacturing process, while tock years keep manufacturing process the same and introduce a new microprocessor architecture. To date we've had three tocks (Conroe, Nehalem, Sandy Bridge) and two ticks (Penryn, Westmere). Sampling by the end of this year and shipping in the first half of next year will be Intel's third tick: Ivy Bridge.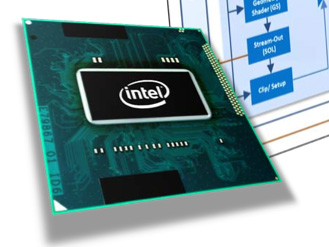 Ivy Bridge (IVB) is the first chip to use Intel's 22nm tri-gate transistors, which will help scale frequency and reduce power consumption. As we already mentioned, mobile Ivy Bridge will be the first Intel CPU to bring four cores into a 35W TDP.
At a high level Ivy Bridge looks a lot like Sandy Bridge. It's still a monolithic die that features an integrated GPU. The entire die is built at 22nm, continuing Intel's march towards truly addressing integrated graphics performance. Ivy Bridge won't get rid of the need for a discrete GPU but, like Sandy Bridge, it is a step in the right direction.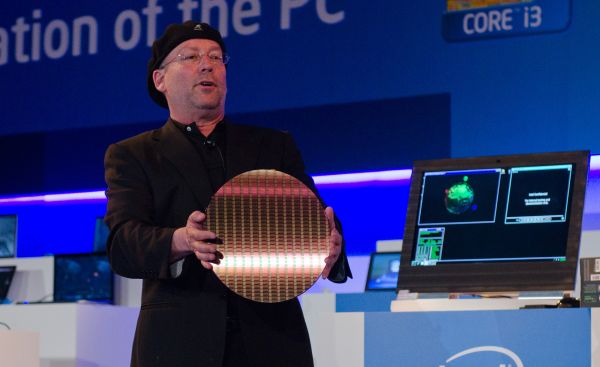 Intel hasn't announced die size but transistor count has increased to approximately 1.4 billion (layout). This is up from 1.16 billion in Sandy Bridge, a 20.7% increase. With perfect scaling a 22nm Sandy Bridge die would be 47.3% the size of a 32nm die. Even with the increase in transistor count, it's a good bet that Ivy Bridge will be noticeably smaller than Sandy Bridge.
Motherboard & Chipset Support
Ivy Bridge is backwards compatible with existing LGA-1155 motherboards, although there will be a new chipset for Ivy Bridge and new motherboards to enable some features (e.g. PCI Express 3.0, native USB 3.0). The new chipset family falls under the 7-series banner. We'll see Z77, Z75, H77, Q77, Q75 and B75 available at or around launch.
Chipset Comparison
Z77
Z75
H77
Z68
P67
H67
CPU Support
IVB
LGA-1155
IVB
LGA-1155
IVB
LGA-1155
SNB/IVB
LGA-1155
SNB/IVB
LGA-1155
SNB/IVB
LGA-1155
CPU Overclocking
Yes
Yes
No
Yes
Yes
No
CPU PCIe Config
1 x16 or
2 x8 or
1 x8 + 2 x4
PCIe 3.0
1 x16 or
2 x8 PCIe 3.0
1 x16 PCIe 3.0
1 x16 or
2 x8 or
1 x8 + 2 x4
PCIe 3.0
1 x16 or
2 x8 PCIe 3.0
1 x16 PCIe 3.0
Processor Graphics Support
Yes
Yes
Yes
Yes
No
Yes
Intel SRT (SSD caching)
Yes
No
Yes
Yes
No
No
RAID Support
Yes
Yes
Yes
Yes
Yes
Yes
USB 2.0 Ports (3.0)
14 (4)
14 (4)
14 (4)
14
14
14
SATA Total (Max Number of 6Gbps Ports)
6 (2)
6 (2)
6 (2)
6 (2)
6 (2)
6 (2)
PCIe Lanes
8 (5GT/s)
8 (5GT/s)
8 (5GT/s)
8 (5GT/s)
8 (5GT/s)
8 (5GT/s)
As I mentioned above, Ivy Bridge finally supports USB 3.0 natively. The consumer 7-series chipsets feature 14 total USB ports, 4 of which are USB 3.0 capable. The CPU itself features 16 PCIe (1x16, 2x8 or 1x8 + 2x4) gen 3 lanes to be used for graphics and/or high performance IO. You will only see Gen 3 speeds on qualified motherboards. It's technically possible on 6-series motherboards but guaranteed on 7-series motherboards. The Z77 and H77 chipsets will support Intel's Smart Response Technology (SRT, aka SSD caching) which is a Z68 exclusive today.
SATA and chipset-attached PCIe slots haven't changed. Overclocking is supported on all Z-chipsets, while the H-chipset doesn't. All chipsets support Intel's HD Graphics, which is a departure from the Sandy Bridge mess where P67 didn't.