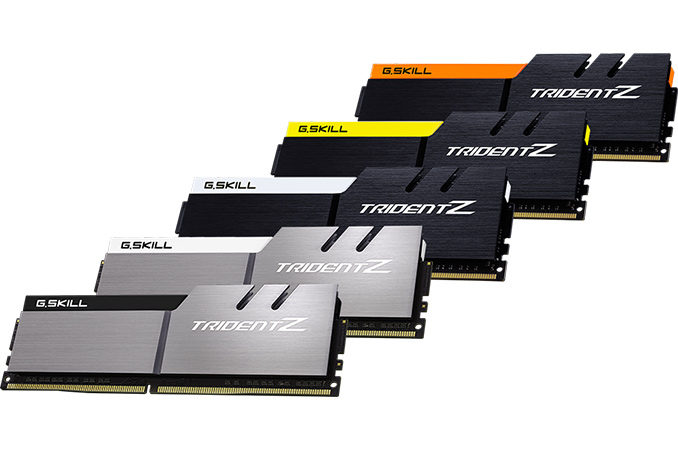 G.Skill has introduced new additions to its Trident Z family of DDR4 memory modules, which are designed to simplify the lives of anyone who wants to color-coordinate their PC. The new Trident Z lineup includes memory sticks with five new color schemes which are designed to match the aesthetics of overclocking and gaming motherboards.
Just 10 to 15 years ago, PC modding used to be reserved for hardcore enthusiasts, who were willing to spend time and money to build beautifully looking PCs using custom-made components. PC cases with built-in LEDs or even transparent windows were in the minority, with only fully custom liquid cooling systems as a deviation, and the vast majority of motherboards were either slowly implementing color schemes or remained green/brown. Memory modules with heat spreaders were considered stylish. Fast forward to 2016, we have plenty of mass-produced components with PC modding features and almost everyone with moderate knowledge of PC hardware can build a PC with matching color scheme as well as lighting. The new Trident Z memory modules further simplify building of computers with unique designs, something that gamers and enthusiasts want to do.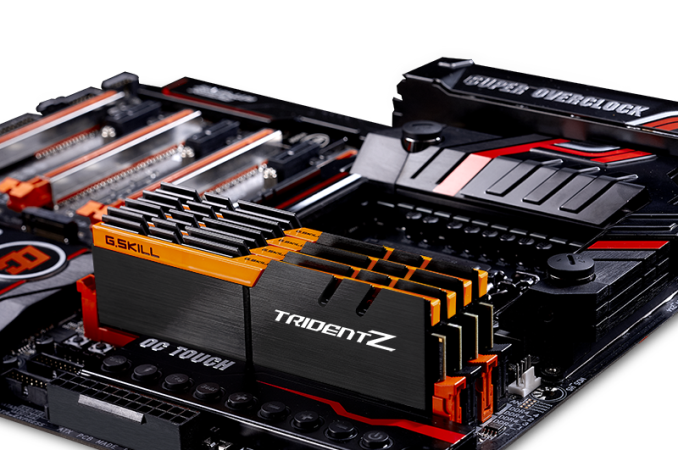 The G.Skill Trident Z series comes with two vectors: the main body and the top bar. The main body is either black or silver, and the top bar can come in orange, yellow, white or black. The original Trident Z modules featuring a silver body and black brushed aluminum heat spreader with a red top-bar highlight will remain on the market. Meanwhile, new color schemes (such as those with orange and yellow bars) will come in handy for those building new PCs based on the latest ASUS ROG, GIGABYTE Super Overclock or MSI XPower/MPower motherboards.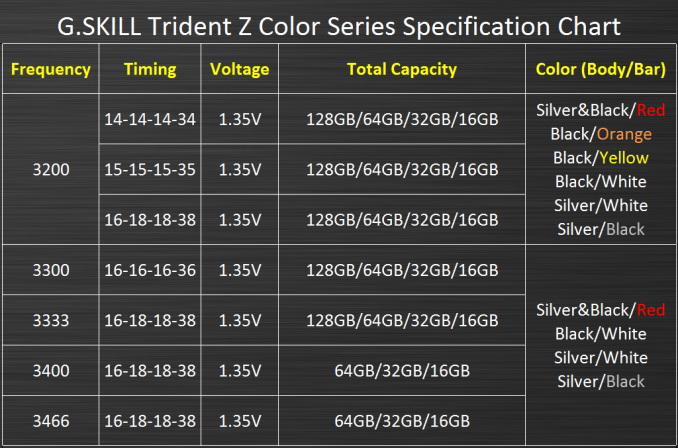 The new G.Skill Trident Z memory modules have 8 GB or 16 GB capacities and are based on Samsung's 8 Gb DDR4 ICs. The Trident Z will be available in dual-channel and quad-channel kits with 16, 32, 64 and 128 GB capacities, targeting everything from gaming desktops to higher-end workstations. Initially, G.Skill will offer colorful Trident Z kits with DDR4-3200, DDR4-3300, DDR4-3333, DDR4-3400 and DDR4-3466 speed-bins, CL14, CL16 or CL16 latencies as well as the higher DDR4 standard voltage (which is normal for high speed DDR4). The Trident Z Color are aimed at a good price/performance ratio for the majority of PC enthusiasts. Offering too many DDR4-4000+ SKUs with different color schemes could make lives of retailers uneasy since such modules are not too popular because of their high price. Therefore, if you want to go DDR4-4000 and higher, you will have to stick to "classic" Trident Z color scheme: black and silver heat spreader with red top-bar highlight.
I know Ian has taken a delivery of some of these modules for future testing, in the silver body and white bar design. As shown below, these are 16GB modules at DDR4-3200 and 14-14-14-34 sub-timings, installed in the GIGABYTE X170-Extreme ECC.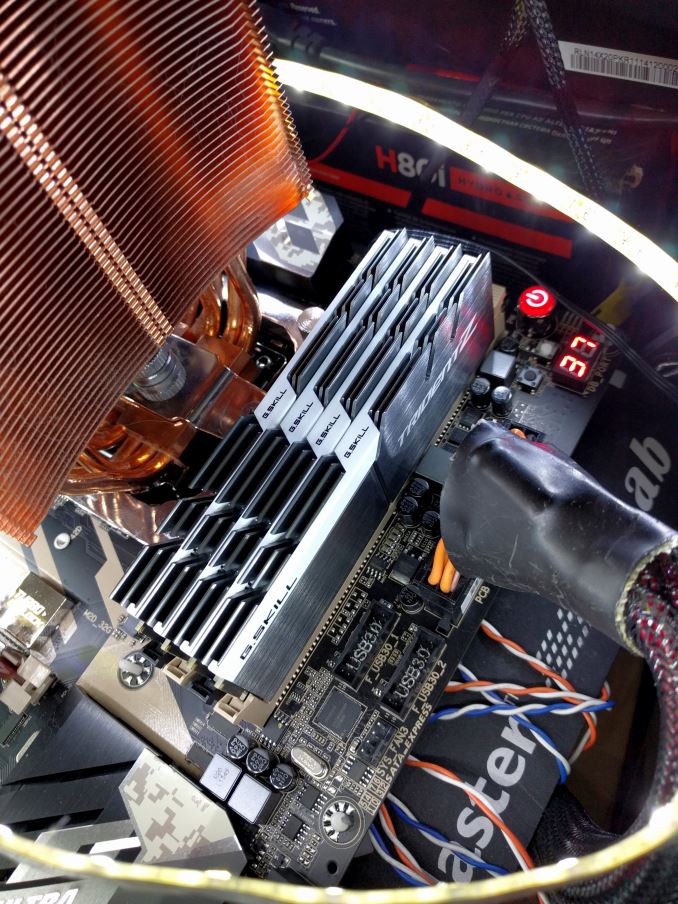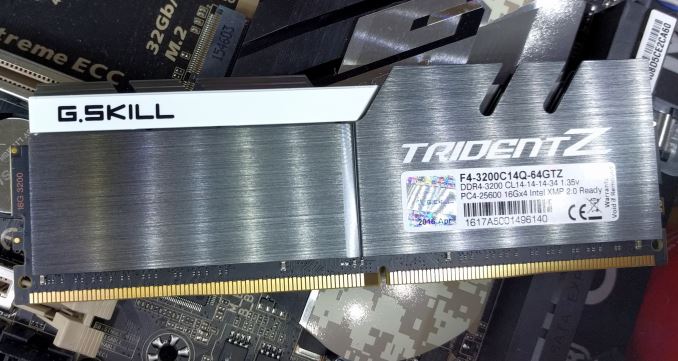 G.Skill intends to make the new Trident Z modules available this month. Since such modules only feature new heat spreaders, but continue to use the company's own design PCBs as well as Samsung's mass-produced 8 Gb DDR4 chips, they should not cost significantly more than existing Trident Z solutions.
Source: G.Skill