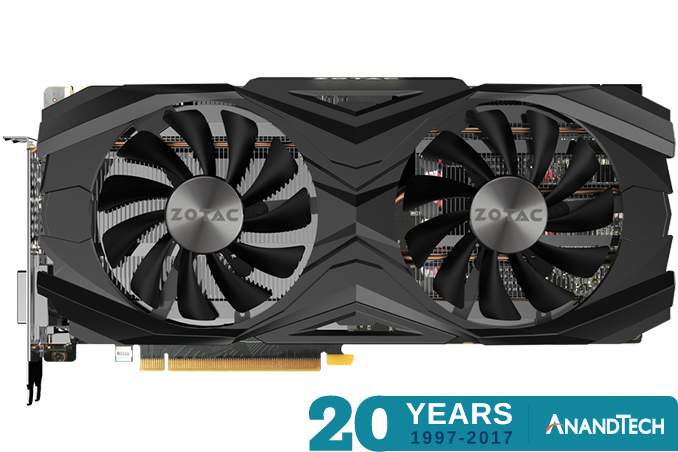 Today marks day 5 of our 20 day giveaway celebration of AnandTech's 20th anniversary, and things are just heating up. With only 20 days to give away prizes and so many to offer, for most of the next 3 weeks we'll be doubling up on giveaways, running one in the morning and one in the afternoon. This means that you'll want to check in morning and night if you want to see and potentially win everything we have to offer.
So far we've given away some high-end CPUs and motherboards, but we haven't done anything like that for video cards. This morning Zotac will be changing that with their GeForce GTX 1080 Ti Amp Edition, a factory overclocked GTX 1080 Ti card. Or maybe you don't need something quite so big? Then we'll also be starting small with our first barebones PC prize, Zotac's ZBOX CI325 nano.
ZOTAC GeForce GTX 1080 Ti AMP Edition
Zotac ZBOX CI325 nano
The AnandTech 20th Anniversary Celebration – Zotac Giveaway
ZOTAC GeForce GTX 1080 Ti AMP Edition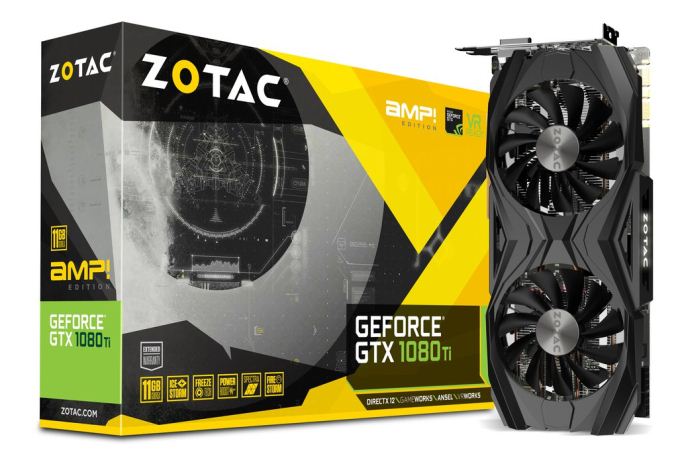 ZOTAC has long made a name for themselves with their wide range of NVIDIA-based video cards, ranging from barebones low-end cards for workstations up to their most powerful AMP family of cards for high-end gaming systems. Their GeForce GTX 1080 Ti AMP Edition in turn lives up to this name, taking NVIDIA's already uber-powerful GeForce GTX 1080 Ti and giving it a further factory overclock.
GeForce GTX 1080 Ti Specifications
Zotac GeForce GTX 1080 Ti AMP Edition
NVIDIA GTX 1080 Ti
(Reference)
Boost Clock
1683 MHz
1582MHz
Memory Clock
11Gbps
11Gbps
VRAM
11GB
11GB
TDP
270W
250W
Length
11.81"
10.5"
Width
Double Slot
Double Slot
Cooler Type
Open Air
Blower
Besides featuring a more powerful 1683MHz out-of-the-box boost clock, the GTX 1080 Ti AMP is also using a custom Zotac PCB, which implements no fewer than 16 power phases for the GPU. Cooling the beast is one of the company's open-air dual-fan Icestorm coolers, which uses some rather sizable 100mm diameter fans (so make sure you have the space!).
Zotac ZBOX CI325 nano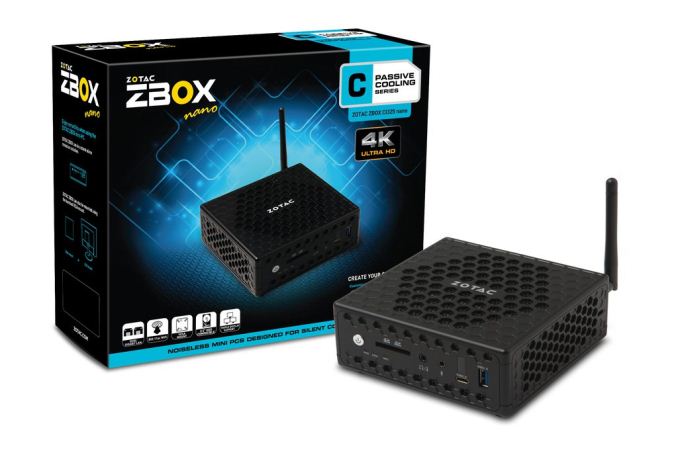 But if perhaps small is your thing, Zotac has you covered as well. The company's other pastime is their lineup of ZBOX barebones mini-PCs, so they're letting us give away one of those as well in the form of the ZBOX CI325 nano.
Zotac ZBOX CI325 nano Specifications
Processor
Intel Celeron N3160
Airmont, 4C/4T, 2.24 GHz, 14nm
Memory
DDR3L-1600, 2x SO-DIMM Slots
Graphics
Intel HD Graphics 400
Disk Drive(s)
1x 2.5" HDD/SDD Bay
Networking
1x1 802.11ac + BT 4.0
2x Gigabit Ethernet
Audio
3.5mm Headphone and Microphone Jacks
Capable of 5.1/7.1 digital output with HD audio bitstreaming (HDMI)
Display
1x DP 1.1a (3840x2160 @ 30 Hz)
1x HDMI 1.4b (3840x2160 @ 30Hz)
1x VGA
Miscellaneous I/O Ports
1x USB 3.1 Gen 1 Type-C
2x USB 3.0 Type-A
2x USB 2.0 Type-A
1x SDXC Slot
Full Specifications
Zotac ZBOX CI325 nano Specifications
The ZBOX CI325 nano is an entry-level design with an emphasis on size, coming in at just 128mm wide and 57mm tall. Part of keeping the size down is thanks to the passive cooling design, which means no space is needed for fans. In turn, powering the ZBOX CI325 nano is Intel's Celeron N3160 SoC, one of the company's 14nm Airmont based SoCs. The N3160 can boost up to 2.24GHz and supports up to 2 SO-DIMMs. Rounding out the package is the usual selection of USB ports – including a USB-C port – and integrated 802.11ac WiFi with an external antenna.
Finally, as with our other giveaways, today's giveaway is only open for 48 hours, so be sure to enter soon. However please note that for legal reasons, we're only able to open these giveaways to residents of the United States.
Good luck to everyone! And be sure to check in this afternoon for our next giveaway.