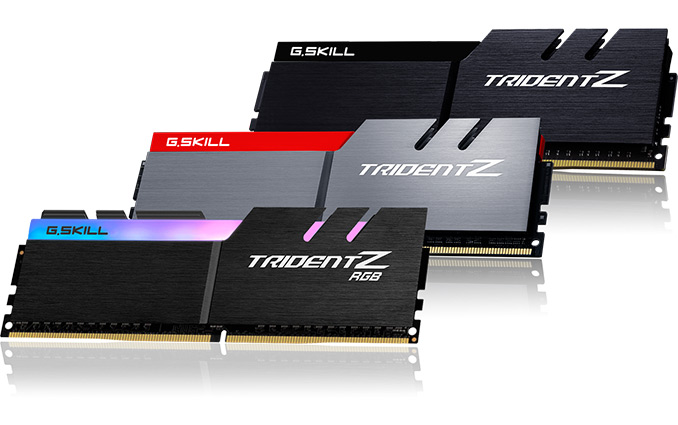 G.Skill has launched a new series of memory module kits optimized for Intel's new 8th Generation Core processors. The new DIMMs belong to G.Skill's Trident Z and Trident Z RGB families and are guaranteed to operate at 3733 – 4600 MT/s data transfer rates when paired with Intel's Coffee Lake processors. Some of the modules need significantly increased voltages and thus require higher-end motherboards that can deliver "clean" power.
Getting right down to business, the fact that G.Skill even announced memory kits specifically for Coffee Lake got an eyebrow raise out of us. At first blush, it seemed like a marketing stunt, especially since they're using the same Samsung's B-die chips that they've been using for some time now. But according to the company, Coffee Lake's memory controller behaves ever so slightly differently than Kaby Lake's when overclocked, necessitating the new modules.
Sure enough then, if we compare G.Skill's DDR4-4200 and DDR-4600 modules for the new Coffee Lake/Z370 and the Kaby Lake-X/X299 platforms, we will notice that the modules for Coffee Lake have looser tRAS sub-timings than the modules for Kaby Lake. From performance point of view, tRAS might not be a big deal, but it's an unexpected change; if anything we would have expected Coffee Lake to accept the same timings as Kaby Lake. There are a few possible reasons for this difference - not the least of which is the immature Z370 platform - however the more interesting options are that it's a product of the new manufacturing process, or possibly even a new memory controller entirely (especially seeing as how Coffee Lake doesn't support DDR3).
Otherwise, G.Skill's tinkering only seems to have been necessary for their fastest modules, as their lower-clocked enthusiast-class memory sticks are unchanged from earlier revisions. Conversely, since G.Skill has just loosened the timings of their new high-speed DIMMs, they should continue to work fine in other platforms.
Evolution of Intel DDR4 Memory Controllers for Socketed CPUs
Haswell-E
Skylake
Broadwell-E
Kaby Lake
Skylake-X
Coffee Lake
Supported Standards
DDR4-2133
DDDR4-2133
DDR3L-1600
DDR4-2400
DDR4-2400
DDR3L-1600
DDR4-2666
DDR4-2666
Number of Channels
4
2
4
2
4
2
DIMMs per Channel
2
Voltages
1.2 V
1.2 V
1.35 V
1.2 V
1.2 V
1.35 V
1.2 V
1.2 V
Launch Timeframe
Q3 2014
Q3 2015
Q2 2016
Q1 2017
Q2 2017
Q4 2017
Overall, G.Skill's lineup of Coffee Lake-optimized DRAM kits consists of seven products featuring two or four 8 GB or 16 GB modules based on Samsung's B-die chips. The rather broad family of Coffee Lake-optimized memory products is aimed at different classes of systems. The fastest DDR4-4400/4500/4600 DIMMs are only available in 8GB capacities and require 1.4 V, 1.45 V or even 1.5 V. G.Skill positions these modules for enthusiasts seeking maximum performance and not interested in maximizing DRAM content per box. G.Skill's 'mid-range' kits for Coffee Lake run at DDR4-4000/4200, have 32 GB of capacity (16 GB DIMMs), and are designed for those who need high memory bandwidth along with a decent amount of RAM. Finally, there is a 64 GB DDR4-3733 kit for users who run memory-intensive applications.
Traditionally, all the Trident Z modules come with XMP 2.0 SPD profiles to simplify their setup on optimized platforms. In addition, the modules are equipped with G.Skill's proprietary aluminum heat spreaders. Meanwhile, the Coffee Lake-optimized lineup from G.Skill also includes two Trident Z RGB options with programmable LED lighting.
G.Skill's Trident Z Memory for Intel's Coffee Lake/Z370 Platform
Speed
CL Timing
Voltage
Kit
Config.
Kit
Capacity
Family
PN
DDR4-3733
CL17 19-19-39
1.35 V
4×16 GB
64 GB
Trident Z RGB
F4-3733C17Q-64GTZR
DDR4-4000
CL18 19-19-39
4×8 GB
32 GB
F4-4000C18Q-32GTZR
CL19 19-19-39
2×16 GB
Trident Z
F4-4000C19D-32GTZKK
DDR4-4200
CL19 21-21-41
1.4 V
4×8 GB
F4-4200C19Q-32GTZKK
DDR4-4266
CL19 23-23-43
4×8 GB
Trident Z RGB
F4-4266C19Q-32GTZR
DDR4-4400
CL19 19-19-39
2×8 GB
16 GB
Trident Z
F4-4400C19D-16GTZKK
DDR4-4500
CL19 19-19-39
1.45 V
F4-4500C19D-16GTZKK
DDR4-4600
CL19 25-25-45
1.5 V
F4-4600C19D-16GTZKK
G.Skill has validated its new memory kits using Intel Z370-based motherboards from ASUS — the ROG Maximus X Hero, ROG Maximus X Apex and the ROG Maximus X Formula.
Finally, G.Skill plans to start selling the new Coffee Lake-optimized Trident Z and Trident Z RGB memory kits in November with the fastest Trident Z RGB DDR4-4266 arriving in December. The company traditionally does not touch upon MSRPs of its products in its announcements because DRAM prices tend to fluctuate. Meanwhile, since we are dealing with the latest products for a premium platform, expect appropriate prices.
Related reading:
Source: G.Skill