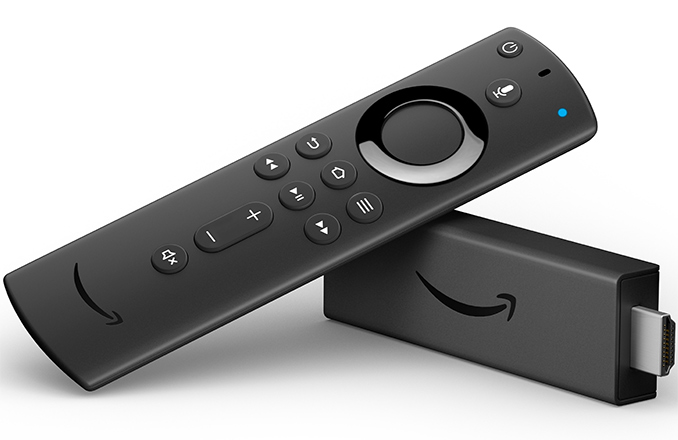 Amazon on Wednesday introduced its new Fire TV Stick 4K, a media streaming device. The new dongle is said to be 80% faster than its predecessor and brings support for new HDR modes as well as Dolby Atmos audio. The Fire TV Stick 4K will ship with Amazon's new Alexa Voice Remote that has more buttons and is more versatile than its predecessor.
The new Amazon Fire TV Stick 4K is slightly bigger than its predecessor launched in 2016 and is based on MediaTek's MT8695 platform, which is specifically designed for modern media streaming dongles with a variety of smart capabilities, such as voice commands. The chip itself is made using a 12 nm process technology, it is based on four unknown general-purpose cores running at 1.7 GHz as well as Imagination's PowerVR GE8300 GPU outfitted with a brand-new media decoding engine, and display pipeline. The SoC is accompanied by MediaTek's MT7668 communication chip that brings support for 802.11ac with 2×2 MU-MIMO Wi-Fi and Bluetooth 5.0.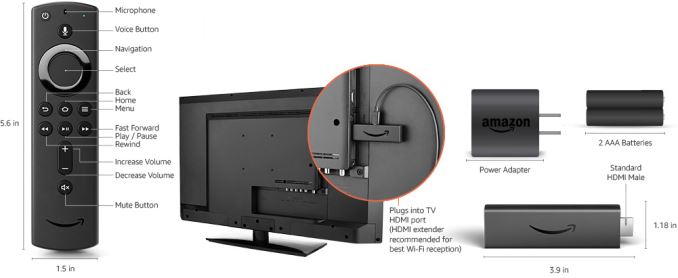 When it comes to media processing capabilities, the Fire TV Stick 4K can decode H.265 Main 10 Profile Level 5.1 with HDR10, HDR10+, HLG, and Dolby Vision, H.264 High Profile Level 4, as well as VP9 (presumably we are dealing with Profile 2 with HDR10 here). Meanwhile, it is noteworthy that unlike the 2017 Fire TV STB, the new dongle also fully supports MPEG2, MPEG4, and VP8 for web videos with an up to 1080p at 30 fps resolution. In addition, the Fire TV Stick 4K supports Dolby Atmos (EC3_JOC), Dolby Digital, Dolby Digital Plus, MP3, FLAC, and other audio formats.
The addition of HDR10+, HLG, and Dolby Vision support are the key enchantments that the Fire TV Stick 4K has over all other Fire TV-branded devices (both dongles and STBs). In fact, the Fire TV Stick 4K is currently the industry's first dongle to support the full combination of HDR10, HLG, Dolby Vision, and Dolby Atmos. There are Blu-ray players that support the combination, but they are naturally considerably more expensive. One thing to keep in mind though is that far not all modern Ultra-HD TVs support said technologies.
When it comes to connectivity, the Amazon Fire TV Stick 4K naturally has an HDMI 2.0b output as well as a micro-USB 2.0 port for power and/or optional Amazon Ethernet adapter. As noted above, the device also supports 2×2 802.11ac Wi-Fi and Bluetooth 5.0.
The new Amazon Fire TV Stick 4K will come bundled with the company's all-new Alexa Voice Remote outfitted with power, volume and mute buttons, and is compatible not only with the dongle itself, but also with select AV equipment. Obviously, as the brand name suggests, the Alexa Voice Remote can also be used to search for content using your voice as well as for a variety of Alexa-enabled services, and devices (e.g., smart home appliances, etc.).
Amazon's Fire TV Stick 4K will start shipping on October 31 in the U.S. and Canada. Right now, it can be pre-ordered for $49.99. The device will be available starting November 14 in Germany, India, and the U.K. Later this year the product will also hit Japan.
The Alexa Voice Remote can be acquired separately for $29.99 in North America. Its availability dates are the same as availability dates of the Fire TV Stick 4K.
Amazon Fire TV Specifications
Fire TV
Stick 2016
Fire TV
2014
Fire TV
2015
Fire TV
2017
Fire TV Stick 4K (2018)
SoC
Model
MediaTek MT8127D
Qualcomm Snapdragon 600 APQ8064
MediaTek MT8173C
Amlogic
S905Z
MediaTek
MT8695
CPU
4×Cortex-A7
at 1.3 GHz
4×Krait 300
at 1.7GHz
2×Cortex-A72
at 1989 MHz
2×Cortex A53
at 1573 MHz
4×Cortex-A53
at 1.5 GHz
4×CortexAXX
at 1.7 GHz
GPU
Mali450 MP4
Adreno 320
at 400 MHz
PowerVR GX6250 at 600MHz
Mali450 MP3
PowerVR
GE8300
RAM
1 GB
2 GB
1.5 GB
Storage
8 GB
8 GB + microSD
8 GB
Wi-Fi
802.11ac

2

×

2 MIMO

802.11n

2

×

2 MIMO

802.11ac

2

×

2 MIMO

Bluetooth
BT 4.1
BT 5.0
Ethernet
optional
100 Mbps
optional
optional
USB
none
USB 2.0 Type-A
none
Micro USB 2.0
Video Output Connector
HDMI 1.4
HDMI 2.0
HDMI 2.0a
HDMI 2.0b
Video Output Resolution
1920×1080
at 60 Hz
1920×1080
at 30 Hz
3840×2160
at 30 Hz
3840×2160
at 60 Hz
HDR
-
HDR10
HDR10
HDR10+
Dolby Vision
Audio Output
HDMI
HDMI
Optical Audio (TOSLINK)
HDMI
Audio Features
Dolby Audio pass through via HDMI
Dolby Atmos 7.1,
DA 5.1 pass through via HDMI/optical
Dolby Atmos 7.1,
DA 5.1 pass through via HDMI (?)
Remote
Remote with voice search
Amazon Remote
Amazon Remote
Remote with voice search
Remote with voice search (2018)
Media Formats
Video
H.263
H.264
H.265
MPEG4-ASP_L5
H.263
H.264
MPEG4-ASP_L5
H.263
H.264
H.265
VP8
VP9
MPEG4-ASP_L5
H.264
H.265
VP9
H.263
H.264
H.265
VP8
VP9
MPEG2
MPEG4
Audio
AAC-LC, AC3 (Dobly Digital), eAC3 (Dolby Digital Plus), HE-AACv1, HE-AACv2, FLAC, MP3, PCM/Wave, Vorbis
AAC-LC, AC3 (Dobly Digital), eAC3 (Dolby Digital Plus), FLAC, MP3, PCM/Wave, Vorbis, Dolby Atmos (EC3_JOC)
Images
JPEG, PNG, GIF, BMP
PSU
5 W, internal
16 W, external
21 W, external
external
external
Dimensions
86×30×12.6mm
?
115×115×17.8mm
65×65×15mm
99×30×?mm
Price at Launch
$39.99
$99.99
?
$69.99
$49.99
Detailed Specs
Link
Related Reading:
Source: Amazon