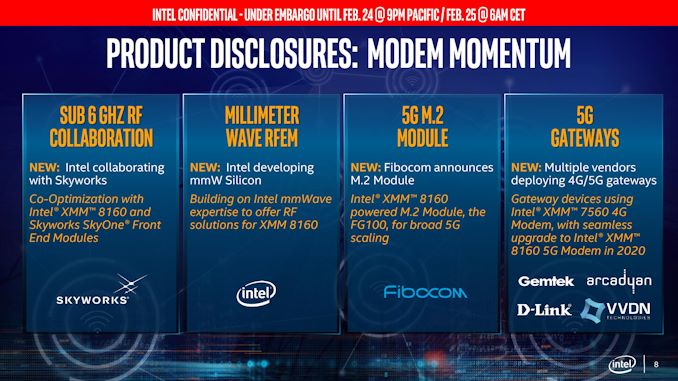 Fibocom Wireless is a company that has won investment from Intel Capital and develops wireless modules as well as communication solutions. As part of the Mobile World Congress event, in partnership with Intel, the company is announcing that it plans to bring a 5G modem solution to the market in an M.2 form factor.
The M.2 module, called the FG100, will use a variant of Intel's 5G modem portfolio (it hasn't been confirmed if this is the XMM 8160) and be targeted at gateway manufacturers such as D-Link, Arcadyan, and Gemtek who have already confirmed they will be using this module in upcoming products. LTE variants will be available this year, using the XMM7560, with 5G gateways coming into market in 2020, when 5G is expected to be more prevalent. Due to the M.2 form factor, antenna permitting, it is expected that these gateways should be seamlessly upgradeable from LTE to 5G.
It's worth noting that an M2 module size, even M.2 22110, is fairly limited in what it can hold, especially due to the z-height. Current 5G solutions that require a modem and antenna to support both sub-6GHz and mmWave implementations of 5G have required substantial z-height for the antenna modules. As a result, we expect this implementation to be useful for sub-6 GHz only, or require external antenna to enable mmWave. As this part is focusing on gateways and not WWAN services in devices, it could very well be built to a different specification for each specific customer as required.
Fibocom is expecting to demonstrate its M.2 module, likely inside a device we can't see inside, at the Mobile World Congress trade show this week in Barcelona. If we can get some close up images, we'll let you know.
Related Reading