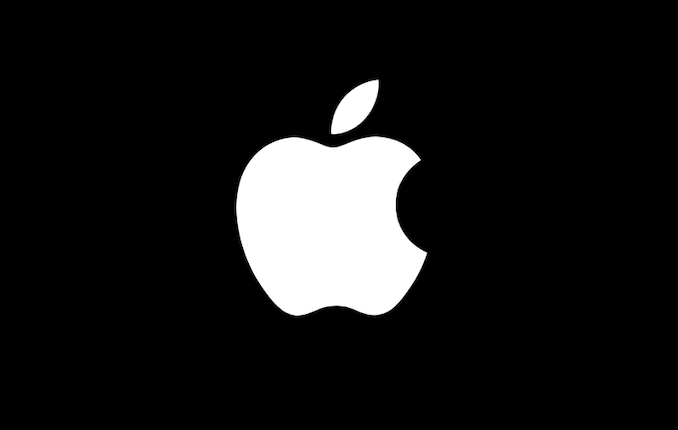 Putting an end to one of the most intense high tech legal battles in recent memory, this afternoon Apple and Qualcomm announced that the two firms were burying the hatchet. Effective immediately, all litigation between the two companies has been dropped, and the two have signed new patent license and chip supply agreements. As a result, the face of the cellular modem market is changing in an instant, as Apple's shift in allegiances will have repercussions throughout the industry.
Overall, the joint press release put out by the two companies is very short on details, as the agreement is largely a private matter. To settle their legal affairs, Apple will be making a one-time payment to Qualcomm, presumably to cover any IP use since Apple cut off payments to Qualcomm in 2017. Replacing those lawsuits, Apple has signed a 6-year patent license agreement with Qualcomm, which is being backdated to April 1st. The agreement includes a further 2-year extension option, which if Apple eventually chooses to exercise it, would take the agreement through April of 2027.
Along with licensing Qualcomm's patents, Apple is also going to resume buying chips from Qualcomm. A separate chipset supply agreement has been inked; though the official announcement doesn't say for how long beyond the fact that it's a "multiyear" agreement. Interestingly the word "modem" does not appear once in the press release itself, but from the nature of the two companies' conflict and Apple's own needs, clearly Qualcomm is once again going to be supplying modems for Apple's iPhones and iPads.
As noted by Reuters, the sudden nature of the deal took many people by surprise. Apple and Qualcomm announced the deal as the two companies were simultaneously in federal court in San Diego, arguing their cases on day 2 of what was their ongoing trial. That trial is now over, as are all of Qualcomm and Apple's other legal tussles across the world.
Apple and Qualcomm are not announcing the overall financial details of the deal – how much Apple is paying in royalties, nor how much the one-time payment is. However Qualcomm has put out a summary slide disclosing that as product shipments ramp, the company is expecting the deal to bring the company's incremental earnings to around two dollars per share. Which goes to show just how big of a deal this is in terms of sales and volume, and how important it was for Qualcomm to bring Apple back on board. Accordingly, as noted by CNBC, Qualcomm's stock had its best day since 1999, with the stock jumping up 23% during market hours, and a further 7% after-hours.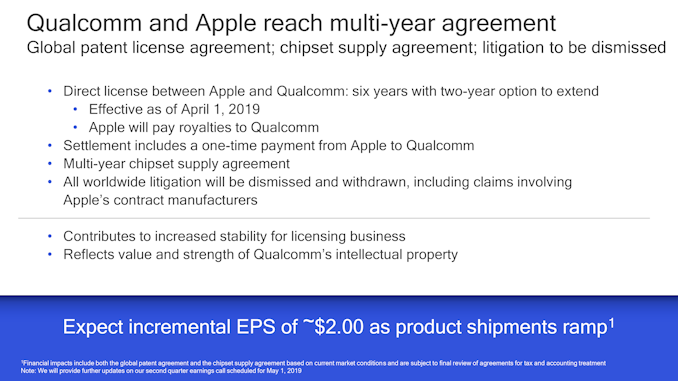 Overall, the consequences of the deal are significant. Qualcomm has been accused across the globe of FRAND violations and other anti-competitive behavior, with Apple serving as Qualcomm's fiercest critic in this area. While various regulatory cases are still going on – particularly in the US – settling with Apple means that the company will no longer be petitioning regulators and government officials to rule against Qualcomm. So while indirect, this could remove a lot of pressure against Qualcomm in their ongoing regulatory cases.
Meanwhile, Apple's shift in allegiances has led to their alternative modem supplier, Intel, to drop out of the 5G smartphone market entirely. A few hours after the Qualcomm settlement was announced, Intel made its own announcement that it was exiting the 5G smartphone modem business, and will be reevaluating the rest of its client modem business. So in the span of a day, the 5G modem market has already lost a competitor.
On that note, however, it's interesting that the chip supply agreement between Apple and Qualcomm isn't for the same fixed length as their patent agreement. Apple has developed a well-earned reputation for going their own way in chip development, and this may be a sign that Apple intends to eventually develop their own modem technology. This could prove especially prudent, as it would allow Apple to integrate a modem directly into their A-series SoCs, doing away with the need for an external modem and freeing up some valuable PCB space. Fittingly, this is one of Qualcomm's greatest strengths in the Android SoC space, as the company routinely offers SoCs with various integrated modems.
Source: Apple