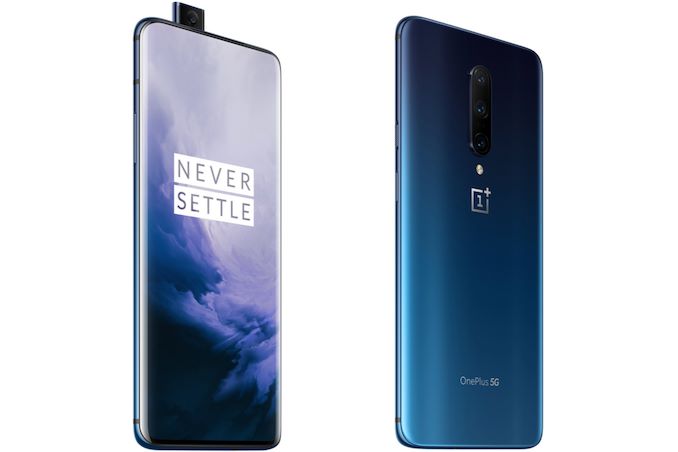 Alongside their new OnePlus 7 and OnePlus 7 Pro smartphones, OnePlus also used their UK event this afternoon to tease their first 5G-capable smartphone: the OnePlus 7 Pro 5G. The handset will be one of the first 5G smartphones to hit the UK market later this year. Surprisingly, the device is not bigger than 4G phones from OnePlus, a feature that the manufacturer is very proud of.
Building off of the already capable OnePlus 7 Pro, the 5G variant of the phone adds Qualcomm's discrete Snapdragon X50 5G modem to the mix, giving the phone 5G capabilities on top of its baseline 3G/4G capabilities. As today's reveal was a teaser, OnePlus isn't going too deep into technical specifications here, particularly on sub-6GHz vs. mmWave bands. But as Andrei noted in his live blog, the Snapdragon X50 doesn't support European mmWave bands anyhow, so we're looking at just Sub-6GHz support for the UK-focused phone.
Supporting just Sub-6GHz would also simplify the design of the phone a bit, which would help explain one of the tricks OnePlus used to avoid enlarging the phone to add 5G support. Typically, 5G phones are larger than 4G handsets because of antennas and other peculiarities. OnePlus says that its 5G smartphone uses its own antenna as well as a stacked PCB that enabled it to build a relatively compact 5G handset.

Other than 5G support, the OnePlus 7 Pro 5G is for all practical purposes a 5G-enabled variant of the OnePlus 7 Pro, with all the features and capabilities. This means the phone is outfitted with a 6.67-inch AMOLED display featuring a 3120x1440 resolution and a 90 Hz refresh rate. Internally, the phone is driven by Qualcomm's Snapdragon 855 SoC, paired with up to 12 GB of LPDDR4X RAM as well as up to 256 GB of NAND flash storage. And for camera capabilities, the 5G phone comes equipped with a triple-module camera featuring a 48 MP main sensor, a 8 MP telephoto sensor, and a 16 MP wide sensor, as well as a pop-up camera for selfies.
OnePlus will start selling the OnePlus 7 Pro 5G later this year, though it looks like the launch is still a bit off, as the company isn't disclosing a launch date or pricing. The handset will be available from EE that will launch 5G networks later this year in London, Cardiff, Belfast, Edinburgh, Manchester, and Birmingham.
Related Reading:
Source: OnePlus