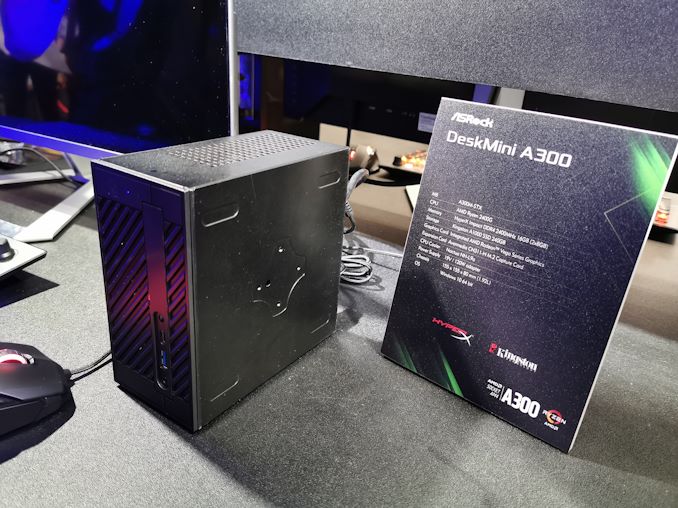 The industry loves a good small form factor platform, and ASRock's Deskmini A300 is a great example of this. Designed to work with AMD's APUs, the idea is to have a great amount of raw horsepower in a small and dense system. At ASRock's press conference today, the company confirmed that its Deskmini A300 will support the as-yet unannounced AMD Ryzen 3000 series APUs.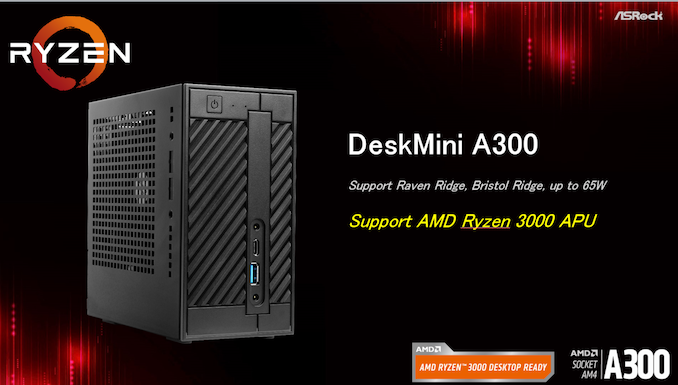 AMD only announced the first five desktop CPUs for the Ryzen 3000 family a couple of days ago, all of which were CPU only designs based on Zen 2 CPU cores and no integrated graphics. We highly suspect that an APU platform will follow in due course, a platform called 'Picasso'. With so little details known, it makes it somewhat amusing that one of AMD's partners is ready to publicly announce that their SFF platform, already on the market, will support a family of processors that hasn't even be acknowledged.
Given that the Deskmini A300 design is built for a maximum of 65W processors, we can surmise that the Ryzen 3000 APU family will also have a peak TDP of 65W in order for this claim to be true. Other than that, it would be hard to guess any other information at this point. We are going to go and ask ASRock for more information.
Update: Edited for confirmation
Want to keep up to date with all of our Computex 2019 Coverage?

Laptops

Hardware

Chips
Follow AnandTech's breaking news here!