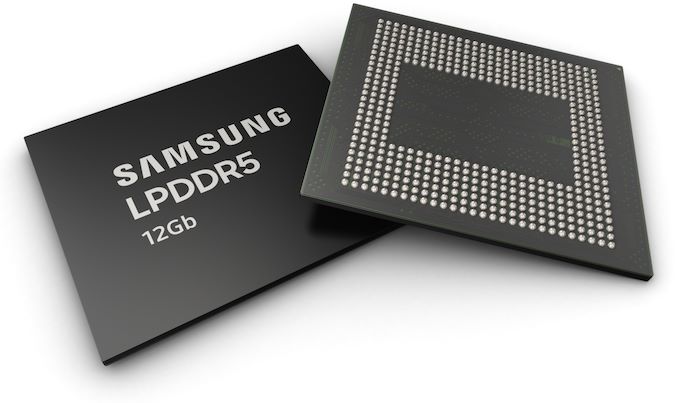 Samsung has kicked off volume production of its LPDDR5 memory devices and intends to start mass assembly of memory packages based on the new DRAMs. The company's LPDDR5 memory will be used for upcoming flagship smartphones with up to 12 GB of memory in the coming months.
Samsung's 12 Gb LPDDR5 memory devices feature a 5500 MT/s data transfer rate, which is about 30% higher when compared to currently used LPDDR4X-4266 DRAM. One of the first products to use the new 12 Gb LPDDR5 devices will be Samsung's 12 GB LPDDR5 package featuring a 44 GB/s bandwidth.
The manufacturer produces its 12 Gb LPDDR5 chips using its 2nd Generation 10 nm-class process technology that enables it to make the new chips smaller (i.e., cheaper) and more power efficient, yet Samsung does not disclose exact voltages of these new DRAMs. What we do know is that the ICs feature a variable voltage that is up to 1.1 V. The producer claims that its LPDDR5 devices are 30% more power efficient than existing mobile memory chips because of a new circuit design with enhanced clocking, a new deep sleep mode, as well as low-power feature that guarantees stable operation at high clocks.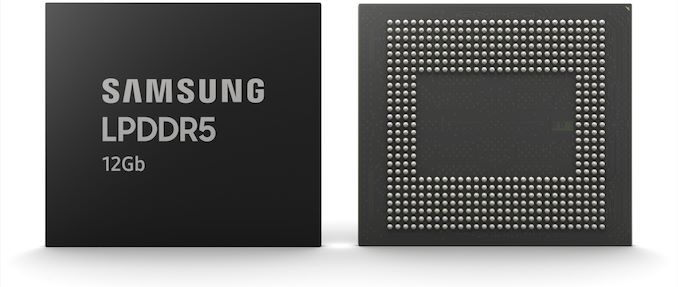 Assembly of 12 GB LPDDR5-5500 packages will commence later in July, which indicates that the company expects demand for these products in the coming months. Quite naturally, Samsung does not disclose customers interested in 12 GB of LPDDR5 memory, but there are a number of new flagship smartphone launches scheduled for the coming months, so we are going to find out soon. We do expect that Samsung is starting to build inventory for new 1Q2020 device launches which will have next-generation LP5 compatible SoCs in them as well.
Next year Samsung plans to release 16 Gb LPDDR5 devices and eventually increase data transfer rates of its LPDDR5 DRAMs all the way to 6400 MT/s. Meanwhile, as demand for LPDDR5 increases, Samsung may transfer production of this memory to its massive campus near Pyeongtaek, South Korea.
Related Reading:
Source: Samsung