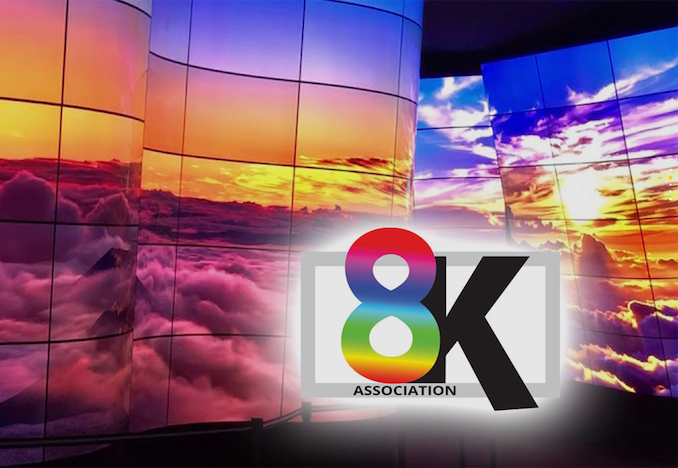 The 8K Association, a group led by leading makers of TVs and display panels focused to facilitate growth of the 8K ecosystem, this week introduced a list of minimal technical specifications that should be met by a TV carrying an 8K logotype. If the initiative is embraced widely by the industry, it will ensure that next-generation 8K televisions and monitors will offer consistent performance levels and therefore experience.
While resolution is a key characteristic of any display or TV, it clearly is not the only feature that defines quality and experience they provide. Nowadays, there are hundreds of mediocre 4K Ultra-HD 'HDR'-badged displays and TVs which use cheap panels and backlighting that lack proper bit depth, luminance, and color gamut that are essential for proper reproduction of 4K and HDR content. Such hardware ruins user experience and slowdowns adoption of new technologies by content creators.
To avoid such a situation in the looming 8K era and develop strict guidelines for next-generation TVs, AU Optronics, Samsung Electronics, Panasonic, Hisense, and TCL formed the 8K Association in January, 2019. Since then, the 8KA was also joined by Astro Design, ATEME, Chili, Innolux, Intel, Louis Pictures, Novatek, Samsung Display, Tencent, V-Silicon, and Xperi.
Recently, the 8K Association rolled out its first set of specifications covering 8K input parameters, display performance, interface, and media formats. In a nutshell, the 8KA wants an 8K TV or display to meet the following minimums:
Feature a resolution of 7680×4320 pixels
Support 24p, 30p, and 60p frames per second input framerate
Have a peak luminance of at least (a minimum of) 600 nits
Support HEVC codec
Use HDMI 2.1 interface
The 8K specification by the 8KA also covers things like bit depth, frame rate, chroma sub-sampling, black level, color gamut, white point, HDR modes, and additional codecs.
It remains to be seen whether 8KA's initiative is embraced by other suppliers of televisions and SoCs, but the idea of making 8K Ultra-HD TVs and displays more appealing to the end user by guaranteeing certain experience certainly looks attractive.
Related Reading:
Source: 8K Association (via Hexus)