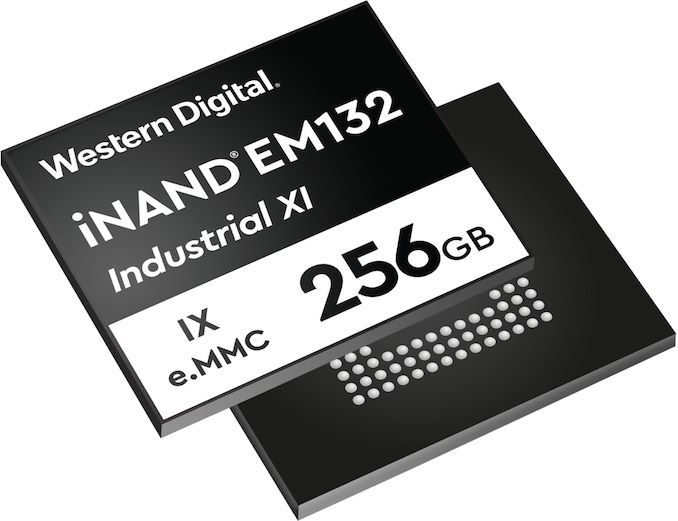 Western Digital this week has introduced its first family of embedded eMMC storage devices for industrial and IoT applications. Based on the company's 64-layer BiCS3 3D TLC NAND memory, the new iNAND IX EM132 drives offer up to 310 MB/s read speeds as well as enhanced endurance and reliability by supporting various features designed specifically for embedded, commercial, industrial, and similar environments.
Western Digital's iNAND IX EM132 embedded flash drives are based around an in-house controller that supports an eMMC 5.1 HS400 interface along with an advanced ECC, wear leveling, bad block management, and RPMB (replay protect memory block). The eMMC drives also support smart partitioning (multiple partitions with different features and purposes to provide device makers some additional flexibility), auto/manual data refresh (automatically rewrites all the information to ensure that even rarely accessed data is available when needed), as well as all the usual management and monitoring interfaces you'd expect from a contemporary SSD.
Available in an industry-standard BGA package that measures by 11.5×13×1 mm, Western Digital is offering capacities between 16 GB and 256 GB. When it comes to performance, the eMMC drives are rated for up to 310 MB/s sequential read speeds, up to 150 MB/s sequential write speeds, and up to 20/12.5K random read/write IOPS. As for endurance, the drives are rated for up to 693 TB to be written, though that rating is likely based on the high-capacity SKUs.
Western Digital will offer Commerical, Industrial Wide as well as Industrial Extended versions of its iNAND IX EM132 eMMC drives. The Industrial Wide devices feature an operating temperature rating between -25°C and 85°C, whereas the Industrial Extended can operate in the most extreme environments with temperature ranges between -40°C and 85°C.
Western Digital's iNAND IX EM132 Embedded Flash Drives
General Specifications
JEDEC Specification
v5.1, HS400
Flash Type
64-layer BiCS3 3D TLC NAND
Density
16 GB, 32 GB, 64 GB, 128 GB, 256 GB
Sequential Read/Write
310 MB/s
150 MB/s
Random Read/Write
20K / 12.5K
Operating Temperature
Industrial Wide: -40°C to 85°C
Industrial Extended: -40°C to 85°C
TBW
up to 693 TB
Core Voltage
2.7 V - 3.6 V
I/O Voltage
1.7 V - 1.95 V or 2.7 V - 3.6 V
Package
153-ball FBGA (11.5 × 13.0 × 1.3 mm)
Related Reading:
Source: Western Digital