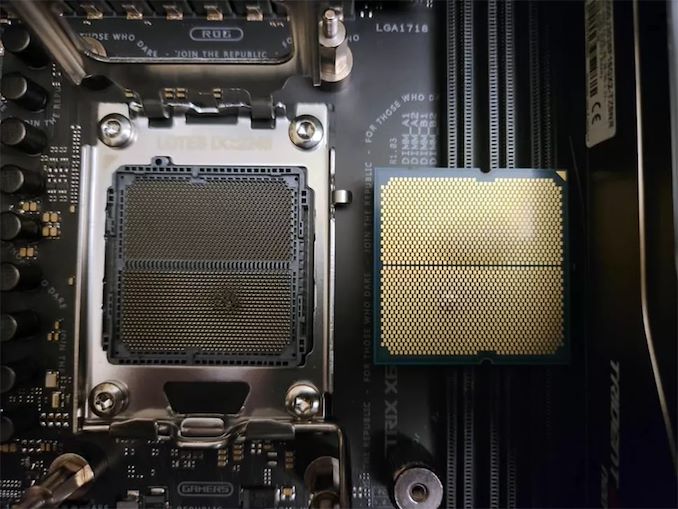 Yesterday we reported that MSI announced a wave of firmware updates designed to address and alleviate potential issues with users on AM5 using AMD's Ryzen 7000X3D processors with 3D V-Cache. One of the main changes with MSI's latest UEFI firmware for AM5 included voltage restrictions when using Ryzen 7000X3D series CPUs so that these chips couldn't be overvolted as the V-Cache packaging is somewhat sensitive to additional power.
Further to MSI's announcement, ASUS has released a statement to experienced engineer and extreme overclocker Roman 'Der8auer' Hartung, which addresses the potential issue with using AMD's EXPO memory profiles in conjunction with the Ryzen 7000X3D series chips. One of the key elements that seemingly surrounds the problem is the use of AMD's EXPO memory overclocking profiles.
ASUS's Director of Global Product Marketing and Technical Marketing, Rajinder Gill, said in a statement to Der8auer, "The EFI updates posted on Friday contain some dedicated thermal monitoring mechanisms we've implemented to help protect the boards and CPUs. We removed older BIOSes for that reason and also because manual Vcore control was available on previous builds." Rajinder also said, "We're also working with AMD on defining new rules for AMD Expo and SoC voltage. We'll issue new updates for that ASAP. Please bear with us."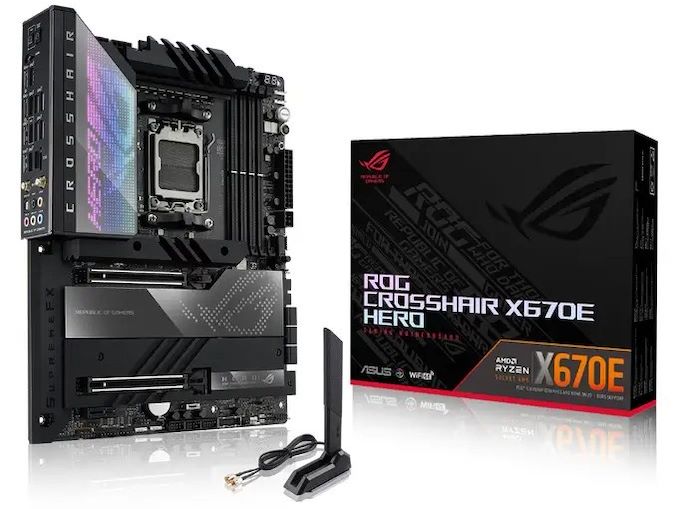 ASUS ROG Crosshair X670E Hero AM5 Motherboard for AMD Ryzen 7000 Series CPUs
Looking at the narrative of the statement provided to Der8uaer from Rajinder, we can confirm that ASUS has indeed removed older iterations of its firmware for its AM5 motherboards. Looking at the EMEA side of things, at the time of writing, the latest firmware update to be posted on the ASUS product pages is dated 04/21/2023, which indicates ASUS recently updated the firmware, but the update isn't the latest one in question.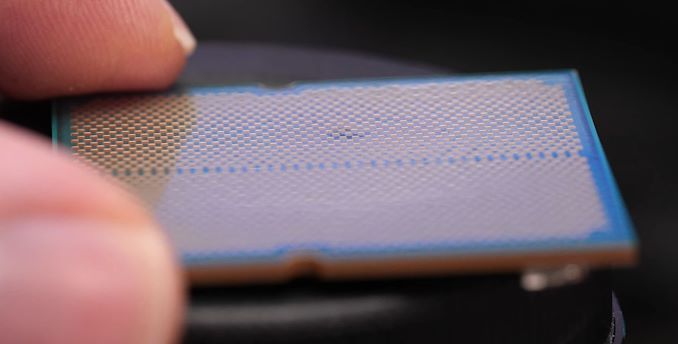 Roman 'Der8auer' Hartung's Ryzen 9 7900X also has a bulge.
The one thing these issues have in common is that AMD's EXPO memory profiles have been applied, claims Roman 'Der8auer' Hartung, and even highlighted that his Ryzen 9 7900X processor also fell foul the the 'bulging issue.' This is particularly interesting as this isn't an X3D series chip with 3D V-Cache, although we're not aware of any other reports of non-X3D Ryzen 7000 chips being affected at this time.
Enabling EXPO memory profiles on Ryzen 7000 processors does several things to the processor that pushes it beyond the technical specification of the chip. Chief among these is raising the SoC voltage and some other primary voltages, such as VDDIO, which are used to feed the IOD. Like any ASIC, there are limits to how high voltages can be safely pushed, and this is one theory behind the cause of the recent run of damaged Ryzen reports. Though how this might be connected to the issue being centered around Ryzen X3D chips – where the voltage-sensitive V-Cache is on the CCDs and their separate voltage plane – is unclear at this time.
In any case, this does underscore why AMD's EXPO memory overclocking profiles void the warranty on these chips, as there's more to EXPO than just ramping up memory frequencies and applying more voltage to the DRAM itself.
Further to Rajinder's statement given to Der8auer, ASUS's Senior Technical Marketing Manager, Juan Jose Guerrero, posted the following statement on Twitter Tuesday afternoon:
"Several AMD Ryzen 7000X3D owners have reported CPU and motherboard failures. We acknowledge the incidents/issues and have been communicating with AMD to analyze the possible causes. We have also contacted affected users to provide support and collect additional information.
Ryzen 7000X3D processors do not allow for CPU ratio or CPU core voltage tuning (CPU overclocking) but do allow for performance tuning and DRAM overclocking via PBO2 and EXPO memory. To support EXPO and/or memory overclocking at DDR5-6000 and beyond, SoC voltage has to be sufficiently increased to ensure compatibility and stability. The amount of voltage required varies between CPU samples. Some processors are more sensitive to overvoltage than others, and some are capable at running higher memory frequencies without needing as much voltage.
As confirmed with AMD, any intentional manipulation of these settings can damage the processor, socket, and motherboard. To mitigate this, we have been working with AMD to define new rules for EXPO memory and SoC voltage. To help protect the CPU and motherboard, we are issuing new EFI updates to limit the maximum available SoC voltage to 1.3V.
We recommend updating your motherboard UEFI BIOS to the latest release. Please also ensure the CPU is cooled adequately. Our recommendation is to use at least a 240mm AIO liquid cooler or high-performance air cooler. If you have been affected, please do not hesitate to contact ASUS support for your region.
As we mentioned in our article yesterday about MSI addressing CPU voltage on their own AM5 motherboards, vendors are looking to address any more potential issues, following a small-but-concerning number of reports circulating on Reddit that their Ryzen 7000X3D processors are burning out and killing the motherboard in the process. ASUS's statement and the summary of the firmware on the official product page indicate that ASUS is worried about SoC voltage, and as such, the new firmware locks it down to 1.30 V. Which ASUS states is to 'protect the CPU and motherboard.'


Screenshot of the ROG Crosshair X670E Extreme BIOS/Support page on the official product page (China).
On the Chinese product page for the ROG Crosshair X670E Extreme, the firmware has been updated as of today (at the time of writing) to 04/25/2023, and the firmware version in question (1302) does seemingly address the SoC voltage.
Further to ASUS's and MSI's statements, AMD has officially responded with a statement of their own:
It reads, "We are aware of a limited number of reports online claiming that excess voltage while overclocking may have damaged the motherboard socket and pin pads. We are actively investigating the situation and are working with our ODM partners to ensure voltages applied to Ryzen 7000X3D CPUs via motherboard BIOS settings are within product specifications. Anyone whose CPU may have been impacted by this issue should contact AMD customer support."
Of course, these issues of Ryzen 7000X3D series processors burning out aren't just limited to those using MSI and ASUS motherboards. Since the initial reports, users have reported additional issues on various models and brands across threads on Reddit. The potential for damage is one of the primary reasons AMD locked down the X3D series processors so that users couldn't manually overclock them. Even the first iteration, the Ryzen 7 5800X3D, was also locked down.
One thing remains clear: AMD and its motherboard partners are now officially investigating the matter, and users with affected Ryzen 7000 CPUs are advised to contact AMD customer support directly.
Source: Der8auer