The Funeral
(bugles sound) After 4 years of service, my Hewlett Packard 680C finally started to fade, so I decided to replace it with Epson's newest offering, the Epson Stylus 900. This new model retails for approximately $449.00 USD. The printer is geared to the "office" user and has an extensive list of features.
Inkjet Brief History
Inkjet printers have been on the market for a few years now and have been maturing at a very rapid rate. I still remember the days of the Canon BJ-200ex, which at the time, it was a decent little printer, but it is absolutely out of date now, considering the advancements in inkjet technology. Epson has been around for a very long time and has a lengthy history in the printer business. One of their first printers was the TX-80, an impact dot matrix printer (remember those days when you needed a 200 Watt stereo cranked to drown out your printer?) brought out in 1978. Since then, they have produced countless printers; and in 1994, they started the Stylus line with the Epson Stylus Color. Today, Epson's newest offering is the Stylus 900, which Epson claims to be the fastest color inkjet on the market today.
Inkjet Technology
The technology in these printers has been evolving over the years, and Epson has been neck and neck with the best of them. Unlike many other manufacturers that use a thermal printing method, Epson uses their own technology, termed "Micro Piezo". "Micro Piezo" technology uses electronic impulses to force the ink through the print head onto the paper, resulting in crisp dots that form sharper images and text. Now, how is this different than most of the other manufacturers'?. Well most of the others use the thermal method, which means boiling the ink and then forcing it through the print head, resulting in some stray bits of ink or "splattering". The image below depicts the difference between the two technologies.
Fig 1.0 - Technology Difference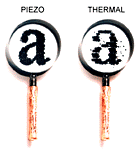 Techno-babble

| | |
| --- | --- |
| Now, to wade through some of the techno-babble. Epson uses the term Picture PerfectTM imaging system in their write up on the Stylus 900. This is simply the term to describe the technologies that the Stylus 900 uses to produce its output. | |