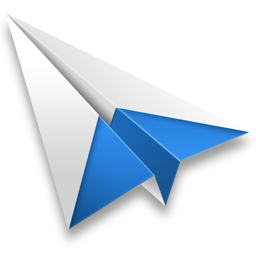 Anandtech is a hardware site, it's true, but what good is that powerful, perfectly-overclocked rig you bought if you don't have anything to run on it? The best hardware can be made that much better by that one essential program you can't live without - with that in mind, I'd like to write a bit about some software for you today.
If you're a Mac power user, there's a good chance that you've heard of Sparrow, a new IMAP client for OS X that has garnered quite a bit of praise since it was first offered in beta form a few months ago. It brings many of Gmail's best features to an email client, and since version 1.1, it can bring those same features to non-Gmail IMAP accounts as well.
If you've ever connected an IMAP email client like Apple Mail or Mozilla Thunderbird to Gmail, you know it can do a few weird things: Deleting an email from the client will usually remove it from the Inbox, but won't actually delete it from the server – the email lives on in the All Mail folder instead of actually going away. IMAP clients also create and use their own Drafts, Trash, and Sent folders by default, instead of Gmail's built-in folders. Because of this, drafts saved in the IMAP client can't be edited in the Web client (and vice-versa) extraneous labels are created in the web client, and in general things just don't mesh as smoothly as they should unless you know which settings to change in which client.
Enter Sparrow, which was built from the ground-up with Gmail users in mind – it shows threaded email conversations, it works around all of Gmail's aforementioned idiosyncrasies, and it does so in an appealing minimalist package without any additional finessing or configuring. The 1.1 update even adds support for the Priority Inbox feature if you have it enabled.
Visually and functionally, Sparrow draws primarily from two things: the Twitter for Mac app, and the iOS mail client.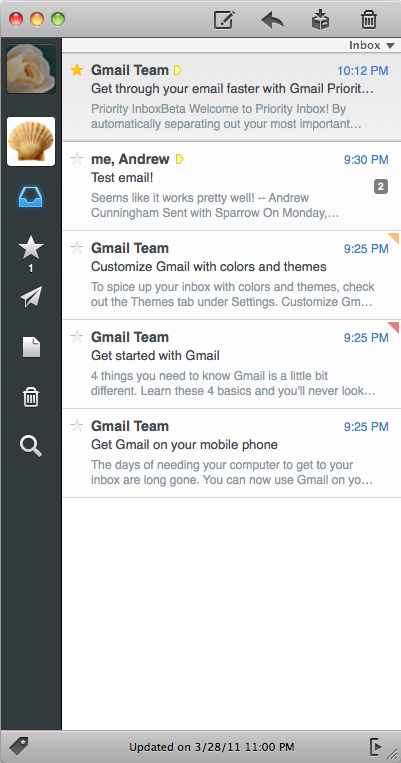 Sparrow displays all of your accounts vertically on the left-hand side of the app – to switch accounts, just click a different profile picture. Buttons are available for your main folders (Inbox, Sent, Drafts, Trash) and for basic functions (New message, Reply, Archive, Delete). Double clicking an email thread will open it up in a second window, where you can read all the messages, reply, and add or change labels.
If you want things to get even more compact, you can enable the "hide message preview" setting and fit even more messages into a given window.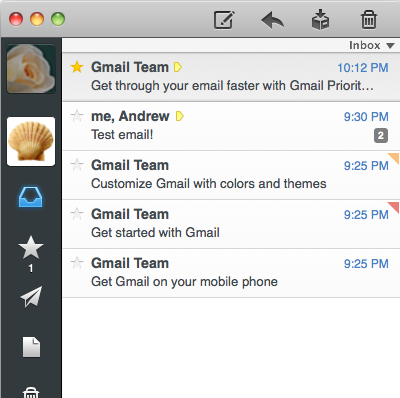 If you hit the button in the bottom-right corner of the app, a message pane will slide out and you can view your emails without opening a second window. In this view, Sparrow is not much different from the iPad mail client in landscape mode.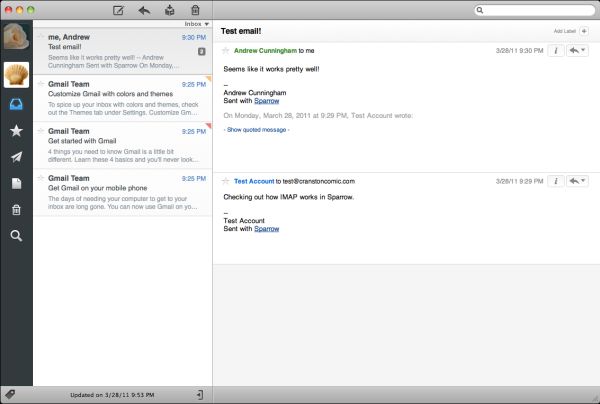 You can star your messages as you normally would in Gmail, and your labels are denoted by small color-coded triangles. These triangles are pretty subtle and they don't sync to the colors you have your labels set to in the web client, but if you're a heavy label user you'll probably get over these gripes.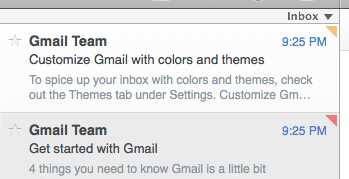 Sparrow works best if you use Gmail without too many of the Google Labs add-ons enabled. People who rely heavily on, say, Multiple Inboxes or Undo Send (a personal favorite for so, so many reasons) may miss them in Sparrow.