Clevo's venerable X7200 notebook has gotten more than a little long in the tooth. The desktop hardware-based behemoth has been sporting the X58 chipset and support for LGA1366 processors pretty much since launch, despite the availability of Sandy Bridge processors and 6 series chipsets. Since mainstream hardware just isn't punchy enough for Clevo, they've now released a refresh to the X7200 in the form of the P270WM.
While we don't have any good photos of the new kit yet, we do know AVADirect will be among the first if not the first to have the new notebook available. They'll be shipping the P270WM with NVIDIA's GeForce GTX 580M standard; not a bad choice, as our testing showed the 580M inching out AMD's Radeon HD 6990M as the fastest single mobile GPU on the market. Users craving as much power as humanly possible will be able to spec the P270WM with a pair of 580Ms in SLI along with up to a Sandy Bridge-E Intel Core i7-3960X.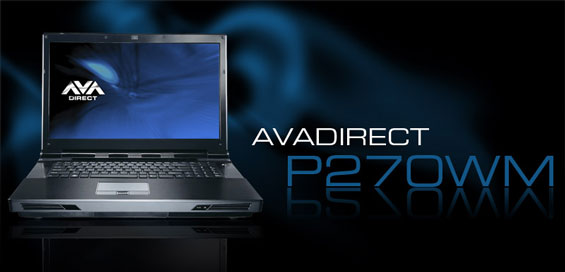 Where things get really interesting is that, judging from the photos AVADirect sent us, Clevo has finally given the X7200 a much-needed sprucing up. The P270WM includes not just a backlit keyboard, but in a bid to finally satisfy our Jarred Walton, the keyboard itself has been completely redesigned and now includes a layout that's actually functional.
Everything else about the P270WM should seem pretty familiar for users who already know the X7200: 17.3" screen at 1080p, punishing 12.13 pound body weight, three 2.5" drive bays, and four SO-DIMM slots to populate Sandy Bridge-E's quad channel memory controller.
Just like every other aspect of the P270WM, though, the pricetag isn't for the faint of heart: pre-orders start at a whopping $3,122 and are expected to ship around early March. Hopefully we'll have one in hand for review in time for launch.