Introducing the V3 Gaming PC Avenger
We've had a few boutiques come through here, but what V3 Gaming PC wanted to approach us with was something different than we're used to seeing. Many of the systems sent through here are aggressively tuned, designed for performance at virtually any cost. It looks fantastic on charts, but in practice you're often paying out the nose for a system that left the price-performance curve eating the dust in its speedy wake. With the Avenger, V3 wanted to do something a little different.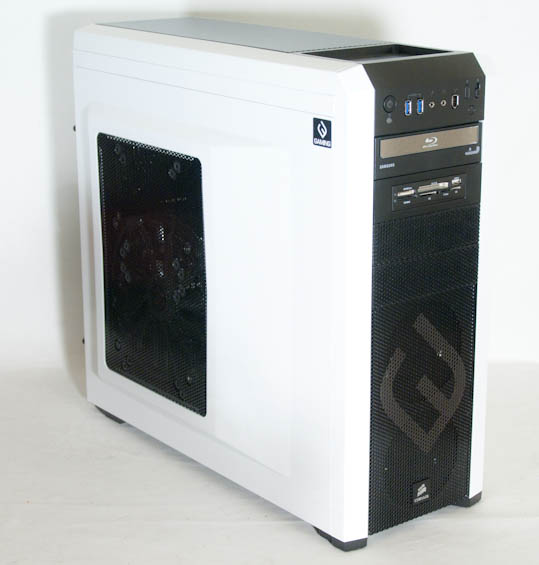 What we have in house today is a system they believe has been designed to be as balanced a build as possible. High performance, sure, but more well-rounded and suited for a variety of tasks without blowing up the room temperature or the power bill in the process. The reasons behind some of the decisions they've made are laudable, but some of the others may be somewhat more nebulous.
V3 Gaming PC Avenger Specifications
Chassis
Corsair Carbide 500R
Processor
Intel Core i7-3820
(4x3.6GHz + HTT, Turbo to 3.8GHz, 4.75GHz (38x Multiplier, 125 Bclk) Overclock, 32nm, 10MB L3, 130W)
Motherboard
MSI X79A-GD45 (X79 Chipset)
Memory
4x4GB Corsair Vengeance DDR3-1600 @ DDR3-1666 (expandable to 64GB)
Graphics
NVIDIA GeForce GTX 680 2GB
(1536 CUDA cores, 1006/6008MHz core/RAM, 256-bit memory bus)
Storage
2x Corsair Force GT 60GB SATA 6Gbps SSD (SF-2281) in RAID 0
Seagate Barracuda 7200.12 1TB 7200-RPM SATA 6Gbps HDD
Optical Drive(s)
Toshiba-Samsung BD-ROM/DVD-RAM
Power Supply
Corsair TX750 V2 80 Plus Bronze
Networking
Intel 82579V Gigabit Ethernet
Audio
Realtek ALC892
Speaker, mic/line-in, surround jacks, optical out for 7.1 sound
Front Side
Optical drive
Card reader
2x USB 3.0
6-pin FireWire
Headphone and mic jacks
Top
-
Back Side
2x PS/2
6x USB 2.0
2x USB 3.0
Optical and digital audio out
Ethernet jack
Speaker, mic, line-in, and surround jacks
2x DVI-D (GTX 680)
1x DisplayPort (GTX 680)
1x HDMI (GTX 680)
Operating System
Windows 7 Home Premium 64-bit SP1
Extras
Card reader
Asetek closed liquid cooling loop
RAID 0
Warranty
3-year parts and labor, lifetime support
Pricing
$2,399
If you're looking at that spec table and scratching your head at some of the choices, you weren't the only one. A high overclock on a quad-core CPU, NVIDIA's top-of-the-line single-GPU graphics card, 16GB of fast DDR3, that's all par for the course with a boutique system. I'm even quite fond of the Corsair enclosure and power supply, both of which are quality components. Yet I'll admit I was perplexed by the use of the Sandy Bridge-E quad-core instead of Sandy Bridge proper (the review unit was received before Ivy Bridge launched). Running two low-capacity SSDs in RAID 0 also seemed like a strange call. So I went to the source and asked why these choices were made.
First, the Avenger is their top shelf system, so it would make sense that they'd go for X79 and Sandy Bridge-E instead of an LGA1155-based system. A top shelf system should also be ready for tri-SLI or CrossFireX, too, so the mountain of PCI Express bandwidth on Sandy Bridge-E makes sense. At the same time, most users simply don't need a hex-core processor, so under the circumstances the Intel Core i7-3820 would be the best fit. I'm not sure I 100% agree with the logic here, but the system as specced is designed to be as upgradeable as possible; a Z77-based system would be stuck at dual graphics cards, 32GB of RAM, and the CPU would basically peak where the i7-3820 begins. You may not entirely agree with the decisions made here, but at least there's some logic to them.
Where I do think things are more nebulous is with the pair of 60GB Corsair Force GT SSDs in a striped RAID. On paper that performance is going to look fantastic, but in practice it's not really necessary and I think a lot of us would've been more satisfied with a single 120GB drive to go with the mechanical hard drive. The price would be essentially the same, but you'd gain TRIM support. The argument there was that many customers request SSDs in a striped RAID, and that this is a six-of-one, half-dozen-of-the-other kind of situation. Again, I'm not sure I agree and I'm not sure you will either, but there's still logic to it.
The rest of the system is pretty fundamental, although the overclock on that i7-3820 is among the highest we've tested and I remain a bit concerned about the 1.42V running through it. Overclocks are one of those things I tend to leave up to the discretion of the vendor; if they're willing to warrant it and accept the responsibility, that's their call. I personally find it to be on the high side, but as I was discussing with Ian the other night, I'm a very conservative overclocker; I seldom raise voltage on a CPU more than 0.1V, if that.
As far as pricing, putting together similar parts from Newegg and other online stores, the total hardware cost for a system like the V3 Avenger comes out to around $1900—we say "around" because some of the parts aren't readily available for end-user purchase. Toss in a 3-year standard warranty and the 25% overclock and the final price of $2400 looks pretty comparable to what you'd pay elsewhere. It's not an amazing deal, but for a prebuilt system with a hefty overclock it's at least reasonable. If you have the time and inclination to DIY, you'll pay less, but for those who would rather just skip straight to using their PCs you're looking at a ~10% markup. And with that out of the way, let's get into the details of the Avenger.