At our briefing with HP in the city, we had a chance to see just how far their Spectre branding was stretching by taking a look at their refreshed line of all-in-ones. The impending launch of Windows 8 is poised to breathe new life into touchscreen enabled hardware, but what HP is preparing may be surprising.
First, the slightly less exciting stuff. HP is bringing an all-in-one to market at an impressively low price point with the Pavilion 20 AiO. Launching in October for just $449, the Pavilion 20 (20 standing in for 20" display) is about as basic as it gets. No touchscreen, but the traditional bundle of HP software. Other than that, details are fairly scarce, but you can see it in the left side of the photo below.
Directly next to it is the HP Envy 20 TouchSmart All-in-One. You can see HP's essentially migrated Pavilion to their entry level brand and brought Envy "down" to their mainstream point. The Envy 20 (and Envy 23 that's to its right, photo below) are all ten-finger multi-touch ready, and will be available with optional caching SSDs along with up to 3TB of storage and Intel CPUs. Unfortunately, both displays also still employ TN panels. Both all-in-ones are expected to be available in October, with the Envy 20 starting at $799 and the Envy 23 starting at $999.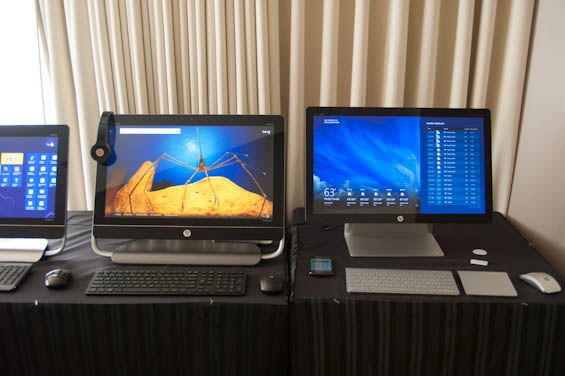 Of course, the major announcement is the HP Spectre One, and it's a pretty impressive piece of kit for an all-in-one. To keep the display razor thin, HP smartly moved the all-in-one's internals into the base and eschewed a touchscreen. Making up for the lack of a touchscreen, HP includes a very large trackpad, though it remains to be seen just how desirable this solution will wind up being.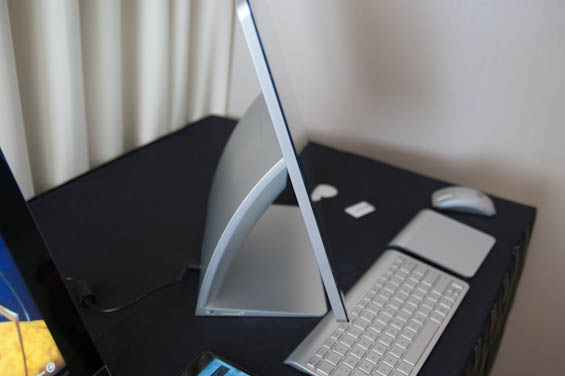 On the other hand, the hardware is pretty impressive. HP is including Intel Ivy Bridge processors along with an optional NVIDIA GeForce dedicated GPU; they weren't able to tell us which part, but I'd personally guess the GT 640M and hopefully with GDDR5. The press release lists optional ExpressCache and an optional SSD, suggesting you can go with a hybrid storage solution or just opt straight for an SSD. What should get your attention is the inclusion of an NFC radio in the base; HP's representatives demonstrated it being used with an NFC tag to unlock the computer as well as download and view photos off of an NFC-enabled smartphone. Finally, it includes Adobe Photoshop Elements 10 and Premiere Elements 10 standard; while I wouldn't recommend anyone use Premiere Elements 10, Photoshop Elements 10 is a killer deal.
The Spectre One is due in November starting at $1,299.