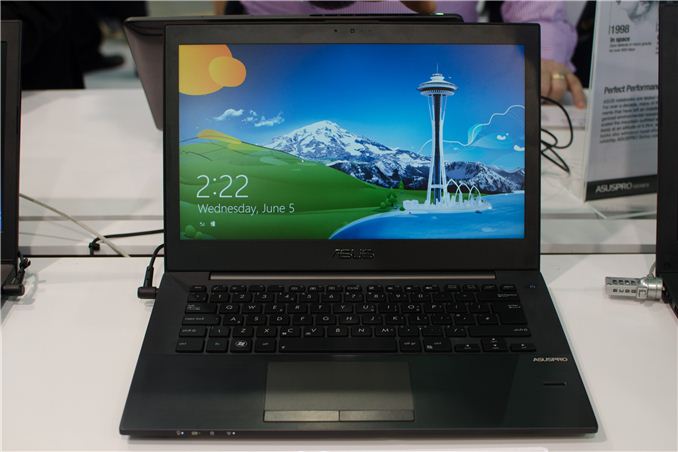 ASUS has Lenovo square in its sights with its ASUS Pro brand of business notebooks. Based on Ivy Bridge silicon (longer upgrade cycles in business, Haswell will come later), the ASUS Pro lineup is clearly designed to mimic the no-frills design of Lenovo's ThinkPad line. Although not new to Computex, this is the first time we've talked about ASUS Pro on the site.
Although you can't really tell from the photos here, the ASUS Pro systems actually look and feel great in person. I don't know if they're up to snuff with the ThinkPads for long term use, but given how far ASUS has come as a consumer manufacturer I suspect pursuing the business market with that same relentless focus will only yield good results.
The notebooks will ship with either Windows 8 Pro or 7 Pro, a clear nod to those businesses who prefer sticking with the previous generation OS. The BU400A model I checked out at Computex featured a 14-inch display, with options for 1366 x 768 or 1600 x 900 panels.
The BU400A is complete with up to a 256GB SSD, NVIDIA NVS 5200M graphics and a 53Wh battery.