A side note on 8Pack himself – he currently holds the #1 spot of all UK overclockers at the HWBot.org overclocking database. In the latest Pro-Overclocking league contest (which lasted three months with five specific benchmark setups), he competed with 24 other teams of up to five people per team, and on his own finished third overall.
He holds (as of 9/5) several overclocking world records, including 3DMark Vantage on one GPU (Intel i7-4960X at 6.14 GHz, MSI GTX 780 Lightning at 1530 MHz), 3DMark06 on tri-GPU (Intel i7-4770K at 6.5 GHz, three HD 7970s) and 3DMark06 on quad-GPU (Intel i7-4770K at 6.5 GHz, two HD 7990s). 8 Pack also took home the top prize at the Corsair/Intel overclocking event in Computex this year, netting a cool $5000 for his score in SuperPi 32m.
His credentials are one of the clear reasons OCUK find him a positive staff member to have, and as part of this event he was on hand for interview.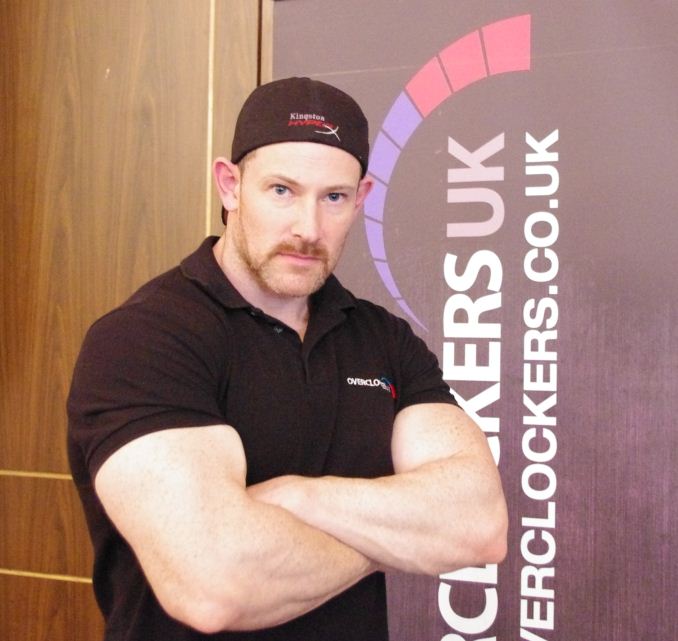 Q: 8Pack, why the name 8Pack?
A: Before I competed properly in overclocking, I was a personal trainer that had good abs but also a good lower torso. Combining the two led to my nickname 8Pack, two more than a six-pack, which is the name I now use on overclocking forums and contests.
Q: Where did the idea for a line of 'World's Fastest Systems' come from?
A: When my overclocking prowess caught the attention of OCUK, it formed an integral part of my interview when I came to work for them. They were interested in creating a range of super-fast systems, some of the best in the world. That combined with my intense work ethic to be the best spawned the systems we released today, as well as a series of 8Pack inspired systems to be released at a later date.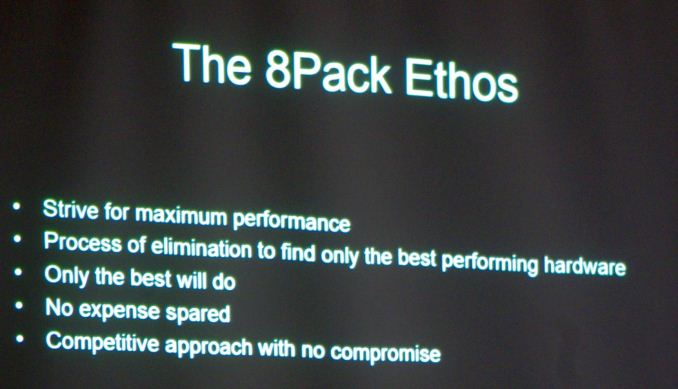 Q: What is your role in developing/creating these systems?
A: Everything. From the ground up, I decided the components, I dictated what speed we should aim for and in the end I am the one that actually builds the systems in our warehouse. Certain features like the powder coating on the Polaris we called upon the expertise of our team to suggest better ways of doing things, but in terms of getting the right hardware and putting it all together, I am the man for the job.
Q: How long does that take?
A: We started formalizing our builds in January regarding design and what they were aimed for. After that it was a case of getting in the cases, coating them, getting the 8Pack designer grills, etched windows, the right water blocks and so on.
Q: Can you explain a bit about the binning process for these systems?
A: For every batch of OEM CPUs we get in house, we do a quick test to see if any of that batch are good – 5 GHz on air at 1.3 volts for example, and see if it boots into the operating system. If it does not, it gets put into the pile for other systems, but if it passes, it gets put into a pile for further testing. That was the 'speed binning' part of the process, but when we get a good batch of CPUs, we will go to Intel and buy a lot more of the same batch with the hope that they will be perform as well as the 20 or so we test internally.
Q: Where do you keep your best CPUs?
A: The ultimate ones are what I use for benchmarking and breaking world records. In fact I have both of my best Haswell and Ivy Bridge-E CPUs in my bag here today, but back at the warehouse I have a tray of CPUs that push the limits. With some extra time over the next few weeks I hope to claw back some of my world records that were taken recently.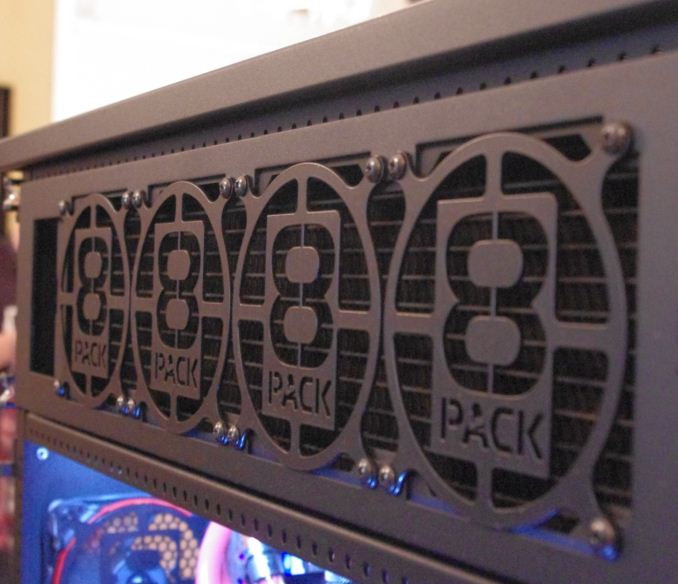 Q: Would you consider developing a sub-zero system for sale, or perhaps a submerged liquid system?
A: We have considered a sub-zero system, to the point where I used my personal single stage cooler on some of our CPUs. The problem with using a compressor at that CPU voltage/power draw is that you actually need a really good and efficient compressor to be able to deal with the heat. The downside of such a compressor is that it is loud, and thus not ideal for our systems that have to be used in the home where noise is often an issue. We have not looked into fully submerged systems as of yet, but it is an idea for the future.
Q: What do you run in your home system?
A: I run an Ivy Bridge i7-3770K at 5 GHz in a Maximus V Gene, all watercooled, with a HD 7990, also water cooled. This is paired with some nice DDR3-2400 memory in a Phanteks case.
Q: How long have you been overclocking?
A: As I mentioned in my presentation, I started overclocking around 15 years ago with the AMD Thunderbird range. Since then I have been willing to push my systems further and further, but only recently did I decide to take it to the next stage and actually push for world records. This initially cost a lot of time and money, however due to my scores I was offered to turn my hobby into my career. I have been a proper professional overclocker now for a good 12 months, and developed many contacts in the industry to help push the boundaries of overclocking.
Q: What is your best moment in overclocking?
A: The one that sticks out in my mind would be winning the top prize at the Corsair/Intel OC event at Computex this year. While getting world records, like the first time I took the 3DMark Vantage world record, are great, the fact that the Corsair/Intel OC event was done under time-limited conditions and against 20+ of the world's top overclockers means a lot.
Q: With unlimited budget and time, what product would you like to see on the market, OCUK or other?
A: The next step I guess would be to do a Fatal1ty, and get 8Pack branded PC components. I have a will to work with manufacturers to get 8Pack motherboards or GPUs, ones that perform better than any others. It would be a great showcase of the UK overclocking scene for that to happen.
I would like to thank 8Pack for his time.
I asked 8Pack and other OCUK staff regarding Ivy Bridge-E, and why none of these systems featured Intel's latest high-end CPUs. The response (as expected) was timing – as Ivy Bridge-E has just been released they have not had time to test a number of CPUs to have a feel for the type of performance 8Pack would want from a system. However in time these CPUs will form part of potential upgrades to these systems if users want them.
I also asked OCUK at the event regarding worldwide availability. One of the issues raised was the fact that as the systems cross country lines (or go via air/water), they get passed around by various couriers that might not be able to perform the service they want these systems to have. OCUK is owned by CaseKing, which will in time offer these systems to mainland Europe at least, however no word on North America as of yet.
For the UK however, OCUK have pushed their new systems live.