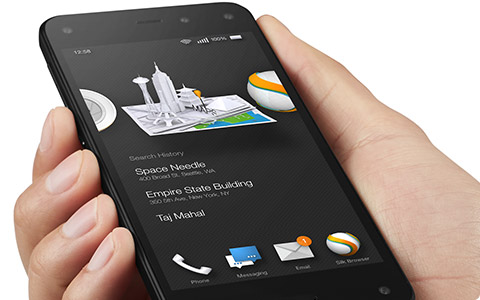 Today Amazon took to Seattle to announce their first foray into the Android phone market. Amazon is no stranger to Android devices. They led the charge for 7" tablets with the original Kindle Fire and they've expanded their lineup to Android tablets of many sizes. An Android based Amazon phone has long been rumored but has never come to fruition, until now. The Fire Phone is Amazon's first Android smartphone and it has a couple interesting points of differentiation to say the least. The full specifications are laid out below.
Amazon Fire Phone
SoC
Qualcomm Snapdragon 800 (MSM8974VV) 4 x Krait 400 at 2.2GHz
Adreno 330 at 450MHz
Memory and Storage
32/64GB NAND + 2GB LPDDR3
Display
4.7" 1280x720 LCD with 590cd/m2 brightness + Circular Polarizer
Cellular Connectivity
2G / 3G / 4G LTE (Qualcomm MDM9x25 UE Category 4 LTE)
Dimensions
5.5" x 2.6" x 0.35", 160g
Camera
13 MP Rear Facing w/ F2.0 aperture + OIS
4x 2.1MP 1080p Front Facing w/ 120 degree FOV
Battery
2400 mAh (9.12Whr)
Other Connectivity
802.11 a/b/g/n/ac + BT 3.0, USB2.0, GPS/GNSS, NFC
SIM Size
Nano-SIM
Operating System
Android based Amazon Fire OS 3.5
The Fire Phone runs Amazon's heavily modified version of Android which Amazon calls Fire OS. Much of the changes and additions involve features that work with Amazon's services. The Fire Phone uses Amazon's Android app store for downloading and purchasing applications rather than Google Play, and many of the stock applications are designed to allow integration with Amazon's cloud services such as Amazon music store streaming in the music app and Amazon Prime TV and movie streaming in the stock videos app. Amazon also includes unlimited cloud storage for storing photos taken with the Fire Phone in full resolution.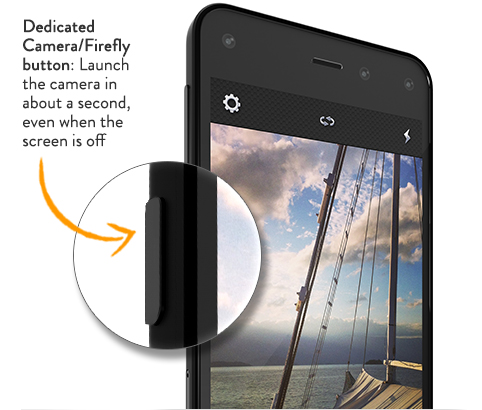 One of the big software features Amazon is touting is called Firefly. In a similar fashion to Google Goggles, firefly can use the device's camera to examine photographs and logos, scan barcodes, identify works of art, etc. It can also use the device's microphone to identify a song in a similar fashion to Shazam. The ability to utilize Firefly is always available to the user through a dedicated hardware button on the side of the device that launches the camera application immediately. Amazon is also shipping an SDK for application developers so they can integrate the use of Firefly into applications to perform actions such as playing a song in a radio app or looking up nutritional information from a logo on a chocolate bar.
The part of the software that really differentiates the Fire Phone from other devices is something Amazon is calling Dynamic Perspective. This is where the hardware and software of the phone work together to create something unique. Using the device's sensors and two of the four front facing cameras on the front of the device depending on how the phone is being held, the interface of the device will shift. Amazon is really touting how this works for navigating the interface on the device. The user can swivel the device in hand to view the notification drawer and quick toggles for settings like WiFi and Bluetooth. The user can also tilt the device to view information that may be hidden underneath labels or action bars. With this Amazon creates an sort of pseudo-3D interface which reacts to motion and movement. An SDK for working with Dynamic Perspective is available to developers who wish to incorporate these features into their applications. To ensure these features remain functional in low light situations, each front camera sensor has an IR flash which keeps the user's face visible to the camera sensors when external lighting is poor.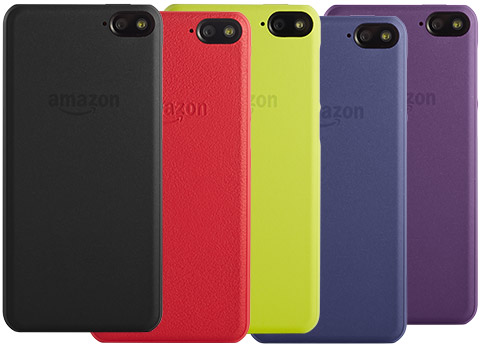 Amazon is also offering a selection of polyurethane cases for the Fire Phone that come in five different colors. The cases will begin to ship along with the phones themselves and they're currently listed at $29.99 on Amazon.
With the Fire Phone there's a big catch, and that's that on contract it's exclusive to AT&T. Users who want to purchase the device outside the US or on another US carrier will have to purchase it outright. The Fire Phone is available for pre-order now on Amazon at $199 or $299 on contract for the 32GB and 64GB models respectively. Buyers purchasing it off contract will have to pay $649 for the 32GB and $749 for the 64GB models. The Fire Phone will begin shipping to buyers on July 25th.
Source: Amazon