The latest fad the motherboard industry is infatuated with is the idea of creating an "intelligent mainboard," a motherboard capable of monitoring critical areas of the system and warning the user if anything should go wrong. The most typical form of an "intelligent mainboard" feature is the ability to monitor system temperature, however in most cases this must be done in the System BIOS (unless the manufacturer had the sense to include a utility with which one could monitor the system in their OS) and as you may have imagined it is very rare that a computer stays in the BIOS Setup Utility 24 hours a day in order to monitor system temperature...not a very intelligent feature if you ask me.
Attempt #1
There have been some successful attempts at integrating system monitoring features into the lives of average computer users interested in knowing every last detail about how their system is performing, including what temperature it is running at. When ABIT announced that they were releasing 2 new motherboards based on the Intel TX chipset that fully supported these intelligent mainboard features, hundreds of buyers flooded the email channels looking for a hint at where to purchase these boards. After the first batch made their way into the hands of the distributors many users were disappointed in finding out that their new investment in either the TX5 or TX5N lacked the features they were looking for simply because they were "optional" and not available in that particular batch of boards.
...and Attempt #2
Shuttle has managed to outfit their motherboards with a fairly effective method of system monitoring, however how many people out there are willing to give up their already excellent motherboards for a few thermal monitoring features? It is almost 100% safe to say that there is no motherboard in existence that is perfectly balanced, simply because anything that perfect would completely destroy the competition and the market itself. But why is it so difficult for manufacturers to provide us with what we want - in this case - thermal monitoring features regardless of their "intelligence?"
Eureka! They have seen the Light
There are very few computer users, if any, who aren't familiar with the name Microsoft. It is an almost religious term in the computer industry today, and at the heart of Microsoft is the axiom which unfortunately, the hardware world is missing out on. Give the users what they want, its as basic and as easy to understand as that. In the early 80's, computer users wanted an absolute standard operating system on which hundreds of thousands of computers could communicate with each other on, as an answer to this Microsoft provided them with their own (if you would like to call it that) Disk Operating System, a slowly disappearing meaning for the acronym DOS. All Microsoft did, and all their CEO did was that they gave the users what they wanted. Regardless of whether that still holds true today is not the point, the point is that success will follow if manufacturers start looking at the big picture and give users what they want, not what they assume users want.
Gemini Software realized that the market demanded one thing, the ability to monitor system temperature regardless of which motherboard they chose to purchase. Instead of making their own motherboard and marketing that (which wouldn't be much of a bright idea) Gemini decided to produce a relatively small and inexpensive hardware upgrade to virtually any PC equipped with a Joystick Port, they called it FireAlarm!
What is FireAlarm!?
FireAlarm is nothing more than a tiny hardware upgrade that allows you to monitor the temperature of virtually any component/peripheral in your system at any given time conveniently from your Windows desktop.
| | |
| --- | --- |
| | Interfacing through your computer's joystick port (required) which is often found on your sound card, FireAlarm's installation process is a very simple one although it can lead to much trouble if not approached carefully. Before ever installing the FireAlarm unit it is best to check with Windows 95's Device Manager (START ~> Settings ~> Control Panel ~> System ~> Device Manager) under the Sound, Video, and Game Controllers information listing to make sure that you have a Gameport Joystick listed there and it is fully functional. Even if your system doesn't have a joystick installed, some sort of Joystick port driver should have been loaded ahead of time, if not, run through a quick hardware installation using Windows 95's Add New Hardware Wizard and install a Generic Gameport Driver (or use your manufacturer's driver diskette if provided). These precautionary steps will make installing and diagnosing any problems with FireAlarm much easier. |
Let's pop that sucker in
FireAlarm is packaged in a relatively simple manner, the physical unit arrived in a small cardboard box containing the FireAlarm unit, a few sensor wires, a Joystick Port Y-Cable, an installation disk and a Quick Reference Guide...presumably the user's manual. A larger more comprehensive user's manual would have been nice, however once you get past the initial installation of the unit the operation of FireAlarm isn't all that difficult to master, not to say that a user's manual isn't necessary since it is, but you'll be able to survive without one. FireAlarm does not occupy an expansion slot, rather a slot cutout on your case, to attach the unit remove any cutout covers that may be in the way and replace it with the FireAlarm card using a standard case screw to keep it in place. Again, since FireAlarm doesn't occupy any expansion slots you can be creative with the placement of the unit, just make sure that there is an opening to slide a Joystick cable through from the unit itself to your Joystick port.
As you might have guessed, FireAlarm transmits its data via your computer's joystick port, which makes sense since there would be no point in using a dedicated PCI or an ISA card to transmit the data FireAlarm would be receiving, just because it doesn't receive all that much data to begin with! Using the supplied Y-Cable you can plug The FireAlarm unit into your joystick port without tying up the port's functionality meaning you can still use any joysticks/gamepads you may have.
FireAlarm's sensors are attached to the unit via 2 or 4 pin connectors depending on the type of sensor attached. For the purpose of the tests, the 2 pin thermal sensors were used while the 4 pin connectors are circuit sensors that can monitor more complex aspects of your system. What most users will be messing with will most likely be the thermal sensors, these sensors can be attached to virtually any surface to monitor the temperature of that particular surface. Of course you cannot monitor things such as CPU Core Temperature (not yet at least, Gemini Software is planning a few sensor upgrades to their product in the upcoming months...keep your eyes peeled) however you can monitor the temperature of Hard Disks, individual chips on the motherboard or on a video card (i.e. 3Dfx cards that tend to get extremely hot), or just about anything you can tape or screw one of these sensors onto.
After installing FireAlarm for the first time you should run through a quick calibration process using the supplied installation disk, this process will ensure that you obtain accurate temperature readings to within 1 degree Celcius. It is also during this calibration process where you will determine if your Gameport/FireAlarm unit is functioning properly (if you didn't setup your gameport before you'll be sorry now).
Its a Friendly Little Thing
As mentioned before, it would be quite senseless to have all of these thermal monitoring capabilities without the means of realistically viewing them during normal operation of your computer.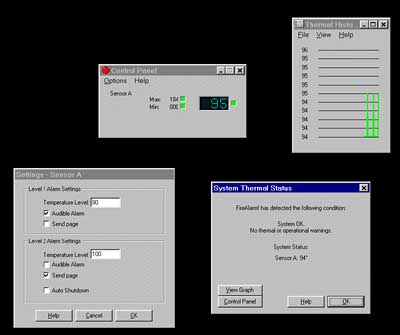 The FireAlarm monitoring software quietly runs in the background, visible only by an icon in your systray while not being viewed, expanding to a nonchalant window that reports the current temperatures of any of your sensors and allows you to view a graph charting the fluctuation in the temperature of the devices your sensors are attached to. The FireAlarm software even allows you to automatically send an alphanumeric message to a pager provided that the system it is attached to has a fully functional modem installed. Although that feature isn't really of much importance to most (what are you going to do if your computer is overheating and you're 100 miles away?) it is nice to know that a lot of thought was placed into all aspects of the design of FireAlarm.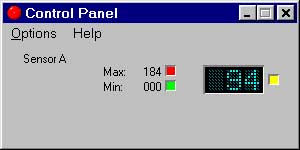 When your sensors reach a user defined temperature level this will activate the automated message to your pager (if enabled), an audible alarm or an auto-shutdown sequence. The software itself is very intelligent, however even the slightest detail overlooked in your installation of FireAlarm could produce dramatically incorrect readings...something that could lead to much worse than an odd looking graph.
The bottom line with FireAlarm is this, if you install it properly FireAlarm will do its job, and it will do a very fine job indeed. With the absence of a real user's manual, something Gemini Software will hopefully correct in the future, it is quite easy to misconfigure the FireAlarm unit, in which case don't expect to have too much fun getting it to work properly.
"Do it right once, and be happy, or mess up and take the frustration out on your expen$ive computer" =)
Conclusion
If you're satisfied with your current motherboard, and are looking for more security in your purchase take a look at Gemini Software's FireAlarm, it provides a full feature set found in only a select few TX/LX based motherboards while not forcing you to ditch your current motherboard just for a few thermal monitoring capabilities. Although the $40 pricetag may be a little overboard for FireAlarm, if you really need it FireAlarm pays for itself with its excellent operational value, and the beauty of the product is that when you upgrade your motherboard you can feel secure that regardless of what your next motherboard is, you will still retain all of the system monitoring abilities through the use of FireAlarm.
FireAlarm! 2.0 System Requirements
IBM Compatible PC
1 - Gameport
1MB Free Disk Space
Windows 95/NT
Contact Information
FireAlarm! 2.0
www.gsconline.com
Price - $40