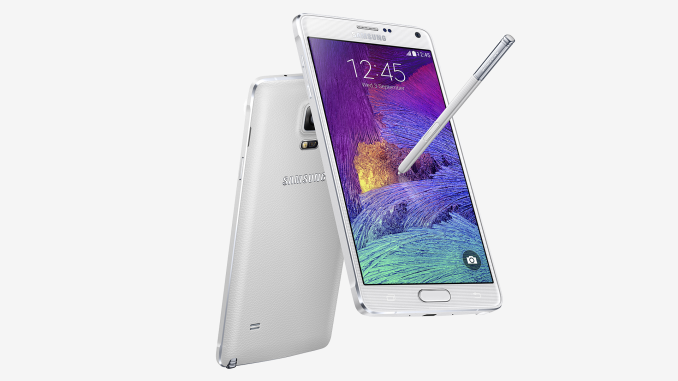 Note: An earlier version of this article stated that this version of the Galaxy Note 4 used Qualcomm's Snapdragon 810. This is not the case, and the article had been amended to reflect the device's actual specifications.
Today Samsung has announced a new version of the Galaxy Note 4 which will be launching in the South Korean market in January 2015. There are currently two major models of the Note 4, with the main point of differentiation being the processor inside. Most markets received a model with Qualcomm's Snapdragon 805 APQ8084 which is a 2.7GHz quad core Krait 450 part. In certain markets, it ships with Samsung's Exynos 5433 which has four Cortex-A53 cores and four Cortex-A57 cores in a big.LITTLE configuration.
The new Galaxy Note 4 adds a third model to this mix. It comes with the same Exynos 5433, but includes Samsung's SS333 modem. Samsung's main advertising point is the cellular speeds that this new Galaxy Note 4 model is capable of. Exynos Modem 333 allows for 3x20MHz carrier aggregation, which will enable LTE speeds of up to 450Mbps on future LTE networks that support Category 9 UE. It can also reach peak speeds of 300Mbps on current LTE networks that support Category 6 UE.
In all other respects, this is the same Galaxy Note 4 that was launched not long ago. Unfortunately, there's no indication that this new model will reach markets outside of Korea. However, like the Galaxy S5 LTE-A, there's always the possibility of importing it elsewhere.
Source: Samsung Tomorrow