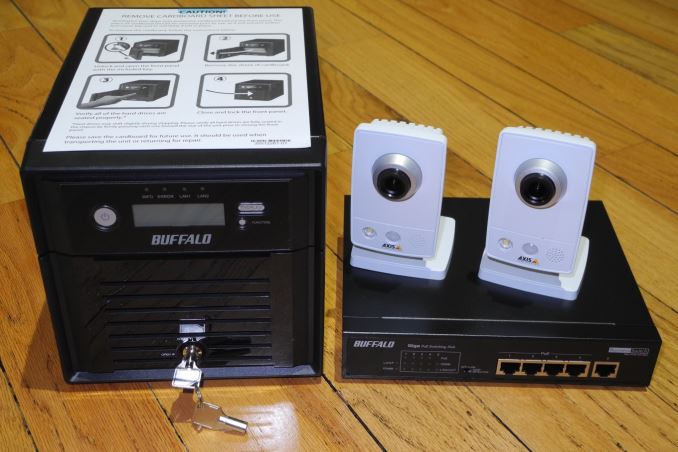 Introduction
Surveillance cameras have experienced rapid growth over the last few years as security has turned out to be a very important aspect in both home and business environments. Almost all NAS vendors have either specific NVR (network video recorder) models, or provide apps for recording surveillance footage on their generic NAS models. A couple of years back, we reviewed the LenovoEMC PX2-300D with Milestone Arcus VMS pre-installed on the NAS. In that article, we also touched upon Synology's Surveillance Station to get an idea of the typical VMS provided by NAS vendors. Unlike pure NAS vendors, vendors of networking components such as Buffalo Tech and Netgear can provide a complete package for surveillance based on IP cameras. In today's article, we take a look at Buffalo's TeraSTation 5200 NVR (2TB variant) coupled with their 5-port Power-over-Ethernet (PoE) business switch - the BSL-POE-G2105U.
Buffalo Technology markets their NVRs with the promise of being compatible with Axis Camera Companion. Axis Communications is one of the leading vendors in the IP camera space, and the Axis Camera Companion is part of the firmware running on most of their current models. The feature also includes a PC client and mobile apps for control, configuration and viewing surveillance video from the cameras. The Buffalo TeraStation 5200 NVR and the BSL-POE-G2105U switch make up an 'Axis partner solution' for small surveillance systems having up to 16 cameras. In addition to the core review components in the NAS and the switch, Buffalo also provided us with two Axis M1054 cameras for evaluating their solution.
The TeraStation 5200 NVR is physically the same as the TeraStation 5200 2-bay NAS that Buffalo introduced back in 2012. The NVR version is qualified by Axis for use with their IP cameras. In terms of hardware specifications, we have the old Intel Atom D2550 in a 2-bay chassis. Our sample came with 2x 1TB Western Digital Red drives pre-installed and pre-configured in RAID-1. The hardware specifications are summarized in the table below.
Buffalo TeraStation 5200 Specifications
Processor
Intel Atom D2550 (2C/4T, 1.86 GHz)
RAM
2 GB DDR3 RAM
Drive Bays
2x 3.5"/2.5" SATA 6 Gbps HDD / SSD (Hot-swappable)
Network Links
2x 1 GbE
USB Slots
2x USB 3.0 / 2x USB 2.0
eSATA Slots
None
Expansion Slots
None
VGA / Display Out
None
Full Specifications Link
Buffalo TeraStation 5200 NVR Specifications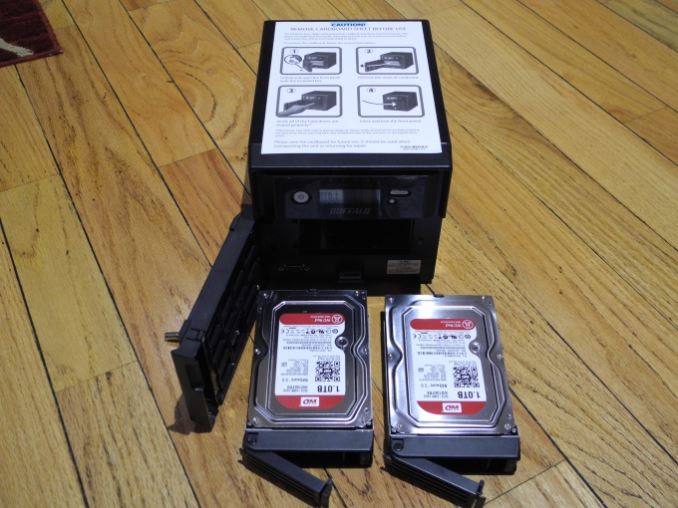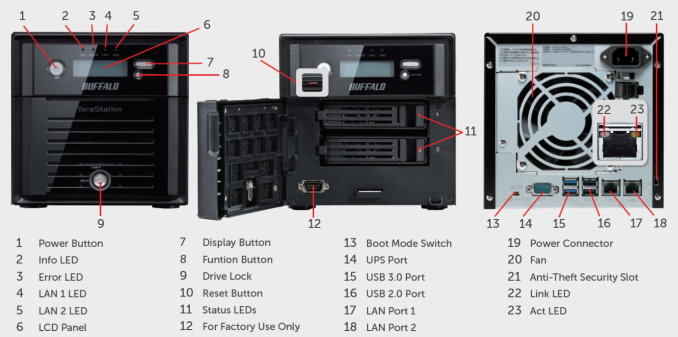 The BSL-POE-G2105U is a 5-port Gigabit PoE switch with four PoE ports and one non-PoE uplink port. It can deliver up to 15.4 W on each port (40 W maximum on all four together). It is available standalone for less than $90 currently.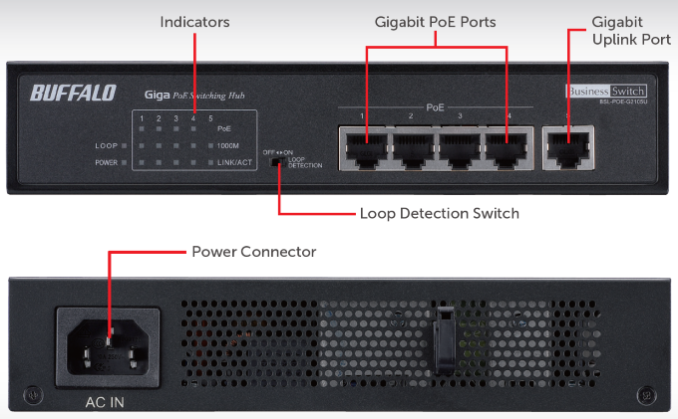 We won't go too much into the specifications of the Axis M1054 (since they are not part of the core NVR setup, and almost any current Axis camera can be used instead). For our evaluation setup, it suffices to note that they can be powered via PoE. They can output two streams (for example, we set it up to stream out 1280 x 800 15fps streams upon motion detection, but only stream out 640 x 400 5fps streams at other times for recording to the NVR). The maximum resolution stream clocks in at around 1.3 Mbps, while the low resolution stream at 5 fps comes in at 25 kbps.